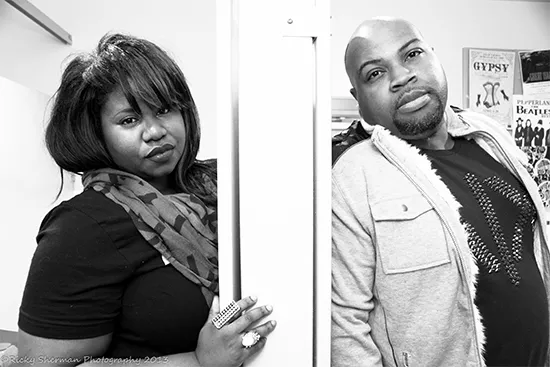 Ricky Sherman
Heather and Derrick of B.E.L.L.A.
In this biweekly column, RFT Music gets to know local creatives, musicians and their missions. Get a slice of the local scene, complete with a snippet of sound and info about upcoming releases and shows. Stick around to see what St. Louis artists have to say whenever they Fill in in the Blank.
Songbird Heather-Buckley Wilson, a St. Louis native that grew up in semi-segregated environs, says she always felt like the odd man out in her neighborhood. Instead of following the pack mentality to fit in with other kids, she clung to her mother's music collection, finding inspiration in artists like Paul Simon, Tracy Chapman, and Queen. Tapes of Alanis Morissette and the Cranberries kept her company on the school bus, shaping her into the quirky pop musician she is today, as the leading woman behind B.E.L.L.A., which will self-release its debut album, Juxtapose, this summer.
Buckley-Wilson's husband says her taste in music is "way '80s." As a young girl, a member of one of her favorite current duos, Hall & Oates, even serenaded her in an airport. "Pop is Not Dead in St. Louis" presides as her press tagline, and she intends to deliver it at events all over town, including local festivals and her favorite show spot, Lemmons.
With close friend and multi-instrumentalist Derrick Richard, Buckley-Wilson composes everything from touching ballads belted out from deep within her soulful set of lungs (see the video below) to ass-shaking, metallic techno-pop jams meant to induce undulating on the dance floor. Special guest performers join in on drums, guitars, keyboards -- whatever's fair game -- for B.E.L.L.A.'s live performances. When she's not delivering raw, electrifying sets in B.E.L.L.A., channeling favorite artists including Stevie Nicks and Pink, Buckley-Wilson also composes the occasional commercial jingle as well as music for an indie label in Seattle.
We invited Heather Buckley-Wilson of B.E.L.L.A. to fill in the blanks ahead of two performances this weekend. See what she had to say on the next page!
What I like most about St. Louis is... that it's a big city with a small town feel. This city has two million people, but you seem to always know somebody --or somebody who knew somebody who went to the same high school as your cousin. It's such a weird dynamic here sometimes, but that's a quirk I like about the city. I've lived here all my life, so this will always be my homebase.
I make music because... if I didn't, I would only be half a person, never able to grow, never able to experience the freedom it lends. If Derrick and I don't make music for an extended period of time, we feel like different people.
I've learned the most from... Joss Whedon, which I can't believe I'm saying out loud! I learned how gray life could be before I actually had the pleasure of experiencing it myself. Sometimes the answers weren't always clear, but people muddled through the best they knew how. You didn't know Buffy got deep, huh?!
The St. Louis music scene could use... This is a tough one. In my limited experience, I'd have to say it could use some variety. Sometimes, a girl just wants to hear something sparkly and new.
The best post-show food in St. Louis is... I usually am REALLY nervous before shows (throw-up on stage nervous), so I can't eat before a show, but after -- after is Wendy's, my absolute favorite after-show grub tub.
My dream line-up for a show is... Of course, I'd like to open up for a Pink, Alanis, or Gwen Stefani because of my intense girl crushes. Derrick wants to stand on the same stage as Trent Reznor because Trent's his BFF in his mind. But for now, until we get to that ultra superstar level, I'd love to do a show with Adartis March and Letter to Memphis. Not only are they fantastic musicians, but they are uber-cool women on the local music scene. I really respect them.
The most difficult lesson I've learned in the business is... that this business is just like life. If you smell something fishy, well, goshdammit there's probably a fish in that guy's pants.
See upcoming show info and a preview from Juxtapose on the next page!
B.E.L.L.A. @ St. Louis 2013 PrideFest w/ Mood Swings, Kevin Dodson, Middle Class Fashion. Saturday, June 29. 12:30 p.m. Soldiers Memorial Plaza. 14th St. and Chestnut St. free.
B.E.L.L.A. w/ Apollo Sun, Without Hazard, The Other People. Saturday, June 29. 9 p.m. Lemmons. 5800 Gravois Ave. 314-481-4812. $5.
Follow B.E.L.L.A via its Facebook page and official website.
Do you know a project or band that should be considered for a feature? Drop a line to fillintheblank@riverfronttimes.com.
Previously from our Fill in the Blank series: - Superfun Yeah Yeah Rocketship - Humdrum - The Blind Eyes
Follow RFT Music on Twitter or Facebook. But go with Twitter. Facebook blows.