Editor's note: Three weeks ago, comedian Jeremy Essig and KDHX marketing director Chris Ward announced the first installment of their new local game show "Loser: A Live-Action Game Show." RFT Music writer Allison Babka volunteered (perhaps too readily) to be a contestant and report on the shenanigans. Her first-person account of winning the night's craziness is below.
"Have your pets spayed and neutered." "We'll take the Physical Challenge." "A NEEEEWWWWWW CAAAAAARRRRR!"
As a lifelong game show nut, I've yearned to hear these words in person. During my most impressionable years, TV was was littered with tests of trivia and skill, which influenced my Tourette's-like shoutings of "I can name that tune in three notes!" as well as my weird crushes on Wink Martindale and Marc Summers. I had game show fever, and the only prescription was a year's supply of Turtle Wax.
So when local funny guys Jeremy Essig and Chris Ward recently asked for contestants for "Loser: A Live-Action Game Show," I said yes without hesitation. Billed as a combination of "Don't Forget the Lyrics," "Pictionary" and "Nick Arcade," there was no way "Loser" could fail to fulfill my game show dreams. Hell, yes, let's make a deal!
Before the studio audience filtered into the Heavy Anchor, the hosts split the six contestants into teams and explained how the game worked. In one corner were the Stone-Age Metroid Spider-Men, comprised of Jason Robinson (former vocalist for The Orbz), Chad Wallace and Shane Presley. My team, the Monty Hall Hellions, featured Noah Hacker and Rob Durham, a last-minute sub who was a bit unhappy with missing game seven of the NBA Finals.
We waited backstage for Essig and Ward to welcome the audience to the absurdity that was about to happen. As Essig called us forward and introduced us with twinkly '70s game show music, I feared I'd piss myself from both ecstasy and nerves. Essig, a comedian, and Ward, marketing director for 88.1 KDHX-FM, exchanged a few jokes ("I like to keep my co-hosts at cock height," claimed Essig), and we were ready to roll.
First up was the music category, in which teams would answer questions about a band and then identify members of that group from a photo. For bonus points, contestants were to sing lyrics from a specific song by that band, backed by Essig on guitar and Ward on drums.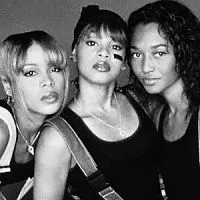 Crazysexycool or something.
As the supposed music category ringers, Robinson and I sat closest to the "buzzer" - a mallet with which we banged a gong once we knew an answer. Robinson nabbed first control of the category with his knowledge of '90s hip-hop act TLC and correctly identified T-Boz and Left Eye but forgot about poor Chilli, as we all do. Robinson left the bonus performance for teammate Wallace, who earned major audience approval and ten points by singing "Creep" and showing off some sweet moves.
I took control next by knowing about Radiohead and Def Leppard, but I was familiar with just two Radiohead members and zip from "the band with the one-armed drummer." With my teammates abstaining from singing, I stepped up to the mic and warbled the only sixteen words to "Fake Plastic Trees" that I knew, meowing the rest of the melody (I plan to pay penance by performing this song at karaoke tonight.). I fared even worse with Def Leppard's "Hysteria," skipping a verse to go straight to the chorus, though Ward gamely played his tiny drum kit with just one hand in a nod to the band. I got five points for each song, hooray!
Continue below for an appearance by Michael Jackson and some kids.
Up next was the comic book category. While two teammates were outside in the "isolation booth" -- otherwise known as the Heavy Anchor's patio -- the third person was to draw a hero, a villain and a pop culture event of the audience's choosing on an iPad. The rest of the team then would be brought in to decipher the drawings.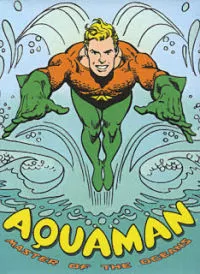 Presley and Hacker took over the drawing duties, and we on the patio could hear the audience hooting as the scribbles were projected onto the screen on the stage. When Durham and I finally were called back inside, we were greeted with a big-ol' mess of WTF. Durham quickly guessed that Hacker's pop culture event was Michael Jackson's hair on fire, but the hero and villain were much harder to ascertain. The center figure looked a little like a viking with hairy testicles, but because of a round shape in the chest, I incorrectly surmised that it was Iron Man (Turned out that wasn't a reactor; it was a scratched-out "G" for Galactus.). To me, the hero looked like a thug in a flat cap pointing a gun, but Durham noticed a tiny wave and somehow figured out that it was Aquaman. I was shocked that he had no telepathic rays coming out of his head, but it could have been worse -- Presley had drawn a fish for his team. Advantage: Monty Hall's Hellions.
Video games were next, and Durham volunteered to take the lead in this category. He and Wallace answered a few trivia questions before going head to head in a few emulated games. Contestants had 90 seconds to score as many points as possible in Street Fighter II, Super Mario Bros. and Michael Jackson's Moonwalker. While Wallace struggled a bit in Mario, Durham whizzed through world 1-1, remembering the fire flower and invincibility star and hitting the flag pole in record time. The category belonged to Wallace, though, who dominated in Street Fighter and surprised everyone by using Michael Jackson not only to rescue the on-screen children but also the ones trapped in the closet.
No, seriously, watch this crap:
At the beginning of the final round, just one point separated Stone-Age Metroid Spider-Men and Monty Hall's Hellions. The new objective: watch a scene performed by the Inter-Gender Sitcom Players, guess which sitcom it's based upon and name the characters and their corresponding actors. Bonus points would be earned by providing deep trivia about the show.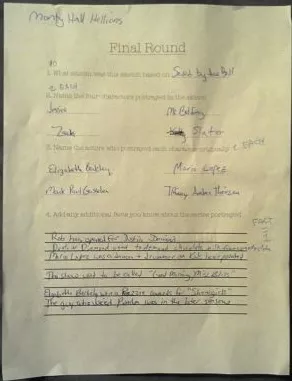 Behold, our vast SBTB knowledge.
The comedy troupe began its performance, and within seconds, our team figured out that we were watching a twisted version of the "I'm so excited! I'm so SCARED!" episode of Saved by the Bell. FRICK, YES! We had this in the bag! We were so busy writing down our answers that we missed half the skit, but we looked up in time to enjoy a bit about Mr. Belding's brother Rod getting it on with the high schoolers during a camping trip. Stay classy, Rod.
Stone-Age Metroid Spider-Men put up a valiant effort, getting several characters and actors correct, but there was no way they were going to beat our team of SBTB dorks. While we couldn't remember the name of the actor who played Mr. Belding (Dennis Haskins. D'oh!), we knew everything else and served up enough Bayside High trivia to thrill Miss Bliss. Victory was ours!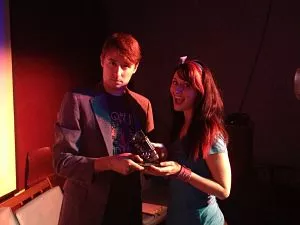 courtesy of Lisa Kelly
I am victorious! But you can keep your crummy RFT Award, Chris.
Ward dove into his prize closet -- a vintage blue leather suitcase -- and after pulling out crazy amounts of lingerie (Mental note: ask Ward if he'd like to get anything off his chest), he rewarded us with an old album, KDHX stickers, photos of the Pope, passes to the Missouri Botanical Gardens and his 2013 RFT Web Award for "Funniest Twitter Feed." Wait, what?
It didn't end with a year's supply of Turtle Wax or the mysterious Door Number Four, but Essig and Ward served up a pretty sweet game show, anyway. Through "Loser," I may have found my new Martindale and Summers.
For more information about "Loser" or to be a contestant, email loseragameshow@gmail.com.
Follow RFT Music on Twitter or Facebook. But go with Twitter. Facebook blows.