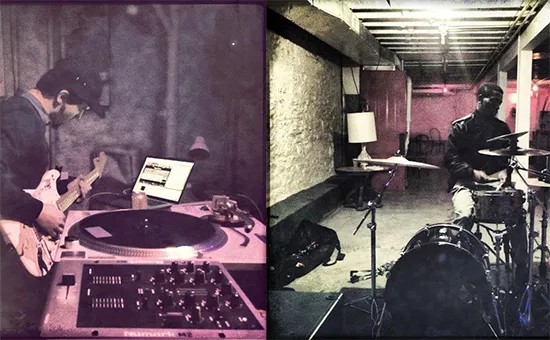 Franco-Hill releases Vibrate Higher this Friday at Blank Space.
Decisions are hard. Last night, I fell asleep to a TED Talk about "the art of choosing" ironically while trying to turn my brain off about a decision I had to make. How many decisions do we make each day? Hundreds, some say. Thousands, say others. Should I wear pants today? Nah. Should I drink that extra cup of coffee today? "No, probably not," I type with shaky fingers (and cold legs). Here at RFT Music, we can't cure that indecisiveness -- hell, we're too busy losing sleep trying to decide how to deal with our own irresolution. We can, however, narrow the weekend down into a convenient guide for you to at least make that decision a little easier to make.
Besides the following recommendations, check out some of the great shows previewed this week. Read about the space opera Chrono Man and Superfun Yeah Yeah Rocketship's Comic Book Release, hear a sneak peek of Humdrum's new release We Are Electricity, and get to know Al Johnson, who'll be MC'ing Skin Graft's St. Louis Homecoming this weekend.
Then, jump back to our Out Every Night post to get stoked for Black Flag, Huey Lewis and the News, and Portugal. the Man. More recommendations follow!
Did we leave something significant out? There's a chance it didn't make it onto our radar! Send your show tips any time to clubs@riverfronttimes.com.
Friday (June 21):
Blu w/ Knxwledge, Quelle, Black Spade, Franco-Hill, Remi Sorbet, AtM, Ciej @ Blank Space 8 p.m. | $5 Emcee Blu and producer Knxwledge collaborate for a performance while local hip-hop jazz duo Franco-Hill releases its first studio album, Vibrate Higher. (MS)
Chief Keef w/ DJ Tab, T-Marley @ The Ambassador 7 p.m. | $20 Brick Squad / Interscope rapper Chief Keef makes his way from Chicago to St. Louis for a show at the Ambassador. Hopefully he chooses not to double the speed limit on his way here. (DH)
Darris Robins w/ Media Ghost @ Plush 11 p.m. | $5-$10 The St. Louis Fringe Festival is underway! A series of after-parties wraps up each evening, including this "AfterFringe" show featuring live music and aerial performances by Mariel a la Mode and August L'Incroyable. Show up early - the first 150 guests get a free Sailor Jerry Rum cocktail. (MS)
High Rollers Ball III w/ Psymbionic, Richie August, DOOMBOX, Mohawk vs HeezY, Pah Je vs Blush, Brothers In Arms, MonDope, Quasar Camp, Baytron, Blaze Loominus @ 2720 Cherokee Performing Arts Center 8 p.m. | $12-$20 DOOMBOX is a kickass name for a musical act. Just sayin'. Head on down to Cherokee and check out some glitch-hop / trap / dubstep, including artists from Austin and Chicago. (DH)
Missouri Chainsaw Grassacre w/ Mountain Sprout, Deadman Flats, The Whistle Pigs @ Old Rock House 8 p.m. | $10/$12 Mountain Sprout is awesome, with songs like "Screw the Government," "Town Drunk" and "All the Marijuana." Check 'em out for yourself. (DH)
Richard the Lionhearted w/ Boreal Hills, Rusty Maples @ The Heavy Anchor 9 p.m. | $5 Richard the Lionhearted brings melodic, thoughtful psych-rock from Columbia Missouri. Also, the album art for their new album rules. (DH)
Rock for Moore: Tornado Relief Benefit for Oklahoma w/ Holiday at Sea, The Difference Engine, Pachyderms, Eddie's Munsters, Wicked Thoughts @ Pop's Nightclub 6 p.m. | $5-$7 This mixed bill rocks for a good cause. Admission is a suggested $5 at the door, with all proceeds to benefit the American Red Cross and the victims of the the Oklahoma tornadoes. (MS)
Saturday (June 22):
Jaill w/ For the Colony, The Grafted @ The Demo 8:30 p.m. | $8-$10 Sub Pop's Jaill has a portion of their bio wherein they offer to give you a free pair of Nike Cross-Trainers if you steal their new album off the Internet. Win-win! (DH)
Open Studios STL: New Music Circle @ William A. Kerr Foundation w/ Tracy Andreotti, Joseph Raglani, John Tamm-Buckle, Michael Williams, Connie Su, Ajay Khanna, Nathan Cook, Lara Dempsey, Fred Tompkins, Dave Stone, Henry Claude, Gwenyth Merner, Patrick Boland 7 p.m. | free New Music Circle participates in the Contemporary Art Museum's Open Studios STL, a group sound environment which showcases local experimental musicians all over the Kerr Foundation building, one of the city's most unique venues. (MS)
Sunday (June 23):
The Silent Comedy @ Blueberry Hill 8 p.m. | $10/$12 This San Diego group melds American, folk and rock. Check e'm out on Soundcloud. (MS)