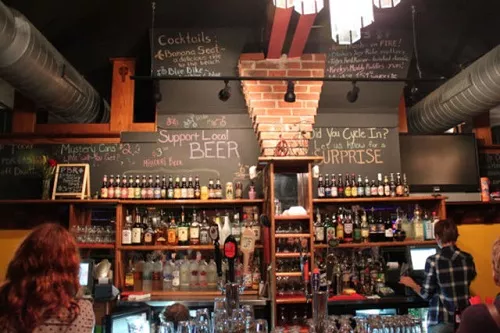 Selecting Riverfront Times' Best of St. Louis 2013 wasn't easy. Choosing the winner meant several worthy candidates would go unmentioned -- until now. In this RFT Music series, we're beeboping and scattin' our way through notable runners-up in a number of categories. This week: The best 3 a.m. bars in St. Louis.
See Also: - The Ten Best Dive Bars in St. Louis - The Eight Bars With the Best Beer Selections in St. Louis - The Five Best Places for Karaoke in St. Louis
HandleBar (4127 Manchester Avenue; 314-652-2212) Once the odd new kid on the block, HandleBar has now established itself as an anchor, becoming a friendly and successful neighbor to Atomic Cowboy. At first the bar seemed sort of doomed. Its bike-friendly-plus-we-have-pierogies mystique was slightly alarming, even more so because it occupies a space that has changed hands and names several times -- but its spunky appeal prevails. The patrons come in droves nightly, be it for long-running parties like That 80's Club and London Calling, post-FBC blowouts or just a chill night on the patio.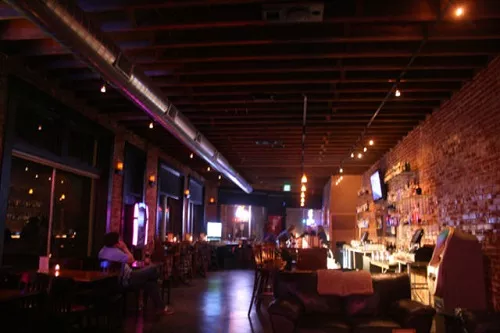 Par Lounge (1001 McCausland Avenue; 314-646-1300) This one's for all the county kids and grown Claytonites who live practical lives and have, like, jobs that start in the morning. Par Lounge straddles that line where city dissolves into county. You can practically smell the sprawl from here, this shotgun bar where the music died when the much-loved Hi-Pointe closed in 2006. The bar has seen a recent uptick since the Delmar Lounge closed; industry types commingle with the aforementioned real people who drink till 3 a.m. and still manage to be on that early-morning conference call.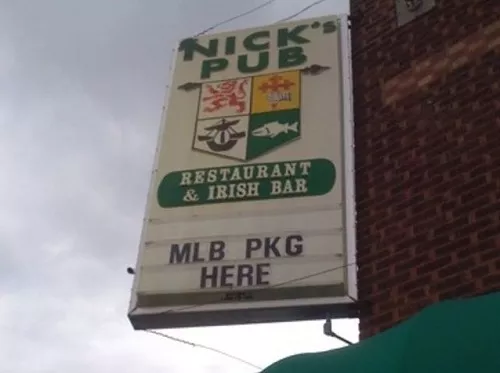 Nick's Irish Pub (6001 Manchester Avenue; 314-781-7806) We hate to love it, or maybe we just hate it, but there's no getting around the fact we find ourselves at this Maplehood mainstay once or thrice a quarter -- the cheap beer, anonymous crowd and multiple hiding places keep us coming back to get totally hammered more often than we'd like to admit. When the blaring flatscreens in the main bar start to bore, we head upstairs for another Jameson shot, bypass the rowdy crowd at the pool tables, take a round at hunting big game in the video nook, and get in a round of darts before spotting someone's ex and hightailing it down to the sort-of patio. Take it from the Madhatter: move down, clean cup. Oh yeah, Nick's happy hours are ridiculous, like $2 Tuesdays -- perhaps the best evidence that St. Louis' Tuesdays are everyone else's Fridays.
Honey (4170 Manchester Avenue; 314-932-1211) "Have you heard of someplace called Honey?" has turned into: "OMG, have you been to Honey?" followed by torrents of glowing affirmatives. Proprietor Christy Schaaf grew up in St. Louis county, but she's made a happy home in the city with darling little Honey. West of Novak's and east of Erney's 32, this brand-new nightclub offers signature Honeynut Cheerios shots that are all but mandatory and DJ sets by community pillars like Mahf and Who. A new gay bar in the Grove is better than a new boyfriend.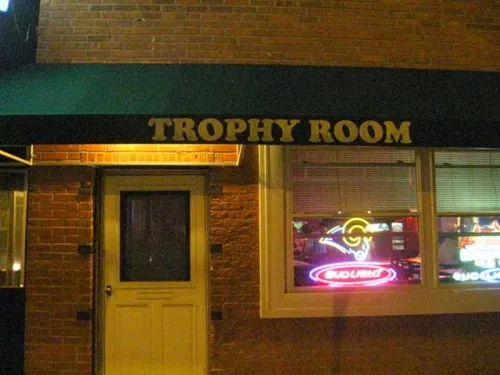 Trophy Room (5099 Arsenal Street; 314-664-4810) It's not all that friendly, it's not all that clean, it's just a damn good place for a nightcap or seven. The Trophy Room is the perfect place for 6 a.m. eye-openers, 3 p.m. pick-me-ups, and those entertaining 2:30 a.m. bar brawls. Ultra divey and glorious, this working man's watering hole keeps it real and raw, and the shit-canned regulars keep it interesting. It's cash only and smoky as Mount Doom, so bring the paper and your manners, lest you upset the locals.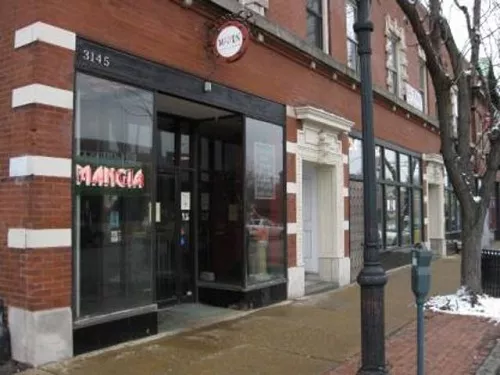 Mangia (3145 South Grand Boulevard; 314-664-8585) Midnight pizza. Jazz titan Dave Stone and his Friday residency, a million years running. Highbrows (PBR bottle and Jameson in a shot glass). Reggae Sundays. Invite-only after hours (shhh!) where off-duty cops keep it legit, though they're just as lit as the rest of us. Karaoke nights that oscillate from ear-splitting to divine. Sweaty summer nights in St. Louis, and 100 people outside smoking, chatting, slugging and slurring their way to last call. Dave Stone again. There are a few dozen reasons why Mangia tops this list year after year -- the multifarious crowd, hardworking bartenders, Dave Stone 52 times a year, come-as-you-are vibe and the fact that you'll see ten people you know before taking your first sip. Also, Did we mention Dave Stone?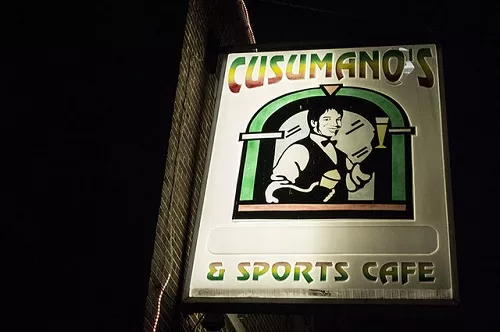 Cusumano's Pizza (7147 Manchester Avenue; 314-645-5599) Ex-cons, Maplewood burnouts, rough types and inebriated college students cram into this questionably awesome spot on Manchester. It's the type of place moms warn their kids about -- which of course significantly adds to its appeal. The place is pretty spare, save for a few pool tables and a kitchen we don't want to see inside of, but it makes a pretty good St. Louis-style pie. The drinks are cheap, and Cusumano's is just a few blocks from the drinking-and-dining heavy strip of Manchester that's all but dead after 1 a.m. Not kidding about the ex-con thing, either: If a fellow bar-goer looks as if he's done time, it's because he has.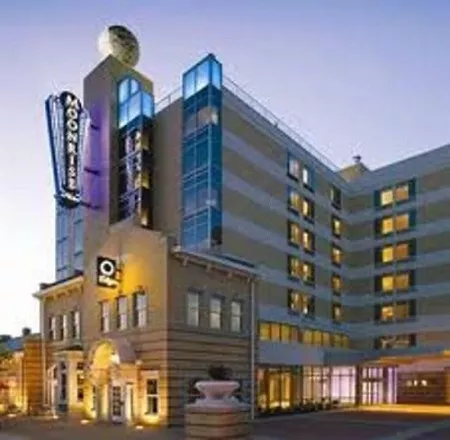 Moonrise (6177 Delmar Boulevard; 314-721-1111) If there's one thing Joe Edwards is king of -- you know, apart from the entire Loop -- it's opening damn fine establishments that sling booze into the small hours. Pin-Up Bowl, Flamingo Bowl and his crowning glory, the Moonrise, are musts for locals and visitors alike. At Moonrise, you'll be drinking next to high rollers, pro-sports dudes and those stunning females who don't seem to exist in the world the rest of us inhabit. The bartenders may look like irredeemable hipsters, but they know cocktails and really aren't any more pretentious than the next guy. Add a stunning view of the city and the occasional run-in with Pageant headliners, and you've got one of our favorite places for an al fresco sip.
Nellie Glenn's Saloon (6109 Gravois Road; 314-457-8766) Never heard of Nellie Glenn's? For shame. This 3 a.m. is an emerald in the rough -- after those lesser bars close up shop, this place fills to capacity and beyond. It's crowded and loud and all of the tables sport buckets of Bud Light that are emptied as fast as they arrive. Here, south-county and south-city kids coexist in harmony. After all, fussiness isn't our style, nor is it Nellie's. The Irish trappings are all in place, plus there's a shot wheel for when everyone's too drunk for decision-making.
Sandrina's (5098 Arsenal Street; 314-601-3456) For most people, the basic requirement for a great 3 a.m. bar is to serve drinks until 3 a.m. Revelers want to keep the party going, fueling one last push of early-morning debauchery before heading home. Sandrina's, located in the Southwest Garden neighborhood, takes the service to the next level with a kitchen that's open until 2 a.m. The only thing better than late-night drinks is accompanying them with late-night munchies. The bar has enough space to accommodate at least four party buses of your closest friends, and it's also stocked with an eclectic game room to occupy them all. An extensive drink list includes a larger beer and wine list than at some of Sandrina's late-night brethren. It's the same with the food: Oysters, duck-confit sliders and meat loaf come as a welcome surprise to the hazy eyes of a booze-soaked partier and the sober designated bus driver alike.
See Also: - The Ten Best Dive Bars in St. Louis - The Eight Bars With the Best Beer Selections in St. Louis - The Five Best Places for Karaoke in St. Louis
Follow RFT Music on Twitter or Facebook. But go with Twitter. Facebook blows.