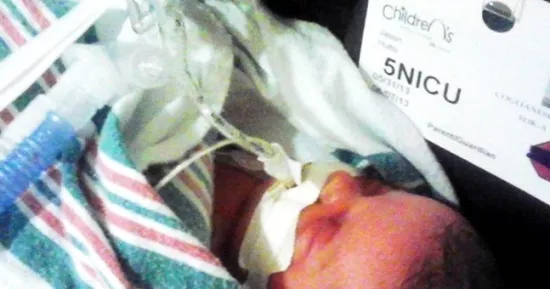 This is heart-breaking.
Dio Loren Hutto Coglianese, daughter of St. Louis music mainstays Jason Hutto and Nicole Coglianese, was born on May 31 with Osteogenesis Imperfecta, also known as "brittle bone disease." Diagnosed with the most severe type of the disorder, the baby broke most of the bones in her body upon delivery -- most with this disease do not even survive the birthing process.
Little Dio held on for ten days.
During that time, her parents never left her side. While the family expects that all of Dio's medical bills will be covered, the expenses incurred from ten days without working, plus additional time to grieve, add up quickly.
You can donate now to help alleviate some of that financial burden. The campaign is within striking distance of its $15,000 goal -- donate now to put that number over the top. The full statement from the family is below.
Dio Loren Hutto Coglianese entered this world on May 31, 2013. She was a beautiful little girl who was diagnosed with Osteogenesis Imperfecta. Osteogenesis Imperfecta (OI) is a genetic bone disorder characterized by fragile bones that break easily. It is also known as "brittle bone disease." Little Dio had Type II, the most severe type. Characterized by underdeveloped lungs, and bones that are fragile to the touch, it is a very painful and usually lethal disease. Almost every bone in little Dio's body was fractured multiple times before she was even born. Most children don't survive the birthing process, yet this little girl fought to stick around. She was tough. She fought for her life until June 10, 2013, when she decided it was time to move on.

Since Dio's prognosis was fatal, her parents, Nicole Coglianese and Jason Hutto, wanted to spend all of their time at their little girl's bedside while they could. Neither of them would have had it any other way because the joy they experienced in being with Dio was priceless. They did not work during this difficult time which has been tough financially. At this time, they believe all of Dio's medical expenses will be covered. However, living expenses such as rent, utilities, food, and transportation add up quickly when you are not working. Then, there is the expense of properly saying goodbye to Dio and additional time taken off of work to grieve their loss.

Family and friends have asked, "What can I do to help?" First and foremost, Nicole and Jason will take comfort in seeing your words of love and support. Second, it would be an immense help if they did not have the added pressure of having to worry about how they are going to survive financially while they are still grieving the loss of Dio. Nicole and Jason would greatly appreciate your donations to help them do this. Please donate what you can, no matter how small. Every little bit will help.

Please keep Dio, Nicole, and Jason in your thoughts and prayers. Thank you all for your help and support.

The Coglianese Family