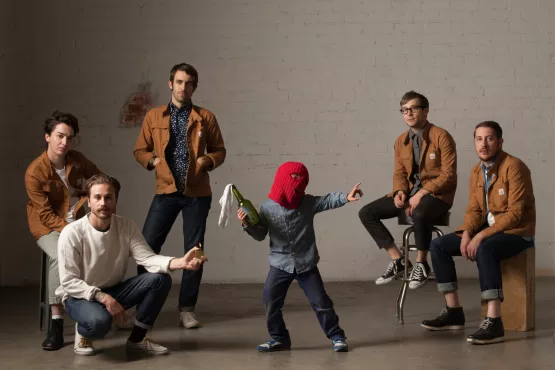 Portland-by-way-of-Alaska's Portugal. the Man is playing the Pageant this Sunday, and we've got an extra pair of tickets to give away!
To win, simply tell us why you deserve to go. Be creative! You may enter in the comments or on our Facebook or Twitter pages, links to which you can find below -- make sure you include some way of contacting you, as well as your full name so you can pick up your tickets. We will announce the winner here on Friday at 4 p.m.
Portugal. the Man is presently touring in support of its latest album, Evil Friends, released this month. Check out what Ryan Wasoba had to say about the band in this 2012 critic's pick:
Portugal. the Man gravitates toward dank psychedelic pop jams and its members have hair both long and unwashed enough to make Fleet Foxes look trim. Yet beneath this hippy exterior the band's story reads like a classic tale of punk-rock triumph. The obstacles were daunting, its members having hailed from the inconvenient state of Alaska and its name plagued with an unnecessary period, but the band honed its craft through constant album cycles and grew its fan base one show at a time alongside similar indie rock oddballs like RX Bandits, Minus the Bear and Maps & Atlases. Now Portugal, the Man tackles St. Louis's largest practical venue as a headliner.
Check out the video for "Evil Friends" off of the new album, below.
See Also: - The Ten Biggest Concert Buzzkills: An Illustrated Guide - The 10 Most WTF Crimes Committed by Musicians - The Glee Treatment: "Fuck That Shit" and Five Other Rejections From Bands
Follow RFT Music on Twitter or Facebook. But go with Twitter. Facebook blows.