Photo courtesy of: Nightengalephotography.com
Al Johnson looks positively decent.
Skin Graft Records emerged in the early '90s amidst the rise of music cross-genres noise-rock and math-rock. Being an early proponent of such salty sounds, label owner Mark Fischer saw fit to combine records and comics in an unholy union of visual and audio debauchery. Early art featured Rob Syers, known for Gumballhead the Cat and music from Dazzling Killmen, Shorty and Mount Shasta. Once based in St. Louis, the label's head moved to Chicago, New York and, ultimately, Austria.
See also: - Rock Mandala: Yowie works through the pain - Skin Graft's Mark Fischer Weighs In on Rolling Stone's AIDS Wolf Camel ad
Over twenty years after its inception, Skin Graft returns home. This Saturday, June 21, Fischer will bring a massive back catalog of records and three of the label's active bands to the Schlafly Tap Room (2100 Locust Street; 314-241-2337). Dubbed the Skin Graft Homecoming, this event is not only free, but open to all ages. Yowie, of St. Louis, will be performing with Lovely Little Girls of Chicago and Xaddax from Brooklyn (featuring Nick Sakes of the Dazzling Killmen).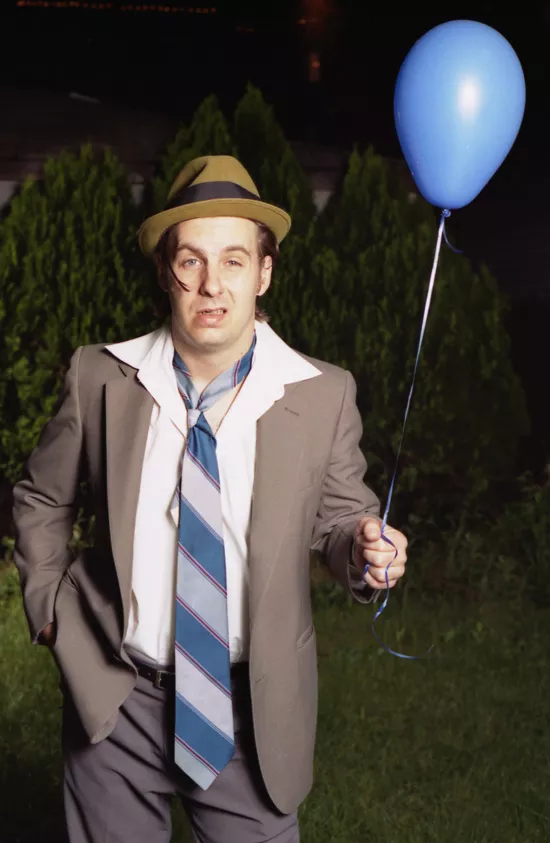 Photo courtesy of: Nightengalephotography.com
One of Skin Graft's chief soldiers, Al Johnson, spent his '90s and '00s striking odd and, at times, sexual feelings into the hearts of thousands. From his run as vocalist for U.S. Maple to a cameo in Stephen Frears's film High Fidelity (starring John Cusack), Johnson has forced a unsettling chill down the spines of the unlucky many to see him contort and moan. Being tasked as the host for this Skin Graft homecoming, Johnson travels from his current home in Dubuque, Iowa to strike us with this arousing tension. Fortunately, Al Johnson met with RFT to discuss how decent he's been these past 20 years.
RFT Music: In Shorty and to a greater extent, U.S. Maple, your vocal performances were unique, visual and memorable. Skin Graft Records places heavy emphasis on subversive and challenging art. What can you tell us about your earliest contact with the label?
Alan S. Johnson: During the Shorty years I was very fortunate to have learned quite a bit about the industry from Tar, Albini and those that practiced at Steve's house in Chicago. At the time I was a "prospect," not unlike the protocol used by the Hell's Angels, except the women were very, very skinny, had flared nostrils, skin color: pale. Screechy voices. This is pre-internet days, mind you, and I used to sit around Steve's house when he was driving a mere eight-track machine. During that time I learned a lot and soon found myself employed at Touch and Go Records, chock full of terrible pranksters and miscreants: John Forbes from Mount Shasta, Jim Kimball from Laughing Hyenas, Mule and occasionally, if there were white gloves available, Duane Dennison would round out the shipping department. Mark Fischer managed the shipping crew and he talked about Skin Graft and unique methods to combine comics with music. Mark and partner Rob Syers created a living, breathing comic book/music label with villains and geese and cats, most importantly, the Dazzling Killmen. These guys, I come to find out, could actually slay dragons. I also really loved the Mount Shasta. Later on, I became Shasta's "rhythm" guitar player for the album Put the Creep On. Fischer and I connected right away. Skin Graft was an orphanage of sorts for one-eyed baby dolls and broken wagons, so Shorty limped right on in.
Mark Fischer, owner of Skin Graft Records, placed his bets on a select few who went on to resonate in experimental music scenes for several years. Can you speak on any expectations you felt as a performer in the mid to early '90s? How did these expectations change the character you conceived for yourself as the front-man for U.S. Maple?
My expectations as a performer were to perform as much as possible. Getting in the van was truly the barometer for keeping one's head above water. Remember, the Ford Econoline was the internet of the time. If you didn't play live you just sort of atomized, dissipated. Your band played live to exist, in as many territories as possible. Hell, Maple played some sort of children's craft camp in Crystal Lake, Illinois. Those frightened children and angry parents! The evolution from Shorty to U.S. Maple was pre-planned by myself and fleshed out, made visual to me by guitar phenom Mark Shippy. It was both a pleasure and a humbling, personal experience to watch him play guitar and on the following day to see him, in passing, driving away from the gas station with the gas-hose still attached to his car, ripping it off, gas spraying everywhere. I'm not exaggerating.
I was heavy into the Fall and Roxy Music at the time. I just wanted to fabricate a band that wrote its own rules. Mark and I recruited Todd Rittmann and Pat Samson from the Mercury Players. As a band we never looked in any one musical direction intentionally. We focused inward, began inhaling to speak a new blueprint. Be it luck or hack magic, I soon realized I had something very special with these guys and beyond my control. I didn't want control. Well, I wanted to influence, showcase our perception for the press and general public. I do remember telling these guys, "I will step over the dead body of Abraham Lincoln to get us a show."
As for being the front-man I wanted to set up this dichotomy between me and the band, sort of a brawl for attention. If you took David Lee Roth and gutted him like a deer, turned him inside out, exposing his organs, fears, his heart red and raw, alas still beating, yet slowly dying in front of you. Yeah, that was my idea of drama, a good show. Still is.
In the video above: Al Johnson's character appears around 0:38 as a record-collecting geek, and is used to illustrate the snobbery of the film's main characters.
What can you say about the influence from theater and acting in your own visual performance as front-man?
I studied the Meisner method, repetition to the extreme so much so that you do something repeatedly a thousand times. At some point your character, honesty and truthfulness is inherent and inescapable. Now you can go off, improvise while still being truthful to who you really are; you are doing two or three things at once but all are true. I wanted to be multiple conversations occurring on the street corner.
On June 21, 2013, you will be hosting the Skin Graft Saint Louis Homecoming at the Schlafly Tap Room. What does "hosting" mean to you, and how does Al Johnson of U.S. Maple fit into the picture?
Hosting this event for Skin Graft in St. Louis means much to me, however I cannot comment much on hosting as I've never really actualized this kind of thing. I'm hoping to hook up with Ludacris. I want to deliver an emphatic speech with the intensity of the Lincoln/Douglas debates. My adept publicist has procured a podium. Now, with a little gin and the St. Louis people, which I've always found to be deadly and weird, I feel at home. I will need an attractive escort to take me to the Tums building. As a writer and welder, the Tums building is my blue-collar mystery. I want to be photographed in front of the Tums building. That's the picture I want to fit into.
What does St. Louis, Missouri mean to you anyway? Has this city left any scars in you these past two decades?
I love St. Louis and continue to love her. She knows who she is. I'm quite fond of the Benton Park area. Pat Samson, original drummer for Maple, his sister lived there, and where they lived, in the summers it reeked of stale Budweiser. The plant was down a few blocks. I used to walk around the area when we played there. Foliage with troubled vibrations; I felt this at times. It's real, beautiful. A demented Sherwood forest. I am a single father. If memory serves me correctly, the Children's Museum blew his mind! It's incredible, unlike anything I've ever experienced. As a writer, P.R. person, I feel compelled to endorse it. I have to thank a sweet ol' gal I dated, Tracy Heuschel, for exposing my son Van to this place. He was satiated.
Skin Graft Records has provided a warm little pocket of, in my opinion, good taste for over twenty years. How would you, a participant in the label's heyday, relate Skin Graft to the oblivious or uninformed.
The Skin Graft label is and has always been an original. For me, the label is a living, breathing comic book comprised of villains from all over: Space Streakings, the Flying Luttenbachers, Mount Shasta, Zeni Geva, Melt-Banana, etc. The biggest crime is that the label was way ahead of its time. Maple shares in the bitter sweetness. It's so easy now to splatter one's bullshit or genius world-wide due to technology. I'm a few classes away from a degree in Communications at Clarke University. Clarke is a prestigious school. Technology is great, beneficial and the status quo for every soul. It's technological determinism that distresses me. Mark Fischer is the Alan Freed of no-wave, a term he coined. There's only a worm-hole's distance between Mark and William Burroughs. Burroughs coined "heavy metal."
Why the hell would a St. Louisian pick this Skin Graft Homecoming over the Black Flag show happening, or the local hardcore band covering Black Flag in the same area ?
I am a fan of Black Flag. Hell, I still have Greg's Gone LPs and Black Flag's Everything Went Black. The radio spots are brilliant, archival triumphs. I'm not about to parse out sourness because both shows are happening on the same night. If you can, go to both. It will nourish you, educate you on two generations who did what they wanted, put in the work -- they matter. However, the objective difference lies in the fact that the Skin Graft label originated in St. Louis. It will always continue to be about St. Louis, for St. Louis and in its birth town- a product of St. Louis.
Continue to the next page for show details and flyer.

Courtesy of Skin Graft Records
Flyer for June 21 at the Schlafly Tap Room.
Date: Friday, June 21, 2013 Place: The Schlafly Tap Room (2100 Locust Street; 314-241-2337) Time: 8 p.m. Details: This is an all-ages event. With: Yowie (St. Louis), Xaddax (New York) and Lovely Little Girls (Chicago).