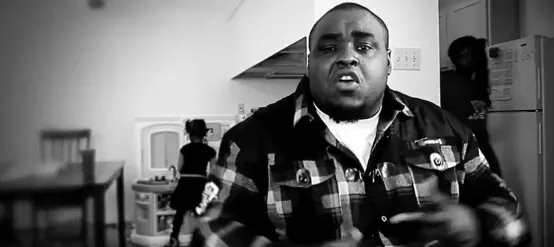 This Saturday, local Hip-Hop artist Thi'sl will throw the first pitch against his beloved St. Louis Cardinals while sporting a Miami Marlins jersey. What motivation could a hometown boy have to turncoat and guest pitch for the Marlins? Plenty, it turns out.
"I can't lie I was crushed at first, and Juan knew when he called that I would have a hard time doing it, but at the end of the day this is my job, and because of these jobs and people like the Marlins, I'm able to continue to give back to our city," Thi'sl says. The gangster-turned-Christian rapper spits the good word while giving back to our slice of the earth.
See also: - Thi'sl goes from murder suspect to chart topper
Thi'sl does a community outreach event every year, gives to inner city children every Christmas and throws his heart into the Full Ride Music Group. The latter is designed to provide Full ride scholarships to St. Louis inner city students. Between writing new music, performing live and being a philanthropist, Thi'sl agreed to meet with RFT Music to discuss his recent Grammy award and upcoming pitch and concert at this weekend's Cardinals baseball game.
RFT Music: The Gospel influence in your music leads one to believe that you're pushing a Christian-brand of hip-hop. How do you approach the genre while keeping your beliefs in mind?
Thi'sl: "Out of the mouth flows the abundance of the heart," so what's in me flows out. I don't have to think hard about what I'm going to say. I make music about my faith, and some music that doesn't mention my faith in at all. But when you hear it, you can tell I'm not living recklessly. When I go in to make music I spit what's real. I spit from the heart. I pay attention, and I spit what my culture needs to hear.
Although your music is described as "Christian" and "Hip-Hop", can you tell us more about your goals as an artist outside the boundaries of your genre?
I am a Christian, and I walk my faith out in love everyday, but the only people that usually describe my music as Christian are Christians. When people hear my music that are non-Christian, they just say it's real music. I've always seen the power in music since I was a child, so I use this platform of music to build relationships, use other talents to help change my community. For example, I am writing an autobiography that will be out later this year. I just opened a studio in St. Louis, which I plan to run a mentoring program out of. I'm also in negotiations with a university to get full ride scholarships for inner city St. Louis kids.
Personally, I haven't been hindered by the genre or the local St. Louis music industry. For a lot of artists it's hard to do well in St. Louis as an indie, but I have been featured on several mainstream hip-hop websites. I was just on a 32 city tour that sold out 80% of the dates, including the Palladium in LA and the Texas AT&T Arena, which held 6,500. I have dropped three albums that have each debuted in iTunes top ten hip-hop charts: two at number four and one at number eight. I have toured consecutively for the past six years and have sold over 30,000 records, so I don't think I'm being held back by any boundaries.
Recent collaborations have led you to a 2013 Grammy award. Can you tell us more about your involvement?
I was featured on an album called Gravity with a good friend of mine, Lecrae. I was featured on one of the biggest singles called "Fakin," for which the video premiered on MTV.com and ran on MTVU, MTV2 and MTV Jams for a few months. I also engineered part of the session and that is what I won the Grammy for. It's still hard to digest that I once was a kid that lived in poverty in a single parent home, and now I just won a Grammy. Crazy! But God is good, and faith with work pays off.
You continue to rep the hometown while garnering national attention. Tell us about how you landed that gig to throw the first pitch for the Cardinals game this Saturday.
Juan Pierre, who plays for the Marlins, is a good friend of mine. He started out just as what you would call a "fan" of my music, and he reached out to me in 2011 through a mutual friend and invited me to come to Miami. I went down there, and we did a community outreach with the YMCA in the hood. After that, we clicked up. So when the Marlins were scheduled to do a "Beast Mode Day" (Juan Pierre's organization), it was a no-brainer for me to be a part. The craziest thing for me is that the Marlins are bringing me down to do the game and throw out the first pitch, but I have to throw it out against my Cardinals! I can't lie I was crushed at first, and Juan knew when he called that I would have a hard time doing it, but at the end of the day this is my job, and because of these jobs and people like the Marlins, I'm able to continue to give back to our city. It's going to be funny putting on that jersey though and hat, though. I rep the Cardinals everywhere I go! I'm just hoping and praying that the ball gets to the plate.
Can you tell us more about the Christian hip-hop and rock concert that follows the game on Saturday?
The concert after the game should be dope. My boy Json will be there and another group named FFH. The concert starts immediately after the game and they have tickets available online. I'll let you all know how everything goes!
Thi'sl Official Website "Motivation" by Thi'sl Official Music Video The Full Ride Music Group Official Faceboook
See Also: - The Ten Biggest Concert Buzzkills: An Illustrated Guide - The 10 Most WTF Crimes Committed by Musicians - The Glee Treatment: "Fuck That Shit" and Five Other Rejections From Bands
Follow RFT Music on Twitter or Facebook. But go with Twitter. Facebook blows.