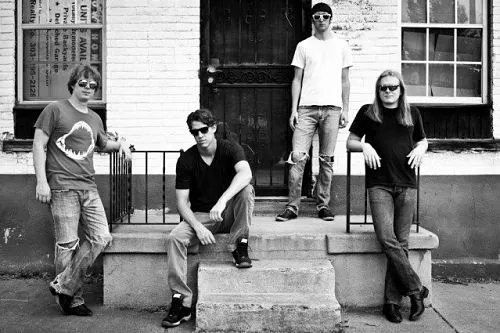 The Amends of Boulder, Colorado. The guy on the left is a Cardinals fan.
Many musicians dream about getting out of town, making names for themselves and then returning for that rad blowout of a homecoming show.
Tyler Taylor has just such an opportunity. The Belleville, Illinois, native is bringing his Colorado band, the Amends, home to meet the family when the group performs at the Heavy Anchor (5226 Gravois Avenue; 314-352-5226) at 9 p.m. Friday, June 14.
Having recently embarked on their initial tour, Taylor and his band will be hitting St. Louis for the first time in his professional music career, introducing the Gateway City to the Amends' blend of garage- and indie-rock.
"I'm definitely looking forward to playing for friends and family I haven't seen in a while," Taylor says. "It always feels good to be home."
Taylor, who graduated from Althoff Catholic High School in 2000, had a musical future that he couldn't deny. He was inspired to finally give into his interest after growing up around a number of family members who played piano (Taylor's second cousin is John Henry, namesake of John Henry and the Engine).
"I started taking classical piano lessons when I was seven and continued for almost fifteen years after that, but I dreaded the required recitals and wanted to just learn it on my own," says Taylor, a self-declared introvert. "I didn't pick up the guitar until college, and that's when I started thinking seriously about the potential of playing publicly."
While attending Drury University, Taylor began writing songs and eventually followed a former love to Boulder, Colorado, where the Amends was formed in 2010. With sounds reminiscent of the Strokes, Cage the Elephant and JC Brooks and the Uptown Sound, the Amends produces catchy, poppy rock with plenty of punk, noise and blues thrown in. The foursome has released an EP and two full-length studio albums, including this year's What We Could Be.
Taylor namechecks St. Louis-area bands Uncle Tupelo, Fragile Porcelain Mice, Gravity Kills and the Urge as being influential to his musical tastes and what he could achieve, but it may have been Rock and Roll Hall of Fame artist Chuck Berry who cast the largest shadow over his work.
Continue for more St. Louis connections and what Taylor misses most.
"I've been aware of Chuck Berry's influence over the city since I was very little, and as I got older, his and his peers' influence over my own taste grew," Taylor says. "The song of ours with the most traction, 'Dance,' has an obvious 'Johnny B. Goode' feel to it, especially in Drew's [Weikart] guitar solos. I had the pleasure of seeing Chuck once at Blueberry Hill many years ago."
The Amends' tour kicked off June 2 in St. Paul, Minnesota, and hits a number of stops throughout the Midwest this month. Though this is Taylor's first time trekking with the band outside of Colorado, he doesn't think the new audiences will be much different from what he's used to in Boulder and Denver.
"I actually think of Denver as a very Midwestern city that just happens to be next to the mountains," Taylor says. "We've met some very enthusiastic rock fans, people who've gone way out of their way to see us. When someone comes up to you and tells you how much a certain song means to them, it's a great feeling."
Then again, the folks back in Colorado seem to welcome people with a proclivity for wearing birds.
"There are a lot of STL transplants around the Denver/Boulder area," Tyler says. "I'm a huge Cardinals fan, and whenever I go to Cards/Rockies games, the crowd seems to be at least half red."
Though Taylor visits his St. Louis family only a couple of times a year, the Gateway to the West is never far from his heart.
"I miss Missisippi Nights [which closed in 2007]; besides Pointfest, a lot of my first early concerts were there," Taylor says. "And I miss Imo's and gooey-butter cake, of course. I go to Blueberry Hill and University City in general, and Vintage Vinyl, whenever I'm back.
"And I'm not sure if this is right to say," Taylor continues, "but I miss being able to mutter about hoosiers under my breath and people understanding what I'm talking about."
See Also: - The 10 Greatest Alt-Country Bands Ever - Sixteen Songs Forever Ruined By Their Commercial Parodies - Nine Unintentionally Funny Lyrics in Well-Known Songs
Follow RFT Music on Twitter or Facebook. But go with Twitter. Facebook blows.