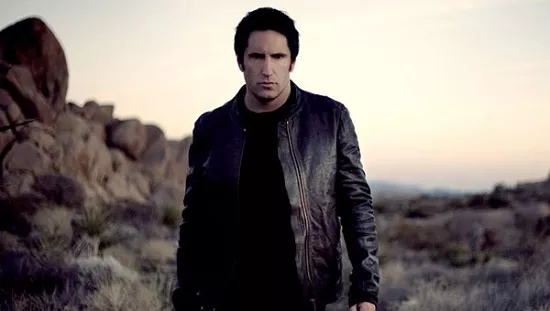 Press Photo
This guy is not in any of the following bands.
Nine Inch Nails recently released a new single entitled "Came Back Haunted." It sounds just like Nine Inch Nails has sounded over the last five albums: absolutely and totally 100 percent OK as fuck. In honor of Nine Inch Nails continuing to keep me simultaneously unengaged and unrepulsed, I figured I'd better post about some other quality and vaguely industrial groups that most of its current fans don't give a shit about. Given that I never did large amounts of ketamine or went to any raves, I'll be writing about bands that my balding-dreadocked friends have gushed about for years but that I've never really listened to until now.
6. Einsturzende Neubauten
This was the band that was always the most beloved by the weird industrial goths I knew but weren't friends with. An active interest in Einsturzende Neubauten usually also meant a subscription to some weird body-modification and horror magazines. As you can see in the video, it's some guys banging on steel beams while a dude who looks like a human Chihuahua howls over the noise. So basically, it rules. I guess one of the members of this band later joined the Birthday Party, that band best known for having Nick Cave in it.
5. Die Krupps
Die Krupps was introduced to me by a nerdy kid with glasses and an affinity for Sepultura. Once, we stole a bunch of his CDs when he set his backpack down in industrial technology class. We later became good friends, and I beat him up in a record store when he tried to buy some CD that I really wanted. I'm sure it was something terrible and embarrassing. In short, I am an asshole. This band has some material that sounds like a scary version of Kraftwerk and some stuff that sounds like bad, watered-down industrial Black Album Metallica stuff.
4. Front 242
When he's not posting about trypophobia or making pornography, my good buddy Chad has been on a hyper-worship kick of Front 242 lately. As another band I've ignored for years (maybe because of the name's similarity to Frontline Assembly), I am now kicking myself for not taking an interest in these freaky Belgians sooner. I guess they called this stuff "Electronic Body Music" (EBM) which pretty accurately describes the urge to dance around while wearing sunglasses, short shorts and a leather jacket with no shirt.
3. My Life With Thrill Kill Cult
This might be stretching the word "great" a bit, but it's definitely worth a mention. I heard about this band from a tall dude I used to hang out with in high school who wore a choker, freaky contacts and vampire teeth. I never gave it a listen because of the awful name, much in the way I've never seen the movie The Crow because of its pasty goofball fans.
2. Leæther Strip
I had never even heard of this band until today, but this video features some of the most powerful high-top fades I've ever seen, and the singer is wearing his own band's shirt. This Danish group seems to be a fairly important precursor to a bunch of music I tried to get into and never did, like Wumpscut and Velvet Acid Christ. Once, my friend and I met this girl and her male friend at a coffee shop and ended up driving around and smoking weed with them in a car. They said they liked industrial music, so I put on some stuff that sounded like this, which also had some female moaning on one of the tracks. When it came on, the girl flipped out and started screaming, demanding us to let her out of the car immediately. So we dropped them off near a lake somewhere and never saw them again. Goths, man. Goths.
1. Killing Joke
Funny enough, I used to actually work with a guy named Martin Atkins who was in Killing Joke (and Nine Inch Nails, as well as Public Image LTD), but I'm fairly sure he didn't know who I was, and I ended up deleting most of his e-mails anyway. I'll be honest and admit that I'm violating the theme of this article in order to save a few lives by talking about this band. I've loved Killing Joke for years, thanks to Dave Grohl bringing its genius back to light when he played on its 2003 record. Beautiful, heavy, strange and always creating some of the most remarkably catchy music, Killing Joke has been around for over 30 years and has never actually put out a bad record. In fact, the band still fucking rips today.
See Also: - The Top Ten Douchiest Guitar Players of All Time - The Top Ten Douchiest Drummers of All Time - The 15 Most Ridiculous Band Promo Photos
Follow RFT Music on Twitter or Facebook. But go with Twitter. Facebook blows.