I Went To A Show presents: The Blind Eyes and Beth Bombara Double EP Release - Saturday, June 15 @ Off Broadway
Happy Monday, everybody! We like to think of the start of each week as a new slate. Which shows will you go see? Some options include Canadian Rifle, Lord Huron and Kittypalooza. Read about these recommendations and more after the jump, and make this week a good one.
Note: Though we wish we could, we can't feature every great show happening in town in just one measly post. Look for plenty more recommendations this Friday in our weekend show post, and peruse the St. Louis concert calendar for more ideas any time.
Did we leave something significant out? There's a chance it didn't make it onto our radar! Send your show tips anytime to clubs@riverfronttimes.com.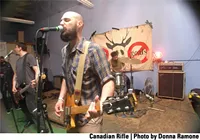 Canadian Rifle Monday, June 10, 9 p.m. w/ Breakmouth Annie, Black Panties @ Blank Space - $5 By Mabel Suen Chicago's Canadian Rifle plays melodic fast-paced punk with more of a pop lean than hardcore but delivers it with ample amounts of energy and viciousness. Rumbly bass lines make way for occasional guitar noodling and hooks aplenty for grabbing on to, but make haste before it passes by in a fleeting straight-laced frenzy of solid, even drumming. Feel good tunes await to head bang to, so come prepared to sweat it out.
Lord Huron Tuesday, June 11, 8:30 p.m. w/ Escondido @ Off Broadway - $12-$18 By Roy Kasten The post-colonial critiques that have dogged the likes of Vampire Weekend and Beirut, not to mention Paul Simon, would be trivial if they weren't so misguided. Dear grad-students: Rock music exploits everything; that's what makes it rock music. Enter into the fray Lord Huron (aka Ben Schneider), whose lush, poly-cultural folk-pop evokes an ambient remix of the Talking Heads' Remain in Light, as if the sounds of world music were as native to the band as hooks, harmonies and wanderlust - which they are. How Lord Huron will communicate these omnivorous dream-songs onstage is anyone's guess, but you'd be over-thinking things not to find out
Freedy Johnston Wednesday, June 12, 8 p.m. w/ Winterpills @ Off Broadway - $12-$18 By Christian Schaeffer From this 2010 show review: What becomes of the one-hit wonder? In the case of Freedy Johnston, whose 1994 song "Bad Reputation" was a bittersweet slice of acoustic alternative rock back when that was a viable genre, it appears that you simply keep writing good, catchy, heartfelt songs regardless of who is listening. At last night's show at Off Broadway, Johnston had the ears of about 60 or 70 patrons, but the sparse crowd was nonetheless captivated by his solo acoustic performance.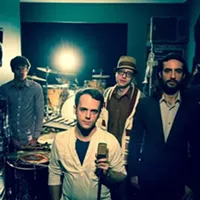 Grandchildren Thursday, June 13, 9 p.m. w/ The Reverbs, Kid Scientist @ The Heavy Anchor - $5 By Mabel Suen Six dudes manning tons of drums combined with the moving melodies of synths, multiple guitars and the occasional horn can turn a small stage into somewhat of a spectacle. Philadelphia's Grandchildren manages to synchronize all these separately moving acoustic and electric pieces tightly with a backing track of sampled beats. The resulting symphonic experience reaches far beyond the range of a standard pop band, with an impressive range of vocal harmonies playing a leading role within orchestral compositions. On this tour, Grandchildren presents its sophomore release, Golden Age, produced by Chris Powell from Man Man and Bill Moriarty of Dr. Dog. It takes a decidedly floatier approach than Grandchildren's initial release; frontman Aleks Martray describes the songs as a collage of sorts, which explains why it's so easy to get lost in the dreamlike nature of it all.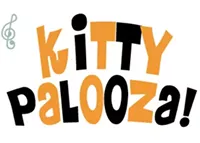 Kittypalooza Tenth Life Cat Rescue Benefit Friday, June 14, 8 p.m. w/ Langen Neubacher, Finn's Motel, The Deciders, 3 Cows in the Road, The Jump Starts, Spectator, Melody Den, Aquitaine, The Remodels, The Love Experts, The Vondrukes, Brothers Lazaroff @ Off Broadway - $10-$13 By Allison Babka Is there anything more purrrrrfect than a fast-paced show, twelve local bands and a donation drive for cats? Nope, not really. As the Internet has shown us, people are suckers for creatures of the feline persuasion, and Tenth Life Cat Rescue is hoping that fandom will translate into cash for the kitties it nurses back to health. A $10 entry fee gives you access to some of St. Louis' best bands, including Aquitaine, Finn's Motel, Brothers Lazaroff and Jump Starts, most of which will perform at least one cat-centric tune. Bring food or toys for the kitties, and you'll be entered to win a Kittypalooza poster designed by Ronald Weaver and signed by the bands.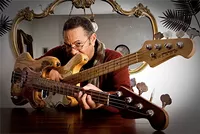 George Porter Jr. & the Runnin' Pardners Friday, June 14, 10 p.m. w/ Funky Butt Brass Band @ Broadway Oyster Bar - $15 By Christian Schaeffer There's already an established pantheon of session bass players, men and women who laid it down on some of American music's best-loved tracks: James Jamerson, Bob Babbitt, Donald "Duck" Dunn and Carol Kaye are rightly lionized. But then comes someone like George Porter, who began as Allen Toussaint's first-call bassist in New Orleans' R&B heyday and then found solid-gold funk acclaim as part of the Meters. His bass-playing and singing helped define swampy '70s funk, and he continues playing with a number of New Orleans groups. Don't miss this chance for a master-class with the innovator
The Blind Eyes and Beth Bombara Double EP Release Saturday, June 15, 9 p.m. w/ Bruiser Queen @ Off Broadway - $10 By Jaime Lees One of the coolest things about the St. Louis music scene is the way that the bands support each other. Each group celebrates its neighbors accomplishments, with success for one symbolizing success for all. This friendliness expands to the stage, where locals are always eager to mix genres: Punk bands play with Americana bands, electro bands play with noise bands, etc. The Blind Eyes and Beth Bombara represent two different (but not dueling) aspects of the St. Louis scene: pop and indie-folk. Whereas the Blind Eyes bring flash and hooks and Kinks-itude, Bombara is like a bourbon-warmed Neko Case. Still, these clashing sounds somehow work together in a way that is uniquely St. Louis.
Mary J. Blige Sunday June 15, 7:30 p.m. w/ Chrisette Michele, Eric Benet @ Chaifetz Arena - $67-$92 By Calvin Cox From this 2010 show review: After intermission, the lights went up to reveal a NYC skyline backdrop for MJB's set as she sang her version of Game's "Hate it or Love it." Mary's set featured a bigger band, more background singers and a glowing mic stand. She proceeded to run through her illustrious catalog, usually performing just one verse of a song before moving on to the next. She played "Be Happy," "You Remind Me" and "Real Love" before breaking out into her own dance solo, while the crowd chanted "Go Mary!" It had a very '90's vibe; and just in case you'd forgotten, Mary can move.
The Supersuckers Sunday, June 16, 8 p.m. w/ The Number 9 Blacktops @ Old Rock House - $15 By Roy Kasten From this 2012 show preview: What the Supersuckers lack in subtlety and originality it makes up for in testosterone and comedic timing. Only its biker-wannabe following took the "Greatest Rock & Roll Band in the World" marketing seriously, but the band's highly head-bang-able and equally unlikely cult hits for Sub Pop -- "Creepy Jackalope Eye," "On the Couch," "Pretty Fucked Up" (as in "she used to be pretty, but now she's...you know what") -- still rock harder and come off less dated than most of the band's grunge-era peers. With the years, the group has added more and more country to its leather-and-shades attitude, and absurd as it sounds, the fusion of metal and twang sticks.
See Also: - The Ten Biggest Concert Buzzkills: An Illustrated Guide - The 10 Most WTF Crimes Committed by Musicians - The Glee Treatment: "Fuck That Shit" and Five Other Rejections From Bands
Follow RFT Music on Twitter or Facebook. But go with Twitter. Facebook blows.