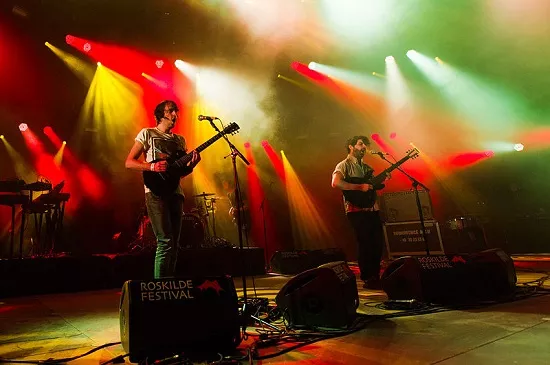 [Update: Congrats to Jeremy Lehmann! Pick up your tickets at the box office. Make sure to bring a photo ID; enjoy the show!]
Oxford, England's Foals brings its brand of danceable indie rock to the Pageant tonight, and we've got two tickets for you to win!
To win, simply tell us why you deserve to go. Be creative! You may enter in the comments or on our Facebook or Twitter pages, links to which you can find below -- make sure you include some way of contacting you, as well as your full name so you can pick up your tickets. We will announce the winner today here, at 4 p.m.
Foals is presently touring in support of its latest album, Holy Fire, released this February. Check out what Katie Moulton had to say about the band in this 2011 critic's pick:
Foals flitted out of Oxford, England, in 2008 with "Cassius," a moment of tightly choreographed spasticity that invited comparisons to Bloc Party and Vampire Weekend, with which Foals shares an ivory-tower image with foppish, often yipping vocals, awkward-cool demeanor and a penchant for hyped-up Afrobeats. The quintet, signed to Sub Pop in the United States, returned in 2010 with its second album, Total Life Forever. Foals hasn't mellowed, but its sound has deepened into atmospheric electro-funk. On songs like "Blue Blood," Yannis Philippakis trades his earlier bark for the unhinged heft of Frightened Rabbit's Scott Hutchinson. "Miami" is a lover's plea with a sticky groove, and ubiquitous single "Spanish Sahara" is a thing of such rising beauty you'll forget you've stopped dancing, at least for a minute.
Check out the video for "Inhaler" off of Holy Fire, below.
See Also: - The Ten Biggest Concert Buzzkills: An Illustrated Guide - The 10 Most WTF Crimes Committed by Musicians - The Glee Treatment: "Fuck That Shit" and Five Other Rejections From Bands
Follow RFT Music on Twitter or Facebook. But go with Twitter. Facebook blows.