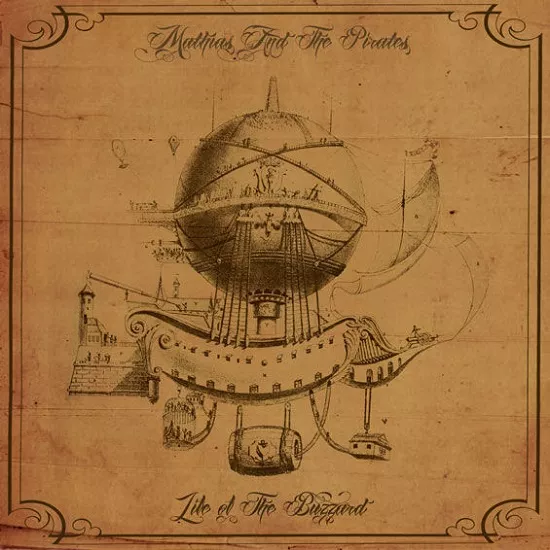 Former Earthworms member Mathias treads tricky ground on this release, his second with the Pirates. On "Jack Palance" he decries the modernity of Twitter, Justin Bieber and hipsters while celebrating the golden era of hip-hop. But there are few overt nods to the old-school in the album's production -- the boom-bap 808 hits on "Go With Me" match the uptown soul of the song, and DJ LB's scratches are tasteful and rarely overpowering.
More notable is Mathias & the Pirates' fidelity to its band name and the theme of piracy and high-seas mayhem. "Sea Shanty in D-Minor" (the saddest of all keys, you'll recall) gives the album a thematic opening and a familiar chorus -- "a pirate's life for me" -- before moving into more hip-hop-oriented songs that reinforce the modern-day swashbuckling that preoccupies the first half of the album. Mathias has done his homework here: "Ballad of Old Long Ben" takes its inspiration from a bygone sailing ditty, and that sing-songy chorus helps the song stick like bubble gum.
Credit the members of the Pirates for the versatility found on Life of the Buzzard. Vocalist Ms. Vizion carries much of the weight as the record progresses; rather than solely singing the hooks, she often serves as a guide into certain songs (like the album-closing "Lonely Hearts Saloon") before Mathias even makes a peep. The collaboration with the Brothers Lazaroff titled "When I See the Sun" gives her the full stage and further solidifies the link between roots and rap on this album.
As befitting of any hip-hop album worth its salt, the band welcomes some special guest stars: Brand Nubian's Sadat X drops in for a powerful verse on "Souls on Fire," which features the turntable work of Mathias' old Earthworms bandmate, DJ Mahf. So, why does Mathias stick with pirates, instead of the traditional gangster motif? Hard to say, but it's a wrinkle on the traditional outlaw archetype, and the yo-ho-ho shanties don't overwhelm what is a solid and varied program.
Listen to the new album below:
See Also: - The Top Ten Ways to Piss Off Your Bartender at a Music Venue - Ten Bands You Never Would Have Thought Used to Be Good - The Top 15 Things That Annoy the Crap Out of Your Local Sound Guy
Follow RFT Music on Twitter or Facebook. But go with Twitter. Facebook blows.