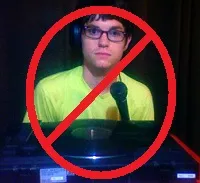 This week, I bid adieu to the Nitpick Six column I have written weekly for nearly two years. I am very grateful to RFT for this platform and to every person who has read any entries -- even those who would have clicked a "dislike" Facebook icon on them if given the option. Let's go out in flames by counting down the best of many anti-Ryan Wasoba comments in RFT. You can add to the discussion below, but I'm not updating this list unless it's something profoundly awesome.
HONORABLE MENTION: "ACDC rools you faget" from The Six Most Uncomfortable Lyrics In Songs Kids Like
The most recent entry in the category refers to unsavory criticisms of AC/DC. What makes this worth mentioning is an earlier entry on said list, in which I discuss the complications that arise from the use of the word "faggot" in Green Day's "American Idiot." And while I am personally prone to a spelling error here and there (my fingers move so fast I can't stop them!), I am amazed that 75 percent of this sentence is incorrect.
6. "You should consider hiring someone who has a clue about music..." from The Six Coolest Members Of Otherwise Uncool Bands
This is not the only open letter RFT received about why I should be fired, but it is the most severe. The writer describes my opinions as inexplicable, bashes my grammar and sentence structure and tries to bring music editor Daniel Hill down with me for allowing such filth to see daylight. With no specific examples, I cannot tell the source of this man's passion. Perhaps he is bummed that I complained about Red Hot Chili Peppers or said that Jon Anderson was the reason Rush fans think Yes fans are nerds. I'm still proud of the latter statement. Please note that I use the pronoun "he" because the writer used the name "patrickdean," and the commenter uses "he or she" for political correctness, although my name is on the byline. In fairness, I have seen one female with the name Ryan in my life, and she was a contestant on a '90s Nickelodeon game show. What are the chances that this dude saw the same episode of Family Double Dare?
5. "Hopefully you go to jail. You suck, Wasoba." from Illegal Download Is Wrong, But I Do It Anyway
This was a difficult article to write, and I chose to approach the topic by admitting I have sinned. In it, I tried to outline the justifications people often use for illegal downloading and essentially dispelled each one in process. It seemed to me an honest angle to open a discussion about music fandom in this digital age, and I was proud of some of the conclusions reached. I was also proud of the first comment this article received, in which the implication is made that how much a person sucks is a factor to the U.S. legal system.
4. "This article was awful. I know the RFT has been going downhill for a long time, but this was the final nail in the coffin. Kudos, Wasoba, for being the executioner to a once decent local paper." from Paul McCartney's Six Best Moustaches
I wanted to honor Paul McCartney's 70th birthday lightheartedly. When I think of Sir Paul, I think of the iconic Sgt Pepper moustache, and this angle was a fun way to tribute the man without adding to the glut of "Best Paul McCartney Songs" lists that flooded the Internet that day. Little did I know that I was actually pulling the lever on the electric chair for RFT while simultaneously nailing its coffin shut. I am a metaphorical, one-man death panel, and -- worst of all -- can't even grow a moustache.
3. "Hilarious. Maybe if you recorded us we'd be on the list?..." from The 2012 RFT Music Awards Nominees
I did not write the aforementioned article, but I still got hammered in the comments by Andrew Bohler, who was complaining because his party duo It! was not nominated in the RFT Music Awards' "Best New Band" category. I replied that his band was potentially too new to have made the list, which was in the works for months, and that next year if the band is worthy they will make the cut. He then replied with the above gem, which in its continued form said I was jealous of the band's guitarist and that his band is the shit. He bashed RFT and me while accusing the paper of favoritism, then claimed people put words in his mouth and that it was all a big publicity stunt. Bohler asked me to perform at one of his InnFest shows. I was not available, but I wanted to clear the air and told him that I was a bit miffed by the comment. He replied, "Just said that to get people talking. It worked." But in a music scene so interconnected, one where where reputation is key, you probably want to work on your talking points.
2. "I love how polite the Ghost Wolves were not to mention how fugly the name Wasoba is. Sounds like chronic diarrhea you get from eating too much Wasabi" from The Ghost Wolves' Thoughtful Request To Be Removed From RFT's "Worst" Band Name List
In an article about the six best and worst band names at 2012's SXSW conference, I criticized the Ghost Wolves for combining two overused words into a single moniker. The band e-mailed me later, explaining that the members run a wolf sanctuary, tour with an actual wolf/dog hybrid and chose the name after a haunting experience involving, you guessed it, a ghost wolf. There were a few comments about how I was dumb because the band rocks, as though there was any judgement of the band's actual music, but the one above tickled me. Granted, bands can choose their own names, and you're basically stuck with the last name you're given, but still -- I know Wasoba is not the simplest or most elegant name out there. Chronic diarrhea from eating too much wasabi? I haven't eaten sushi since, but only because sushi is expensive.
1. "Fuck off, Wasoba" from The Six Best Solo Guitar Albums and The Six Best Coachella Death Matches.
Simple, effective and to the point, "Fuck off, Wasoba" is classic. The comment appeared on the two above entries, but it can definitely be found in other places if somebody wanted to dig through RFT's archives. There was a period when I wondered if I had accidentally input a code that automatically commented "Fuck off, Wasoba" with every blog post.
I have never been a stranger to being picked on digitally. Back when I was still using AOL, somebody photoshopped my head onto a naked lady's body and sent it to most of my high school marching band. When Stlpunk was king of local social media, somebody made an anti-Wasoba page, while another user recreated my profile and left rude comments to countless people under my name.
This criticism-slash-cyber-bullying is not a factor in my retirement from RFT columns. Ruffling feathers has never been the point of these articles either. I do not claim that everything I have written is gold, but "Fuck off, Wasoba" succinctly encapsulates one element of music writing: Regardless of your ideas, opinions or abilities, haters gon' hate. So for Nitpick Six and RFT Music, this is Ryan Wasoba, fucking off.
Follow RFT Music on Twitter or Facebook. But go with Twitter. Facebook blows.