Steve Truesdell
Sleepy Kitty
Whew! Well that was fun. The rain dried up just in time, the temperatures hovered in the seventies, the people came out in droves, and the bands -- oh the bands. Washington Avenue's regulars didn't know what hit them, as over fifty of our city's finest musical acts brought down house after house for twelve solid hours from 3 p.m. to 3 a.m.
See Also: - 2013 RFT Music Showcase: Slideshow - More 2013 RFT Music Showcase: Slideshow - Even More 2013 RFT Music Showcase: Slideshow
Oh yeah, and did you guys know about the German band that played? Sneakily, Pride and Ego Down hopped on and performed at Hair of the Dog in place of Sine Nomine, who had to cancel at the last minute. Hailing from all the way across the pond, and brought to us by the guys in Anodes, Pride and Ego Down played melodic post-hardcore that reminded me of Refused at times. Though not a St. Louis band, the group definitely played one of the day's stand-out sets, alongside many of our hometown heroes.
And so it goes. With all of the back-to-back entertainment and talent, the day becomes a whirlwind of great music, good times and fun surprises. RFT Music had photographers wandering all over Washington Avenue, doing their best to capture as much of the festivities as possible. Here are some of our favorite pictures from the event. Make sure to check out all of the pictures here, and thanks to all who played and attended!
Steve Truesdell
Black Panties
Steve Truesdell
Bruiser Queen
Steve Truesdell
Catholic Guilt
Steve Truesdell
Foxing
Steve Truesdell
Fred Friction
Steve Truesdell
Fumer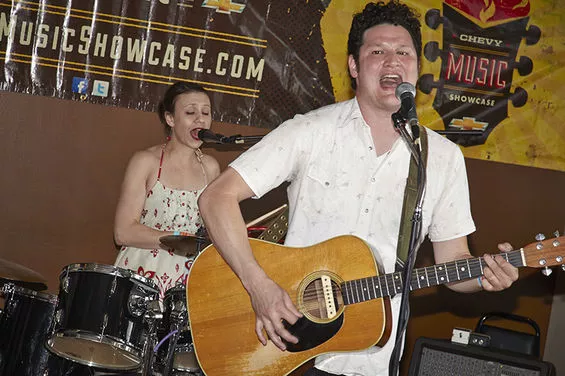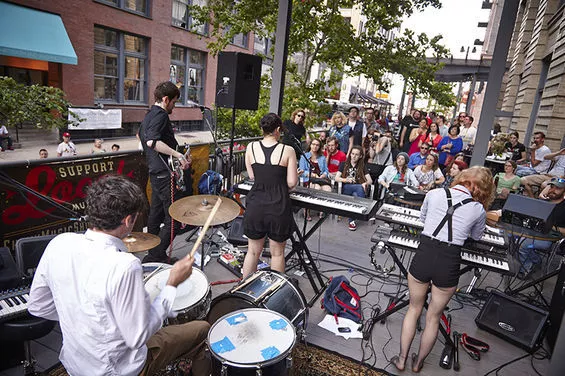 Steve Truesdell
Middle Class Fashion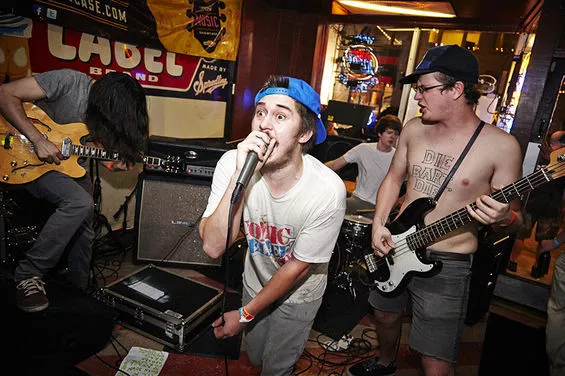 Steve Truesdell
Pink Sock
Steve Truesdell
The Union Electric
Jon Gitchoff
Capone
Jon Gitchoff
Demonlover
Jon Gitchoff
Lamar Harris
Jon Gitchoff
Scarlet Tanager
Jon Gitchoff
Tok
Jon Gitchoff
Via Dove
Theo Welling
Bug Chaser
Theo Welling
Dots Not Feathers
Theo Welling
Franco-Hill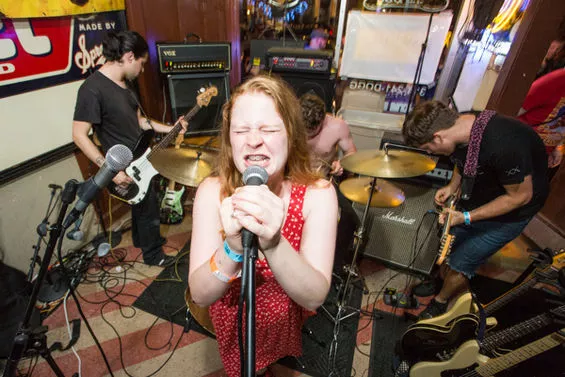 Theo Welling
The Little Big Bangs
Theo Welling
Prairie Rehab
See also: -Crotching Whiskey at the Justin Bieber Concert and Getting Thrown Out: A Review -The 15 Most Ridiculous Band Promo Photos Ever -The Ten Worst Music Tattoos Ever
Follow RFT Music on Twitter or Facebook. But go with Twitter. Facebook blows.