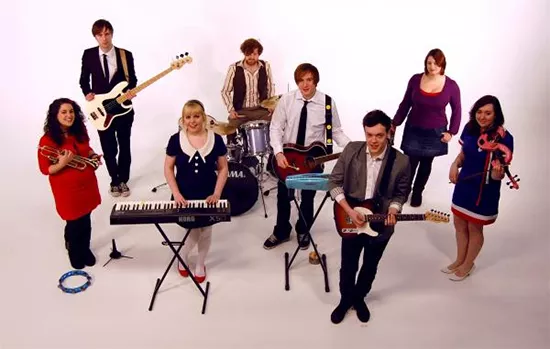 The School - Thursday, June 6 @ Off Broadway
As our awesome RFT Music contributor and MC for a day, Allison Babka, put it, "I have an RFT Music Showcase hangover." Many thanks to all the bands that took the time and effort to haul their equipment down to Washington Avenue, everyone involved in making it all possible and of course all the folks who came out to show their support for local music.
Besides the showcase, this past weekend also played host to some pretty huge shows including Pokey LaFarge at Casa Loma Ballroom and James Murphy at 2720. Click the links to see some slideshows, and be a part of the next one by attending some upcoming events. Our recommendations await after the jump.
Note: Though we wish we could, we can't feature every great show happening in town in just one measly post. Look for plenty more recommendations this Friday in our weekend show post, and peruse the St. Louis concert calendar for more ideas any time.
Did we leave something significant out? There's a chance it didn't make it onto our radar! Send your show tips anytime to clubs@riverfronttimes.com.
Fake Problems Monday, June 3, 7:30 p.m. w/ The Menzingers, Restorations, Captain We're Sinking @ The Firebird - $13-$15 By Scott Heisel From this 2011 show preview: It grows more difficult by the day to define just what exactly "indie rock" is, but in a dream world, Fake Problems is the model. On 2010's Real Ghosts Caught on Tape, the band fused influences as disparate as Brand New and Vampire Weekend into a bouncy, bubbly pop stew with punk undertones. This diversity is the reason the band can go from spending a summer on the Warped Tour to a Pitchfork-friendly headlining stint with Pomegranates and Laura Stevenson and the Cans. It's rare that a band tagged with the indie-rock label actually knows how to rock, but Fake Problems has no problem cranking amps to eleven -- or at least to a healthy eight.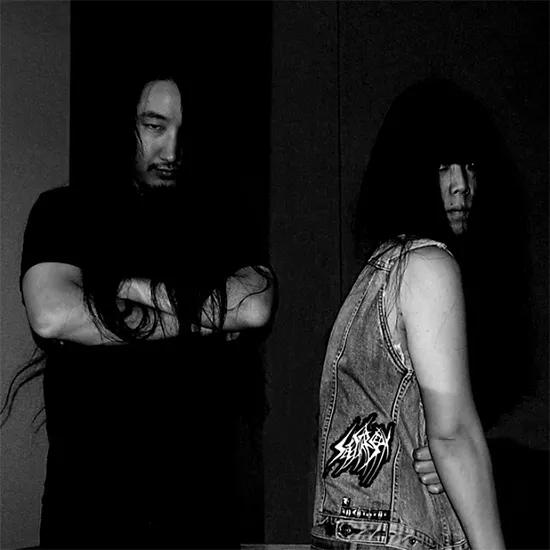 Sete Star Sept Tuesday, June 4, 9 p.m. w/ Gutterpriest, Shaved Women @ Blank Space - $5 By Mabel Suen If the descriptor "Japanese noise grind" doesn't already grab your attention, then nothing else we could possibly say could when it comes to this one. Sete Star Sept consists of drummer Kiyasu tearing drums a new one while vocalist/bassist Kae lets out scratchy guttural groans that seem blissfully out of place coming from her petite frame. The duo makes a stop in St. Louis fresh off of the Chaos in Tejas Fest. Expect a heavy, shreddy set that's as raw and real as it gets.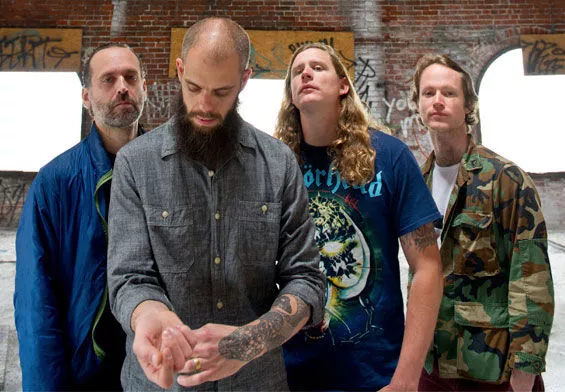 Baroness Wednesday, June 5, 8 p.m. w/ Coliseum @ The Firebird - $16-$20 By Rick Giordano From "Black and Blue: Baroness emerges from the wreckage with new lineup:" In August 2012, less than four weeks after releasing a new double album through Relapse Records titled Yellow & Green, the members of Baroness were in one of the most horrific bus crashes to happen in heavy music since the world lost Cliff Burton in 1986. The band was on tour, driving through Bath, England, when reduced visibility and treacherous roads sent the tour bus plummeting off of a 30-foot embankment...After a ten-month delay, Baroness will finally be touring in support of the new album, which has been receiving heaps of critical acclaim in both heavy-metal and mainstream circles since its release.
The School Thursday, June 6, 9 p.m. w/ Vanilla Beans, Sleepy & the Bedtimes @ Off Broadway - $7-$10 By Mike Appelstein "Don't Stop Indie Pop!" That's what it says on the Fat Tulips and Confetti seven-inches from the early '90s, and that's what the School professes in the here and now. Hailing from Cardiff, Wales, this female-fronted septet specializes in tuneful, heart-tugging pop songs. The obvious comparisons are to Camera Obscura and Belle & Sebastian, but there are also elements of '60s French pop and classic soul. The School is produced by Ian Catt, the man behind classic releases by Saint Etienne and Trembling Blue Stars, and records for Elefant Records, which has been one of the foremost proponents of this type of music for over two decades. St. Louis rarely gets up-and-coming indie-pop bands of this caliber on their debut American tours, so do not miss.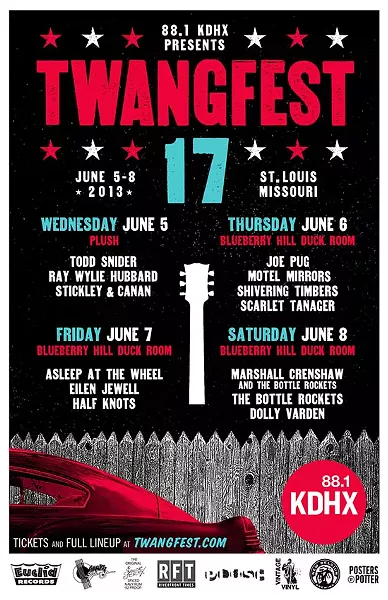 Twangfest 17 Friday, June 7, 8 p.m. w/ Asleep at the Wheel, Ellen Jewell, Half Knots (+many more on other nights) @ Blueberry Hill - $28 By Christian Schaeffer More than Memorial Day or the swarming of June bugs, Twangfest has come to mark the start of the summer concert season. Now in its seventeenth year, the multi-night festival brings the best in roots, folk, soul and rock from around the country, tossing in a few local acts to help warm the stage. This year the party kicks off Wednesday night at Plush with Todd Snider and Ray Wylie Hubbard, before moving to the Duck Room at Blueberry Hill for the next three evenings. Some acts to catch: Chicago's wizened, soulful balladeer Joe Pug (Thursday), the tried-and-true country of Asleep at the Wheel (Friday), and the matrimonial harmonies of Dolly Varden (Saturday).
Foals w/ Surfer Blood, Blondfire Friday, June 7, 8 p.m. @ The Pageant - $17.50-$22 By Katie Moulton From this 2011 show preview: Foals flitted out of Oxford, England, in 2008 with "Cassius," a moment of tightly choreographed spasticity that invited comparisons to Bloc Party and Vampire Weekend, with which Foals shares an ivory-tower image with foppish, often yipping vocals, awkward-cool demeanor and a penchant for hyped-up Afrobeats. The quintet, signed to Sub Pop in the United States, returned in 2010 with its second album, Total Life Forever. Foals hasn't mellowed, but its sound has deepened into atmospheric electro-funk. On songs like "Blue Blood," Yannis Philippakis trades his earlier bark for the unhinged heft of Frightened Rabbit's Scott Hutchinson. "Miami" is a lover's plea with a sticky groove, and ubiquitous single "Spanish Sahara" is a thing of such rising beauty you'll forget you've stopped dancing, at least for a minute.
The Dead Milkmen Saturday, June 8, 8 p.m. @ The Firebird - $20 By Mabel Suen From "The Dead Milkmen to Play Show at the Firebird on June 8:" Snarky Philadalephia-based punk rock band the Dead Milkmen will play The Firebird. This is the first time the Dead Milkmen have played in St. Louis in nearly twenty years, though frontman Joe Genaro's various projects -- including his solo act, Joe Jack Talcum -- have stopped through town. The group reunited in 2008, following a thirteen-year hiatus and the passing of original bass guitarist Dave Schulthise. The current line-up includes original members Genaro, Rodney Linderman and Dean Sabatino, with Dan Stevens of Genaro's project, the Low Budgets, on bass.
Story of the Year Saturday, June 8, 8 p.m. w/ Tear Out the Heart, Leopard @ The Pageant - $15-$17 By Annie Zaleski From this 2011 show preview and interview: Story of the Year released its major label debut, Page Avenue, in 2003. In the years since then, other bands of its ilk have broken up, run out of creative steam or gone soft. But four albums into its career, the St. Louis quintet continues to defy critics - and resist pigeonholing.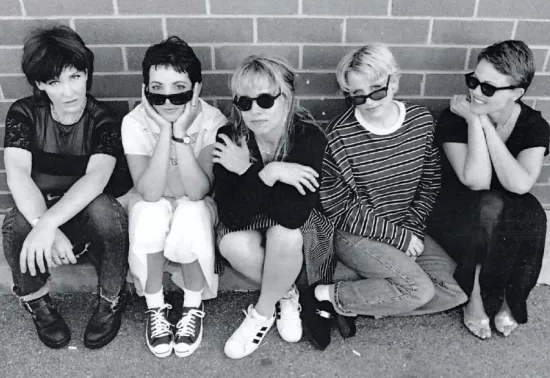 The Go-Go's Sunday, June 9, 8 p.m. @ The Pageant - $35-$40 By Allison Babka Those of a certain age may have been introduced to the Go-Go's when the Chipettes sang "Vacation" on an episode of "Alvin and the Chipmunks in the early '80s. Younger fans may have formed their appreciation after watching the all-girl group perform "Surf City" during a 2001 televised tribute to Brian Wilson. No matter the initiation method, the music of the Go-Go's remains effervescent and catchy, prompting plenty of toe-tapping from those wearing skinny jeans as both retro and current fashion. It doesn't look like St. Louis is getting the double bill with the B-52s that many of the Go-Go's other summer tour stops are, but it's possible that the Pageant wouldn't have been able to hold such a sizable amount of sonic awesomeness anyway.
See Also: - The Ten Biggest Concert Buzzkills: An Illustrated Guide - The 10 Most WTF Crimes Committed by Musicians - The Glee Treatment: "Fuck That Shit" and Five Other Rejections From Bands
Follow RFT Music on Twitter or Facebook. But go with Twitter. Facebook blows.