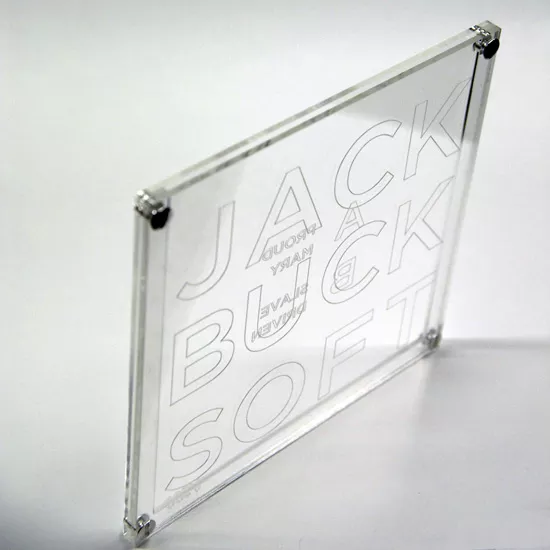 Chase Macri
Jack Buck's new release SOFT.
Jack Buck's entrance into St. Louis music made waves with its immediate release of an eye-catching seven-inch record. UGLY, pressed on colored vinyl and encased in wood, provided two loud, startling pieces of metal. Most groups cut their teeth for months before an official release, but this band's debut grabbed proper attention in late 2011.
Each member of the group flexes prog-rock muscle, but Jack Buck's blackened take on heavy, guitar-driven music comes punctuated by the subtleties of its songs. The band injects little drops of genre defiance into each, and forms distinct and singular pieces that vaguely resemble metal. Since its inception, Jack Buck has traveled outward and toured with frequency, covering considerable ground throughout the Midwest's major cities.
Chase Macri, local artist and guitarist, met with us to discuss SOFT. Being Jack Buck's sophomore release, SOFT answers to expectations of fans while moving forward and reaching for new fans with steady progression. Macri speaks on the importance of packaging as well as the group's intentions and plans for the future.
RFT Music: Jack Buck debuted in 2011 with a unique seven-inch release. What led to the decision to use unconventional packaging for UGLY?
Chase Macri: Music has become a valueless kind of thing with file-sharing, streaming services and the like. We felt like if we were going to make a product to sell, that the product itself needed to have value aside from the music. Since we're all huge music dorks and several of us are very much into vinyl, we thought both releasing our music on vinyl while creating something special and unique with the packaging would be a product worth selling.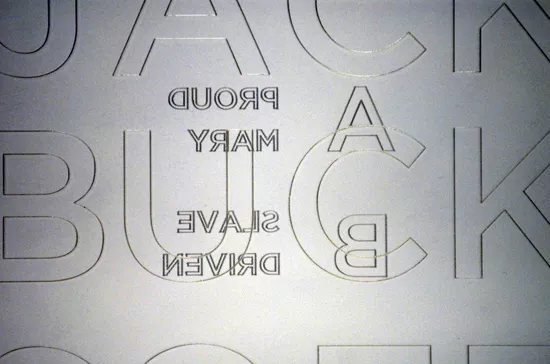 Chase Macri
Another view of the plexi-glass encased EP SOFT.
Over one year has passed since the first record dropped, can you tell us about the decisions that led to SOFT, your latest release?
The reception to UGLY was even better than we could have imagined, so much so that we actually had to repress the record. Since the idea to put out a record in a wooden case went over so well we wanted to try to top ourselves and prove that the first record wasn't our only good idea. And then someone floated the idea to make it clear and we were off. Musically we've progressed significantly since UGLY, with longer and more patient songs.
The package format for SOFT is just as odd as the wood-casing for UGLY. Can you tell us a little more about SOFT?
The idea behind SOFT was to make something completely clear. The design of the packaging for SOFT is very similar to UGLY, except instead of wood the case is made from clear acrylic. The record is clear vinyl and sits in a transparent sleeve. We again went with Steve Sebastian of Sebastian Woodworks Inc. and his CNC machine to cut the design into the cases. Steve also did the cutting for UGLY.
Jack Buck has musically evolved since its inception in 2011. Can you speak more on the new direction and the band's recent influences?
The main thing that has changed in our influences since we started is we're all serious Beliebers now.
UGLY and SOFT are both seven-inch releases. What plans does Jack Buck have for the future? What about a full-length album or compilation of these EP releases?
Hopefully a full-length and a tour supporting Metallica and their new 3D movie Through The Never.
With SOFT's release, what other events or touring does Jack Buck have on deck?
We have a few exciting things on the docket. On June 21, we're playing the PRF Rock Fest in Chicago with tons of bands from all over, including Dianogah, Stinking Lizavetta and Trophy Wives. Info on that fest can be found at the PRF BBQ website. Later in July we're hitting the road with Chicago's Fake Limbs for a few days, playing Louisville, Bloomington and maybe the moon. Should be a productive summer for us Beliebers.
Preview Jack Buck's new EP SOFT over at the band's personal bandcamp page.
See Also: - The Top Ten Douchiest Guitar Players of All Time - The Top Ten Douchiest Drummers of All Time - The 15 Most Ridiculous Band Promo Photos
Follow RFT Music on Twitter or Facebook. But go with Twitter. Facebook blows.