The 2013 Riverfront Times Music Showcase is this weekend! Think of it as St. Louis music's own official holiday and consider this the season. Throughout May we at RFT Music have been working hard to make our cases for all 130 bands and artists nominated for an RFT Music Award this year in 26 categories. Read on and get yourself acquainted, and we'll see you at the showcase (check out this post for the full schedule)!
Vote for all categories at the official 2013 RFT Music Showcase Readers' Poll.
Previously: - Electronic/Dance - Experimental - Cover - Country - Blues - Chamber Pop - Metal - Americana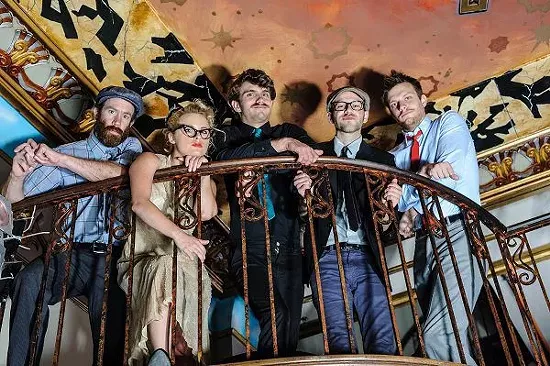 Arthur & The Librarian
If you added thought balloons to photos of Arthur & the Librarian at any of its shows, they'd all say variations of "Holy shit, I can't believe we're actually doing this!" Onstage, members of the folk group grin madly and bounce awkwardly while appearing surprised that people would pay to hear their sway-inducing tunes. It's like when Taylor Swift feigns shock as she receives an award, but you actually believe that Arthur & the Librarian means it. The effect is almost as enchanting as the music itself, which is best enjoyed while sitting in a park on a sunny day with a light breeze. With evocative songwriting, emotional harmonies and some damn thoughtful ukulele, Arthur & the Librarian songs kiss love both hello and goodbye. -Allison Babka
https://www.facebook.com/ArthurAndTheLibrarian http://www.arthurandthelibrarian.com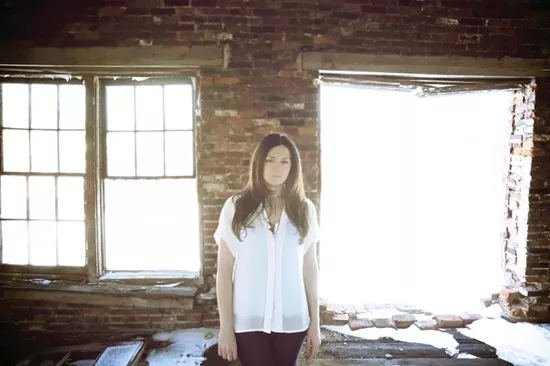 Cassie Morgan
It's been more than three years since Cassie Morgan and the Lonely Pine (a.k.a. Beth Bombara) released the Weathered Hands, Weary Eyes CD. Two months ago, just in time for Record Store Day, Morgan released a solo seven-inch single recorded "in a pole barn just outside of Wichita, Kansas" (so says her Bandcamp site). On "A Day Longer" and "Wake Up," Morgan takes a step sideways from her moody folk material, adding drums and electric piano to the mix for a fuller sound. "Wake Up," a local favorite, is highlighted by shimmering guitars and a generally foreboding feel. It's a wonderfully dark yet melodic sound that shines brightest in a live setting. -Mike Appelstein
https://www.facebook.com/CassieMorganandtheLonelyPine http://www.cassiemorgan.com
Dots not Feathers
The departure of three founding musicians saw Dots Not Feathers acquire four new members, flooding the band with sinewy synth patches and trampolining hockets. The new sound is one derivative of the band's cornucopia of musical interests. DNF sounds like a web strung by strategically placed fibers, all indicative of disparate influences that span genres. Tracks from upcoming LP The Readiness Is All... are awash with scattered sonic surprises: Down-shifted tempos swerve into R&B bass undulations and Bop-It chirps, just covered by the two-part choir of omnichordist Jessica Haley and keyboardist Katie Brooking. DNF even exchanges lead singers from track to track with Haley and guitarist Ryan Myers homering over compositions that change directions faster than a knuckleball. Bassist Chris Dickey and percussionist Nick Blackburn are always ready to bat, honing their skills on the side as part of a metal band — another reason why DNF's version of folk is not so folk-y after all. -Blair Stiles
https://www.facebook.com/dotsnotfeathersstl http://dotsnotfeathersmusic.bandcamp.com/ http://twitter.com/DNFmusic http://www.sonicbids.com/DotsNotFeathers http://myspace.com/dotsnotfeathersstl http://www.dotsnotfeathersmusic.com http://soundcloud.com/dots-not-feathers
https://www.facebook.com/indianblanketfolk
Indian Blanket
Joe Andert of Indian Blanket is a willowy young man with chest-length, caramel-colored hair and a mythical presence, with a voice that's also found in legend. Backed by Jim Hughes, Alex Beaven and cellist Katie Brown, the maestro curates mercurial folk songs that battle the din of chatty showgoers and ask for a listener's ear. His voice slithers out, in and around a crowd, finding moments of silence to erupt and showcase its beauty. Indian Blanket's resume is bullet-pointed with impressive opening slots: Samantha Crain, Widowspeak and First Aid Kit, to name a few. Prior to the opening gig for FAK, Indian Blanket was quietly constructing songs out of Americana's modern permutations. Now after those attention-getting shows, Indian Blanket is poised to come out of St. Louis' woodwork and present itself as more than folklore. -Blair Stiles
https://www.facebook.com/indianblanketfolk http://Indianblanket.bandcamp.com
https://www.facebook.com/pages/Joe-Stickley
Joe Stickley
Between his folk-rock work with Joe Stickley's Blueprint and his Celtic-infused music with Stickley & Canan, veteran songwriter Joe Stickley has carved out a unique career on the St. Louis music scene. He's not flashy, he's a poor self-promoter and he's not about to go synth-pop for synth-pop's sake. Stickley is simply a craftsman, a songwriter who knows how to tell a story, and how to deliver it with a smooth-but-not-too-smooth tenor. This year he released his first genuinely solo EP, Wasn't It Pretty, a graceful tour through the landscape of love and loss that never sounds clichéd or predictable. Like Dylan or Steve Earle, Stickley has a literary bent, but he never neglects the primacy of melody and rhythm.
https://www.facebook.com/pages/Joe-Stickley http://www.joestickley.com
Previously: - Electronic/Dance - Experimental - Cover - Country - Blues - Chamber Pop - Metal - Americana
Follow RFT Music on Twitter or Facebook. But go with Twitter. Facebook blows.