The 2013 Riverfront Times Music Showcase is this weekend! Think of it as St. Louis music's own official holiday and consider this the season. Throughout May we at RFT Music have been working hard to make our cases for all 130 bands and artists nominated for an RFT Music Award this year in 26 categories. Read on and get yourself acquainted, and we'll see you at the showcase (check out this post for the full schedule)!
Vote for all categories at the official 2013 RFT Music Showcase Readers' Poll.
Previously: - Cover - Country - Blues - Chamber Pop - Metal - Americana
https://www.facebook.com/britchesbritches
Britches
Britches crams atonal sound into neat rhythmic boxes. Guitarist Marty Reutter belts like a twisted choir boy through processed vocals. Bryant Hoban's nasty waves of bass build under Andrew Carter's subtle but heavy percussion. Carter's beats take on minimalist melody through low toms and sharp snares. This power trio rips like a broken keyboard, smelling of burnt circuits. The whole affair repeats in zen-like fashion, breaking only to build in variations. Ever the schizophrenics, Britches break the occasional set with long squalls of static and hum. Reutter's moaning throat cuts through rumbling strings, and off-mic screams stab deep with sporadic bursts. -Joseph Hess
https://www.facebook.com/britchesbritches http://britchesbritches.bandcamp.com/
https://www.facebook.com/darin.gray.18
Darin Gray
Darin Gray presently operates in the realms of free improvisation, jazz, noise and so on. Watching the bassist in person is a reminder of Gray's hardcore punk roots as a member of abrasive proto-math rock band The Dazzling Killmen. He is a frighteningly cathartic performer, feeding off the energy of his collaborators and pushing his own abilities to violent extremes. Gray is an expert of prepared bass, the practice of conjuring textures from his instrument using cymbals, sticks, trumpet mouthpieces and any other device that makes sound. Often, his techniques are multi-faceted, with a single action causing a cacophony of sympathetic vibrations like an instrument designed by Rube Goldberg in collaboration with Dr. Seuss. At these times, the scariest aspect of Darin Gray's performance is the thought of what other sonic possibilities are lurking through his skull. -Ryan Wasoba
https://www.facebook.com/darin.gray.18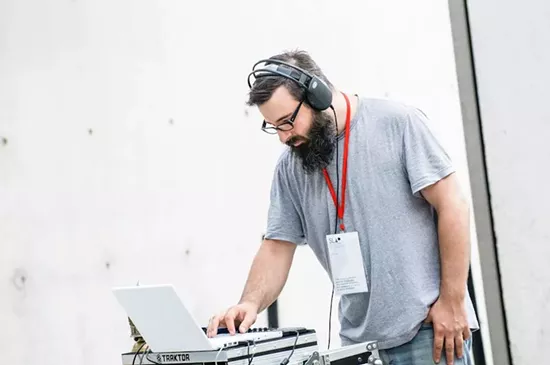 Courtesy of Kara Pritchard
Eric Hall
Eric Hall You could probably fill your iPod with nothing but solo releases from Eric Hall and still run out of room before you got to his collaborative work with other musicians. Last year he was put in charge of curating a massive installment of musical pairings at Laumeier Sculpture Park - and he actually pulled it off. That alone demands attention, but it wasn't enough for Eric Hall. He is constantly working on his craft - not so much for the fans as for his own sanity. It is pure, and it is good, but Hall's fans already know that. This is brilliant music for eager ears. -Kenny Snarzyk
http://erichall.bandcamp.com http://soundcloud.com/eric-hall http://vimeo.com/erichall http://youtube.com/user/erichallstl http://nnomurai.blogspot.com http://grandpasghost.com
Courtesy of Caitlin Macri
Ou Où
Our composition teachers taught us that all writing is really revision, and Ou Où is a musical representation of that little koan. Travis Bursik and Patrick Weston make up this instrumental duo, and the pair set about building a phrase or pattern, modulating it within an inch of its life, and then starting from scratch. The aural evidence on the band's series of EPs (including this year's cassette release Geocities) reveals some songs that build to a frenzy and some songs that drip and decay. -Christian Schaeffer
https://www.facebook.com/ououmusic http://ouou.bandcamp.com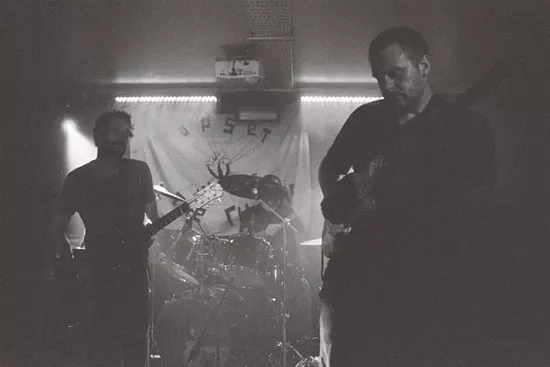 https://www.facebook.com/pages/Yowie/
Yowie
The elusive, brain-bending Yowie hides away in St. Louis to build on singular forms of progressive music. Yowie plays a dense foreign language through two guitars which communicate in an angry, six-string banter through strictly scattered drums. This power trio speaks in alien code with founding member Defenestrator playing the part of percussive conductor. Each song comes densely packed with rare repetitions: a series of guitar riffs pass like clever one-liners with unbridled speed. The shred level of death metal blends with poly-rhythmic jazz in an oppressive mix of experimental rock. Yowie's tenure includes a recent European tour and two full-length albums through the prolific Skin Graft Records. -Joseph Hess
https://www.facebook.com/pages/Yowie www.myspace.com/yowie
Previously: - Cover - Country - Blues - Chamber Pop - Metal - Americana
Follow RFT Music on Twitter or Facebook. But go with Twitter. Facebook blows.