The 2013 Riverfront Times Music Showcase is this weekend! Think of it as St. Louis music's own official holiday and consider this the season. Throughout May we at RFT Music have been working hard to make our cases for all 130 bands and artists nominated for an RFT Music Award this year in 26 categories. Read on and get yourself acquainted, and we'll see you at the showcase (check out this post for the full schedule)!
Vote for all categories at the official 2013 RFT Music Showcase Readers' Poll.
Previously: - Country - Blues - Chamber Pop - Metal - Americana
https://www.facebook.com/CaponeSTL
Capone
Quick: Name a band in St. Louis that has an eighteen-and-up explicit warning on the welcome page of its website. Shattermask? Wrong. Clownvis Presley? Wrong twice. Capone is the name and '80s hair metal with a dose of S&M (if that's not redundant) is its game. These weekend warriors have the scarves, the bandanas, the skulls, the tats, the mascara, and, for all we know, the cucumbers wrapped in tinfoil in their leather pants. But mostly they've got the rock, tumescent and titanic, to make the hoariest songs of hairiest hair bands - Poison, Ratt, Warrant and Mötley Crüe for starters - sound insanely fun again. -Roy Kasten
https://www.facebook.com/CaponeSTL
https://www.facebook.com/dancefloorriot
Dance Floor Riot
In the distant future, recorded music will be locked up in legal hell, and we'll require wise cover bands to relay the Top 40 hits of today and yesteryear. Dance Floor Riot seeks to replace the DJ, spinning pop on its head in proper rock fashion. This six-piece chews through the night club with guitars, keys and drums while bringing the dance to your favorite bar. The heavy twist on the mainstream supplies the good vibes and properly provides a fresh look on old favorites. The usual show runs for four hours, with three separate sets of expert jams. Catch Dance Floor Riot's view on the classic and new, and don't forget your dancing shoes. -Joseph Hess
https://www.facebook.com/dancefloorriot http://www.DanceFloorRiot.com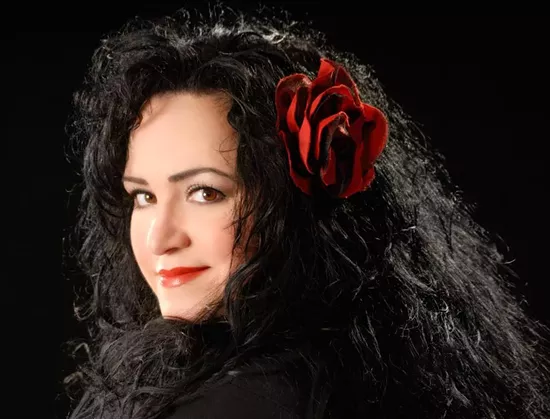 https://www.facebook.com/pages/Trixie-Delight
Trixie Delight
A good cover band, the kind you'll see in every other bar not beholden to Karaoke seven nights a week, has a good repertoire: maybe 40-50 songs tops, with a version of "Mustang Sally" thrown in for wedding gigs. Trixie Delight isn't a good cover band. When it comes to classic and alternative rock from the '70s to the '00s, it is the cover band. Led by commanding, deep-throated singer Kelly Wild, Trixie Delight can play it all - AC/DC, Violent Femmes, Pearl Jam, Foo Fighters, Heart, and Led Zeppelin - and though Wild is clearly the star of the show, the band gets the kind of huge, thrilling sound arena rock deserves. If you've never heard Trixie tear through "Me and Bobby McGee," you're missing one of the great St. Louis rock experiences. -Roy Kasten
https://www.facebook.com/pages/Trixie-Delight www.trixiedelight.com
https://www.facebook.com/pages/SUPERJAM
Superjam
Superjam renders a proper tribute to an age devoid of cellphones, Internet and MP3s. This well-traveled army of rock stalwarts brings the arena with them, pulling from Styx, Rush and more to invoke the teen years of a generation of hungry 40-somethings. Superjam applies its super-charged take on classic rock with love for the source, executingcareful takes on involved, complex songs. The passion shines through in each performance with distinct selections ranging from radio pop to progressive and hair metal. If the late '70s or early '80s sound like home to you, Superjam will take you back to a musty basement covered in beloved records and dusty cassette tapes. -Joseph Hess
https://www.facebook.com/pages/SUPERJAM http://superjamstl.net/wordpress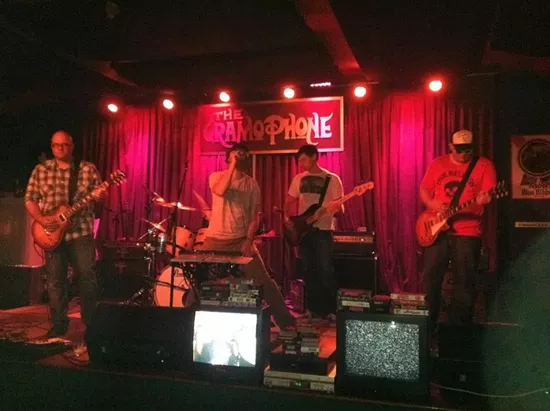 https://www.facebook.com/STLvcrs
The VCRS
One would not expect a '90s rock cover band who formed in the offices of the Purina corporation to have as much cred as the VCRs. The group's punk-rock pedigree comes mainly from bassist Greg Stinson, best known as the guitarist of the Humanoids, and its reputation comes from its passionately authentic sets of '90s alt-rock hits, in which you may hear a chart-topper by Smashing Pumpkins or Weezer next to a forgotten gem like "Ready To Go" by Republica. In addition, the band brings two televisions on stage with stacks of VHS tapes, inviting audience members to swap out visual stimuli at their will. At last year's GroveFest, VCRs singer Alex Kahn referenced this interactive schtick by changing some lyrics to Harvey Danger's "Flagpole Sitta": "Only stupid people are breeding / The cretins cloning and feeding / And I only own two TVs." -Ryan Wasoba
https://www.facebook.com/STLvcrs http://www.thevcrs.bandcamp.com
Previously: - Country - Blues - Chamber Pop - Metal - Americana
Follow RFT Music on Twitter or Facebook. But go with Twitter. Facebook blows.