Bret Hoy
The crew with Ian Mackaye in front of Dischord House in Washington, D.C.
Late last year, Bret Hoy and Sam Geneser set out to cast a lens on Midwestern punk. The duo had few preconceptions, and they found themselves welcomed into an open, diverse community. An initial interview with St. Louis's own Mark Sarich, the curator of the Lemp Neighborhood Arts Center, opened the pair to the inner workings of the DIY music sub-culture.
Following an IndieGoGo campaign and more than six months of filming, Hoy and Geneser now attempt to cast light on this movement through their film Dither: The DIY Sound. Hoy and Geneser hope to encapsulate the view from the bottom. Dither looks at artists who book their own tours and shows while self-releasing records with little to no outside help.
Hoy and Geneser eventually met with Ian Mackaye (Fugazi, Minor Threat, Dischord Records) for answers and inspiration. As Mackaye is often cited as a model-citizen of sorts for punk rock self-awareness, he provides heavy context to the film. Mackaye and other artists, such as Jacob Bannon (Converge), were tapped for their precious insight.
Based out of Springfield, Missouri, Bret Hoy (co-editor, cinematographer) sits firmly between major cities, providing knowledge on this intersecting and varied web of working artists. Hoy met with us to discuss Dither and to share his unique perspective on a vast but underlying sub-culture in American media.
RFT Music: Your documentary started as a film simply about "music." If you can recall, what were your initial impressions of the music scene as seen on the ground level?
Bret Hoy: When we first started going to shows during the early production of the film, the first thing that really surprised us was how accommodating and outgoing everyone was. We never felt out of place.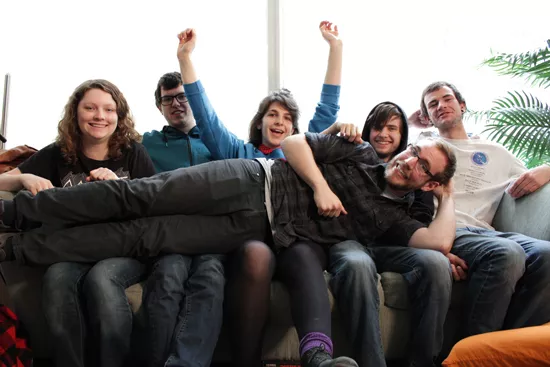 Bret Hoy
The crew with Elise Granata in New York City
With music as your focus, what initial goals did you have for the film?
It's funny because when we first started working on Dither, we really had no idea what we were doing and we didn't know exactly what we wanted the documentary to be about. I'd say our primary goal at the very beginning of production was to make a documentary about Midwest punk music. It was an ambiguous goal, but that's really what it was. When we dug in and started getting our main interviews, something much more important and meaningful developed.
According to your IndieGoGo video, an interview featuring St. Louis native Mark Sarich sparked your interest in the DIY culture. How did his perspective lend to the overall goals of Dither?
As I said, our primary goal was to make a documentary about punk music and the DIY ethic, but we weren't sure of the route that we wanted to take with it. When we talked to Mark Sarich, we had an interesting and mind-opening dialog as to what the DIY ethic was to someone that has lived it for twenty-plus years. Our goals changed from just making a punk documentary to making a documentary about maintaining a life that's not corrupted by money and that's separate from the mainstream. By following Dither through social media, one could discern the film's musical focus on the post-hardcore, screamo and skramz sub-genres of hardcore music. What can you say about the genres represented?
When choosing whom to talk to, we tried to steer away from choosing people based on music genres and more on the ethic of the individuals themselves. Ian Mackaye and Mark Sarich both made it clear that DIY isn't a genre-based community. It's a community of people who want to maintain an open artistic platform.
Your group recently posted photos of your interview with Ian Mackaye. What led to his inclusion in your film?
When we first started obtaining interviews, there was one band that everyone kept mentioning: Fugazi. For most of the people that we interviewed, Fugazi's mindset of being alternative to the mainstream and never doing anything for the money is an inspiration and a framework for how people should run their bands and show spaces.
How did Mackaye influence the focus of your film?
He gave us insight as to what things were like in the past and the reasons behind things like five-dollar shows and their no alcohol policy at shows. Using his interview, we were able to create a very interesting dialog between him and our other interviews.
Other than Ian Mackaye, could you divulge other artists you tapped for information and inspiration?
One of the more important interviews that we had was with Jacob Bannon of the band Converge and Deathwish Records. He became a major part of the film and from what I gathered at the premiere, he's one of the crowd favorites. Bannon talks extensively about the struggle and importance of maintaining a life that isn't corrupted by business.
We also talked to Chris Wrenn of Bridge Nine records, Elise Granata, who did her thesis on the sustainability of DIY and Max Moore, who is a fairly well-known director and cinematographer in the DIY scene. He's done a handful of videos for Deathwish Records. Ed O'Neil and Bobby Markos from the band Native. A.J. Hofstetter and Casey Oliver, from the band Anodes. Harrison Hickok and Kris Di Benedetto, who ran a show space in Chicago called Summer Camp. Kris also runs Ice Age Records and Harrison is a graphic designer and screen printer. And last but certainly not least, Mark Sarich of the Lemp Neighborhood Arts Center.
Where Dither looks to expose many to current practices in underground music, how would you compare 2013 to, say, 1983?
In our interview with Harrison Hickok, he said, "looking at a punk record from '88 versus today. It looks different but it's still the same. It'll never really go away."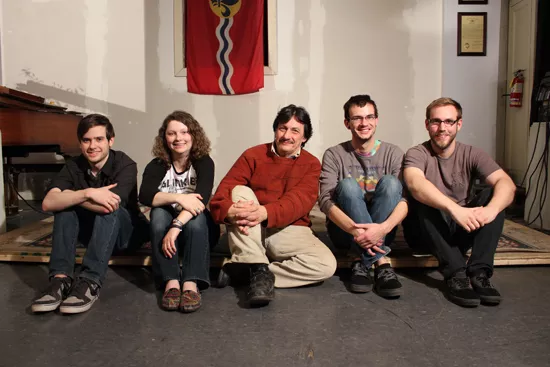 Bret Hoy
The crew with Mark Sarich at the Lemp Neighborhood Arts Center in St. Louis
Many artists look for workarounds to established, profit-oriented venues. As a result, DIY music culture finds itself at odds with law enforcement. What could you say to those breaking the law in lieu of the culture?
I'd say, do your best to create an environment where people respect not only the show space, but the surrounding environment. Elise Granata talks quite a bit about how the best way to sustain a DIY space is community engagement. She says that when you do that, you open your space up to not only your peers, but those that are looking for a space to express themselves. Could you offer advice to artists who struggle to co-exist in a mainstream music climate?
There's no piece of advice I can give you that would open up a new and easier route to take and none of our interviewees sugar coat it. It's hard. Bannon describes it as an uphill battle, all the way. That being said, it's a battle that's incredibly worth it. When you are doing something yourself, you have to remember that you're inspiring others to do it themselves too, and that's one of the most positive things that you can ever do.
What are the release plans and schedule for Dither: The DIY Sound?
We had our premiere on May 13, but we still have plenty of changes to make and we're currently still working on it. Once we put the finishing touches on the film, it will be going into film festivals around the world and will be available for purchase at our website, www.ditherthediysound.com. The website currently links to the project's Facebook page. Stay updated on Dither's progress by visiting www.facebook.com/ditherthediysound
See also: - Crotching Whiskey at the Justin Bieber Concert and Getting Thrown Out: A Review - The 15 Most Ridiculous Band Promo Photos Ever - The Ten Worst Music Tattoos Ever
Follow RFT Music on Twitter or Facebook. But go with Twitter. Facebook blows.