Last Saturday, Dead Wax Records (1959 Cherokee Street; 314-913-3692) quietly opened its doors for business, offering a few hundred square feet of neatly packed LPs for collectors and vinyl newbs alike to peruse. Shoppers and sun soakers have a new spot to stop in on Saturdays, and the small but well-stocked store offers a whole 'nother kind of "antique" down on Cherokee Street.
Dead Wax, a completely rehabbed space with plenty of DIY woodwork, comes from the combined efforts of long-time record collectors Tim Hendrickson and Jeremy Miller, who also co-owns the Mud House (2101 Cherokee Street; 314-776-6599) a block away.
"Jeremy's vision included another business on Cherokee for a long time. It was his vision and my little heaven," says Hendrickson. "I just couldn't be happier to be digging through vinyl and playing music all day."
Mabel Suen
Co-owners Tim Hendrickson and Jeremy Miller with a young record fan.
Hendrickson got his start buying vinyl from mainstays like Vintage Vinyl and Euclid Records at an early age. Since then his personal collection has grown to a few thousand individual pieces.
"I'm kind of the old dinosaur who wouldn't let go of his vinyl," Hendrickson, now 55 years old, says. "When I see twenty-year-old kids get excited about it, it makes me feel like we're doing the right thing... I kind of felt vindicated a little. The dinosaur was right after all."
Mabel Suen
A busy first day at the shop.
Dead Wax will offer around 2,500 records on the floor at a time. The spread covers a little bit of everything for everybody including genres across the board like rock, blues and jazz. Hendrickson says that their decision to go with a smaller shop came from the desire to not overwhelm patrons -- ideally, they'd like potential customers to be able to thumb their way through the entire shop in just twenty minutes.
"Jeremy's made a lot of trips to New York over the last couple of years, and they don't have big record stores like we have here," says Hendrickson. "The space is too expensive, and it's just a rare commodity, so we're not intimidated by the size of this."
The selection includes everything from slightly dinged up dollar-bin deals and fun $5-or-so finds (RFT Music's buys on opening day: a $1 Ornette Coleman record and a $7 copy of the Star Wars soundtrack with some dank Darth Vader art) to higher value collector's items such as first-pressing Beatles records.
Mabel Suen
Dollar bills, y'all.
Hendrickson says they also hope to expand their small collection of new releases in the midst of all the mostly pre-loved products curated from newspaper ads, thrift stores, record shows and more. Dead Wax also offers a selection of complete systems, turntables, receivers and speakers for listeners of all sorts, though the duo is especially happy to peddle to brand-new vinyl converts.
"We hear music all the time, and it's kind of a jukebox mentality where it's always playing. You don't really hear it," says Hendrickson. "With vinyl, you're sitting in front of your system with the album art and liner notes in your hand. It's just more visceral and less passive...It's more of an experience."
Dead Wax is currently open for business every Saturday from 11 a.m. to 5 p.m. "or by chance," as the door says. Keep track of its additional hours via the Dead Wax Records Facebook page.
Click ahead to see a few more photos!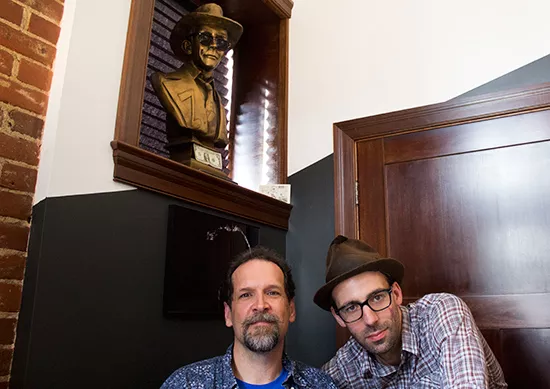 Mabel Suen
A brazen Hank Williams serves as the guardian deity over the store.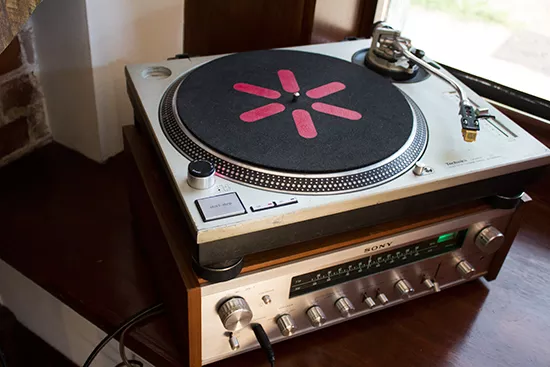 Mabel Suen
Dead Wax listening station.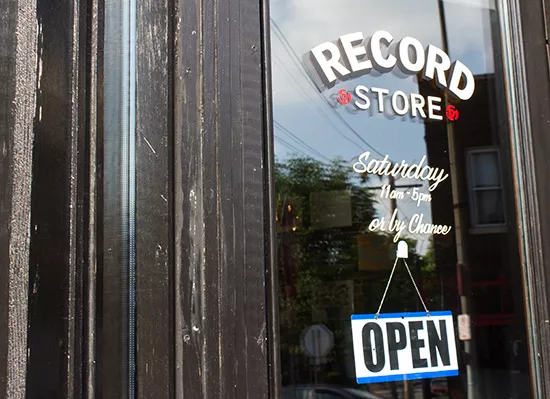 Mabel Suen
Look for that open sign!