Courtesy of Louis Kwok
My Brightest Diamond, Post Performance 2011
Luminary Center for the Arts makes a comeback on the show scene this summer -- well, not at its pending new physical space on Cherokee Street, but with the return of the Post Performance Series, featuring live music and one-day-only art installations at the Old Post Office Plaza (Ninth and Locust streets).
The inaugural show on Saturday, May 25, with Thelonious Kryptonite, DJ Nune, and Mikey Wehling and the Reverbs, is the first concert the Luminary has put on since the final show at its original Kingshighway location in November 2012.
See also: - The Luminary Is Finally Coming to Cherokee Street (Though Not Where Originally Planned)
Families and friends gather outdoors at the Old Post Office Plaza, many with blankets, folding chairs and picnic baskets -- others just content with sitting Indian-style and soaking it all in -- to enjoy the sounds of live music as it echoes off of buildings in downtown St. Louis. And the setting is always a unique one, with art hauled up and set in place in the already scenic plaza for just one music-filled, memorable evening.
"We were interested in the plaza when it was built out in 2009.... It's a natural space to connect artists and musicians for a more interactive experience, which can be harder to do in a normal venue setting," says Luminary cofounder James McAnally.
Post Performance 2: Phaseone + Daniel Shown
The Luminary held its first Post Performance series in 2010, followed by another lineup of artists and musicians in 2011. The free public outdoor series was on hiatus during the summer of 2012 because the plaza was under construction for the whole year, he says.
Past exhibitions have included everything from eighteen-foot high, 600-pound steel-and-wood sculptures propped up in 105-degree heat to calm and cool evenings with site-specific video work. This is the first year in which all the shows -- four in total that occur during the last Saturday of each month through August -- share a collective theme.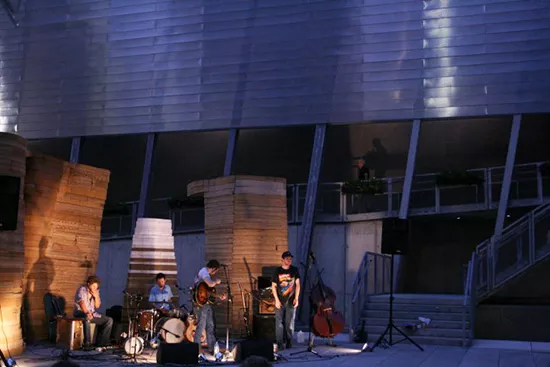 Mabel Suen
The now-defunct Theodore at a Post Performance in 2010.
Each show from May through July features a trio of eclectic electronic-based musicians performing individual sets. At the final show in August, dubbed Current -- An Open Air Workshop and Performance, all the musicians featured return to hold an open house style workshop. After a meet and greet with the audience, they will perform improvisational, collaborative sets together in three separate groups.
"If you go each month, you'll see that it actually builds toward something," says McAnally. "You can get familiar with the artists and see how they evolve and collaborate together."
The corresponding modular visual installation comes from artist Josh Welker, with his piece summer flat (she wore hot pants) 1,2,3,and 4 which consists of 80 to 100 individual painted wooden objects that Luminary cofounders James and Brea McAnally will arrange around the plaza like building blocks for each show.
The Luminary Presents POST PERFORMANCES: Black Spade & Alex Petrowsky
"This is an opportunity for us to continue to do music programming even while we're renovating, " says McAnally, who took a break from monitoring ongoing renovations at the new space located at 2701-7 Cherokee to chat with RFT Music. Since the Luminary's relocation, the dynamic husband-and-wife duo have continued to host art programming in a temporary space at 2644 Cherokee (more info on that on the Luminary website). They are hoping to hold their first visual exhibitions at the new space in July or August.
Each show is free, all ages and open to the public. Bringing food, drink and seating is encouraged, and each performance runs from 7 to 9 p.m. Full schedule below.
Saturday, May 25 Thelonious Kryptonite, DJ Nune, and Mikey Wehling and the Reverbs
Saturday, June 29 Franco/Hill, Black James, and Eric Hall
Saturday, July 27 Syna So Pro, Loose Screwz, and Ou Où
Saturday, August 31 Thelonious Kryptonite, DJ Nune, Mikey Wehling, Franco/Hill, Black James, Eric Hall, Syna So Pro, Loose Screwz, and Ou Où.
See also: -Crotching Whiskey at the Justin Bieber Concert and Getting Thrown Out: A Review -The 15 Most Ridiculous Band Promo Photos Ever -The Ten Worst Music Tattoos Ever
Follow RFT Music on Twitter or Facebook. But go with Twitter. Facebook blows.