[image-10]
You'd think that having jobs like our's would grant us innate superpowers to recall the goings-ons of any particular day at the blink of an eye, but the reality of it is that staring at the dozens and dozens of new shows that roll in weekly can become somewhat disorienting (luckily, this here concert calendar keeps it all on lockdown).
An entire month will have gone by before we realize that it's time to tear off the latest page of our refrigerator-sized desk calendar, and in doing so, we sometimes panic and forget where we are, who we are, whether or not we put on pants that morning, etc. I hope these weekly show recommendations are as helpful to you as they are to us, because quite frankly, without them, we'd have a hard time remembering what's going on. Keep on clickin' to see what's in store for the days ahead, including a new release from Mvstermind and much more.
Note: Though we wish we could, we can't feature every great show happening in town in just one measly post. Look for plenty more recommendations this Friday in our weekend show post, and peruse the St. Louis concert calendar for more ideas any time.
Did we leave something significant out? There's a chance it didn't make it onto our radar! Send your show tips anytime to clubs@riverfronttimes.com.
Soulard Blues Band Monday, May 13, 9 p.m. @ Broadway Oyster Bar - $5 By RFT Staff The Soulard Blues Band has gigged around town for more than twenty-five years. Most notably, its weekly residency at Broadway Oyster Bar perfectly accompanies the Southern-themed vibe complete with booze and Cajun food. Bassist and sole remaining founder Art Dwyer, a blues aficionado on local community radio station KDHX, holds down the band with his casual plucked lines. The rest of the rhythm section follows suit, allowing room for solos to float between rounds of drinks and a comfortable swing.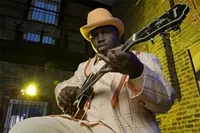 Marquise Knox Tuesday, May 14, 6 p.m. @ Missouri History Museum - free By RFT Staff Though the renewed interest in pre-WWII blues among some younger St. Louis musicians has produced some interesting music over the last couple of years, many blues purists still see singer-guitarist Marquise Knox as the most likely candidate to push the music forward in the future. Immersed in the sounds of Mississippi, St. Louis and Chicago blues, Knox was mentored as a teenager by, among others, the legendary Henry Townsend, who knew Robert Johnson and recorded in every decade from the 1920s to the 2000s. Heralded as a potential star since before he was old enough to have a driver's license, Knox now is showing every sign of being able to deliver on that promise.
Black Moth Super Rainbow Wednesday, May 15, 8:30 p.m. w/ The Hood Internet, Oscillator Bug @ The Firebird - $15-$17 By Diana Benanti From "Black Moth Super Rainbow At Off Broadway, 9/12/11: Review:" Sometimes it's hard to remember that these people making these sounds are just people. Get them in front of you, mostly maskless, wearing their every day human faces and clothes made out of fabric and thread, it's kind of like, "huh." And then you see the crowd member in a full chicken costume and the other half dozen in animal headdresses and consider whether maybe the rest of these people are the ones you should be wondering about.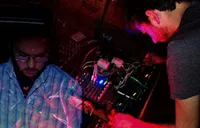 $3.63 Blog Showcase Thursday, May 16, 9 p.m. w/ Ou Où, CaveofswordS, Golden Curls @ The Heavy Anchor - $5 By Christian Schaeffer From "Homespun: Ou Où:" Patrick Weston and Travis Bursik of experimental duo Ou Où defy you to hang a name on them. As an instrumental band that uses samplers, synths, effects banks and found sound, everything from hip-hop rhythms to outré; art rock gets thrown in the mix... The choices are almost always tasteful and interesting, and to hear one sound morph into another is one of the true joys of this kind of experimental music.
Little Big Bangs Friday, May 17, 8 p.m. w/ Stonechat, Corrigan Brothers, Peck of Dirt @ Lemmons - $5 By Christian Schaeffer From "Homespun: Little Big Bangs:" For all the possible interpretations of the Little Big Bangs' band name -- sexual pun? Hairstyle critique? Custer's Last Stand reference? -- the most obvious is probably the most appropriate. The chaos and creation of the Big Bang theory is shrunk down to a lean, gritty punk-rock quartet that regularly punches above its weight class. Drew Gowran keeps the beat while Lucy Doughtery, Ryan Macias and Eric Boschen all share guitar, bass and vocal duties.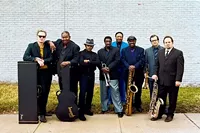 The Bo-Keys Friday, May 17, 8:30 p.m. w/ Wreckless Eric, Amy Rigby @ Off Broadway - $12-$15 By Roy Kasten The Bo-Keys are a Memphis supergroup formed in the late '90s by bassist and producer Scott Bomar; it features legendary session men Charles "Skip" Pitts (Isaac Hayes), Ben Cauley (Bar-Kays), Archie "Hubie" Turner (Hi Rhythm Section) and George Sluppick (JJ Grey and Mofro). Indebted to essential instrumental combos such as the Mar-Keys and latter-day funk groups such as the Budos Band, the Bo-Keys has been featured on the soundtracks for Hustle & Flow and Soul Men. It has backed legends such as William Bell and has released one studio album to date, The Royal Sessions. As greasy, bump-and-grind workouts go, the album is so expertly nasty it should be wrapped in brown paper and sold only at adult chitlin' joints.
Eagles of Death Metal Saturday, May 18, 7 p.m. @ The Gateway Arch - free By Jaime Lees Eagles of Death Metal is a loose super-group engineered for rock fans with a sense of humor. Formed in the late '90s by swarthy mustache pioneer Jesse Hughes and Queens of the Stone Age's ginger powerhouse, Josh Homme, EoDM plays hooky, guitar-driven jams with the same tongue-in-cheek attitude of early Foo Fighters. But the group's deceptively simple songs ("I Only Want You," "Speaking in Tongues") and adopted cock-rock cheeky stage nicknames (Boots Electric, Carlo Von Sexron) misrepresent the immense talent of many frequent band members and guests, including Mark Lanegan and the Foo's own Dave Grohl and Taylor Hawkins.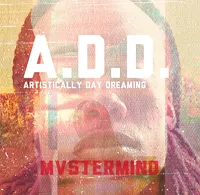 Mvstermind CD Release Saturday, May 18, 10 p.m. w/ Franco-Hill, Atm, Black Spade, J'Demul @ The Demo - $7-$13 By Christian Schaeffer From "Homespun: Mvstermind, A.D.D.:" North-side native Muhammad Austin may have a hard time paying attention, but his work as Mvstermind has no trouble paying dues. You can probably guess from the title of A.D.D. (Artistically Day Dreaming) that Austin looks at his childhood diagnosis of attention deficit disorder as more of a blessing than a curse. His open-eared style encompasses several hip-hop threads, with a bent toward an almost psychedelic strand of experimentation. His backing tracks can be syrupy and hazy, leading to some alternating soulful and outré grooves.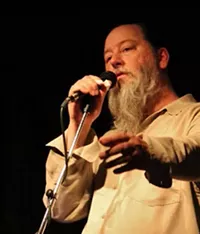 Shinyribs Sunday, May 19, 8 p.m. w/ Thin Dimes, Red Headed Strangers @ Off Broadway - $10-$15 By Christian Schaeffer You might know Kevin Russell from the Gourds (or, briefly, Kev Russell's Junker). You may even have been subjected to a closing-time airing of the Austin-based band's take on "Gin & Juice." But Russell bides his time between Gourds tours and records as the leader and puzzling namesake of Shinyribs, a quartet that provides a soulful and swampy platform for his grizzled-but-nimble tenor voice. On the just-released Gulf Coast Museum, Russell and company take a tour through the south, from Louisiana's Lake Charles through Texas and onto New Mexico. His trademark mandolin is still featured, but Shinyribs finds its wheelhouse in sharply-stroked eclectic guitars and some bubbly Wurlitzer piano.