Boris, Pallbearer at the Firebird 5/12/13
Opinions tend to vary regarding Tokyo's Boris. The group is respected by most of the people that know anything about it, and for good reason: In the last twenty years, Boris has released nearly 30 full-length records and an infinite amount of singles, live records, EPs, collaborations, and splits. The band doesn't stick to one certain genre, but instead does it all, as if the members have dedicated an eon into perfecting every style of music played.
Boris was joined last night by Little Rock doomsters Pallbearer. As if Boris wasn't enough already, this added bonus affirmed that I must get out of my regular Sunday night bartending shift to catch this show.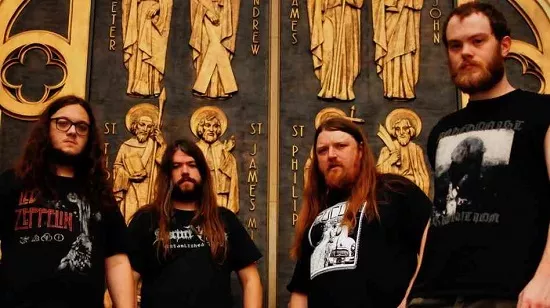 I got to the Firebird at 7 p.m. To confirm the fact that there were only two bands on the bill. Pallbearer started things off without a hitch, delivering 45 minutes of depressing, codeine-soaked doom riffs to a highly receptive audience -- and don't worry, the band's unique take on traditional doom metal isn't limited to playing rehashed Candlemass riffs. Pallbearer plays grief-stricken songs so loud it that it makes my ears cry. I noticed that not only long-time fans of the doom metal genre were banging tangled whips of hair in slow motion; the band also seemed to have captured the attention of the unsuspecting Boris fans that filled the Firebird this Mother's Day. Unlike some high-volume shows that I've been to (or played) at various venues in the US, the sound was perfect. No vocals or drums were buried under the thick wall of overdriven guitars. Everything sat just right in the mix, and the songs were played flawlessly. Even better than the last time I saw Pallbearer at Fubar last fall. Ending the set with a new song that I had not yet heard, the band seemed to have gained quite a few new fans, and definitely commanded the attention of everyone in the room.
During the set I contacted my cohort (and sometimes boss) Daniel Hill about reviewing this show for the very publication you are reading this review on right now. Forgive me if I'm a bit rusty, as I haven't done much critical music writing since the last adventure I went on with Daniel at the Scottrade Center last year.
After Pallbearer's set, I decided to freshen up my lungs outside before the members of Boris made their way to the stage. I walked back into the Firebird during the opening song 'Huge' from 1998's Amplifier Worship.
The set this year was a perfect blend of all (OK MOST) things Boris, from the faster, Hanoi Rocks influenced brand of punk rock to the Brian-Eno-on-LSD minimalist pop songs, to the feedback-drenched-drone doom anthems. While I could ramble on about how unique and talented this band is, I'm just too fucking stoked on how the band ended the set. After tearing through six songs spanning a good chunk of their popular existence, Boris decided to close things out by playing 2000's 70 minute single-tracked album Flood. This was absolutely the perfect end to a bizarrely interesting, and at times cruel weekend. Flood is quite possibly the heaviest song ever written. I'm sure right now some neanderthal cave-metaller is cursing under his breath as he reads this, but I witnessed Boris deliver a nuclear tsunami of riffs so true to the original recording that I still can't tell if the band actually played the whole thing, or if they figured out a way to trick my stupid fucking brain into thinking a 30 minute version stretched beyond time itself.
Click to the next page for the rest of the review, YouTube videos from the show and the set list.
Here's the full version, just in case you have a little over an hour to kill.
It is 3 a.m. as I write this. The show has been over for four hours, and the last heavy riff they played is still echoing in my head. This band can do absolutely zero wrongs. Boris will always be a step ahead of everything you think you like. And if you haven't gotten into them by now, you still have time to figure out what your problem is.
Thanks Boris and Pallbearer for an incredible show. I feel as if I know what it is like to have my soul sucked into a black hole and shit into a big bang, creating a new super-universe. Thanks also to RFT Music for the massive paycheck I'm sure to get for fumbling my way through this review.
Set List:
1. Huge
 2. 虹が始まるとき Rainbow
 3. Pink 
4. Vanilla
 5. Statement
 6. Angel
 7. Cosmos
 8. Flood
See also: -Crotching Whiskey at the Justin Bieber Concert and Getting Thrown Out: A Review -The 15 Most Ridiculous Band Promo Photos Ever -The Ten Worst Music Tattoos Ever
Follow RFT Music on Twitter or Facebook. But go with Twitter. Facebook blows.