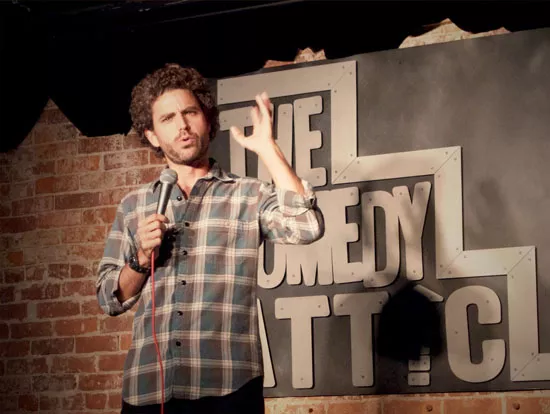 Ryan Singer
For those in search of laughter or curious about the goings-on of the comedy scene in St. Louis, we will be making monthly recommendations of shows in (and near) the city. From sure-thing hilarious to fingers crossed, "Oh God! I hope this works," Funny Events is your connection to sketch, standup, improv and everything in between and out of the box.
May is a busy month for Funny in St. Louis and there's a handful of nights where you'll have more than one show to choose from. For a complete list of funny events in May, check out this all-inclusive comedy calendar.
The Funny Bone Comedy Competition Mondays at the Funny Bone Show 8 p.m. / $5
The Funny Bone is running their very own comedy competition, and the first of many rounds took place on Monday, May 6. The competition will continue to run every Monday, with each show hosting twelve or so contestants, with four more to go until round one concludes. **Math Break!** That's more than 60 comics (63 to be exact!) and yes, there really are that many aspiring standups in St. Louis. The competition may be painful at times, because all it took was $20 and the ability to get yourself on stage to enter, so there's a possibility someone's first and last performance may take place on the Funny Bone stage. However, you're also going to see comics that have been doing this for years, comics that have religiously performed at open mics five+ nights a week. All in all, the competition is a glorified open mic with and a cash prize. And yes, it is worth the drive to Westport.
Also at the Funny Bone this week (May 8 - 12) is Ryan Singer, whose last stop in St. Louis was on the Organic Comedy Tour at Brennan's Wine and Tobacco. If you missed it, this is your chance to redeem yourself. Podcast God Marc Maron (WTF) even vouches for him, he's said Singer is a comic "who should be big." This is, without question, the show to see in May.
Comedy in the Lou Presents Gabe Kea Saturday, May 18 at The Firebird Show 8:30 p.m. / $10
Speaking of competition, the RFT Standup Throwdown's conquerer Jon Venegoni will be doing a feature set at the May installment of Comedy in the Lou. Headlining will be Gabe Kea, who happens to be as funny as he is just an all-around nice person. Gabe is an insurance sales-guy turned standup comic who holds the key to comedy with personal and engaging stories. Whether your front and center or hiding in the back of the room, you'll feel like he's right there, just chatting with you and your friends. If you saw Jon Venegoni take the cake at Plush then you know what to expect and can rest assured he will meet your expectations. For those of you not at the show, Jon's got a grab bag of jokes that are silly, at times disjointed, but all-around downright amusing. Also performing are the Brooklyn Guys, a sketch duo (comprised of Charlie Winfrey and Frankie Chubb) who swing around their surly attitudes (and often bats, too).
[Disclosure: I am the producer for all Comedy in the Lou shows.]
And if you'd like to finally know just what the deal is with airplane food, Jerry Seinfeld is at the Fox that very same night. It is sold out.
The Cagematch Thursday, May 23 at the Improv Shop Show 8 p.m. / $5
And to further keep with the competition theme, the Cagematch (which began in February) claims to be a "friendly" rivalry. The event is a longform competition between two independent teams that takes place above Pat's Bar & Grill every fourth Thursday of the month. You never really quite know what you are going to get when it comes to improv, but hey, the Improv Shop website has a page of rules and regulations just for the show. So at the very least you know it's well thought out. Heats last twenty five minutes and obviously the winner advances. This month's fight card boasts Pone Pone vs. Slow Death Cheer.
A Night of Mostly Clean Comedy Friday May 24 at St. Louis Public Radio in Grand Center Show 8 p.m. / $10-$12
Clean comedy doesn't mean the content will be lacking in questionable material, it simply means certain topics are approached with the caution and decency you'd bring on a first date -- assuming of course that you value manners. Also, it might be nice to take your mother and/or a first date to a comedy show once in a while and not worry about who's going to be offended first. If I have painted an afternoon sitcom, laugh-track-heavy, Tool Time-esque picture in your head, please allow me to rewind. A clean comedy show is an excellent alternative to the debauchery that often looms over the comedy scene in this city. Keith Cissel, Tom Shelton and Rob Durham, each a local and comic veteran, understand the value of a solid joke, well placed pun and light-hearted story. Not only do they understand these concepts, they consistently deliver a well-rounded performance.
AJ Finney Thursday May 30 at Fubar Show 8 p.m. / $10
The monthly shows at Fubar soldier on, and welcome Kansas City-based comic AJ Finney, who has been through St. Louis several times in the last couple of years to perform on the Bare Knuckle Comedy show. They say a good story is really just a stream of jokes that follows a timeline, and that idea is what Finney capitalizes on. He's got a laundry list of odd eccentricities that he not only embraces, but is more than happy to discuss on stage. Add a zealous imagination and the manic energy to back it up and you've got AJ. Opening the show will be Max Fitzgerald, a local comic who regularly hosts and features at the Funny Bone. His boyish charm and simple cleverness mask his cynicism, which proves time and time again to be an entertaining combination.
See also: - Crotching Whiskey at the Justin Bieber Concert and Getting Thrown Out: A Review - The 15 Most Ridiculous Band Promo Photos Ever - The Ten Worst Music Tattoos Ever
Follow RFT Music on Twitter or Facebook. But go with Twitter. Facebook blows.