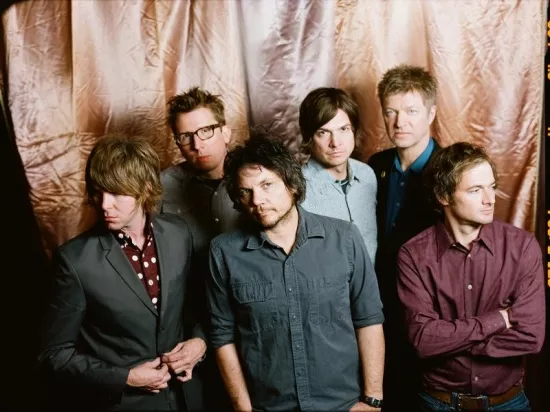 The LouFest lineup announcement has inspired excitement and criticism in equal parts, but the one undeniable act on the bill is Wilco. The Chicago via Belleville band means many things to many people, but in the festival headliner context, the group is one of the best live rock & roll bands in the universe. To look forward to the potential high fives of its LouFest set, here are the six best Wilco guitar solos.
See Also: - LouFest 2013: The Full Lineup is Here
6. "I Got You (At The End Of The Century)" (solo at 1:39) from Being There
By nature, the double album Being There is all about abundance. Roughly half of the tracks are Wilco's signature rockers, the tunes that are approximately 80% alt, 20% country. Of these, "I Got You (At The End Of The Century)" has the strongest solo, presumably played by Jay Bennett. Since Bennett passed away in 2009, this lead is good reason to pour out a PBR for the fallen musician and/or raise a can in triumph while pumping your other fist in the air.
5. "I'm The Man Who Loves You" (solo at beginning and 1:17) from Yankee Hotel Foxtrot
Few songs have a guitar solo as integral as "I'm The Man Who Loves You." Without this fuzz destruction, the track would be the sore thumb straightforward blues track on the masterful Yankee Hotel Foxtrot. With the solo, it is one of few moments of the album in which the weirdness is contributed by the players instead of the production.
4. "Art Of Almost" (solo at 4:37) from The Whole Love
Nels Cline is not known for restraint, but the guitarist should be praised for his taste as much as his technique. He is given free reign on "Art Of Almost," the opening number on Wilco's The Whole Love, and he morphs slyly from single notes into full on wailing over the course of two minutes. Even when his throttle is open, he isn't going "Freebird" here. His repetitive meedly-meedly-meedly lines are artistic and damaged, sharing a Krautrock sensibility with the band's crazily underrated drummer Glenn Kotche.
3. "Via Chicago" (solo at 1:53) from Summerteeth
Summerteeth has a complicated legacy in Wilco's discography. As predecessor of Yankee Hotel Foxtrot this album is viewed falsely as a straightforward alt-country record. There is an obvious link in the form of texture. Take the lead from "Via Chicago," which is buried under a warbling banjo and sounds as if it is getting eaten by its own feedback. It's nothing a young guitarist would aspire to achieve on a technical level, but it pushes the song from awesome to perfect.
2. "Spiders (Kidsmoke)" (solo at 1:31 and throughout) from A Ghost Is Born
Jeff Tweedy is a great guitar player the way Lou Reed is a great guitar player. He's not quite Neil Young, but he's up there. His best work as a great bad guitarist is on "Spiders (Kidsmoke)," the eleven minute song that made people hate A Ghost Is Born, the band's least friendly album to date. It is easier to explain why Tweedy's solo on "Spiders" is terrible than why it is great, and harder to explain why the terribleness makes it great. But considering Wilco could have done anything in these long stretches and the band chose to ramble in a way that makes Television's "Marquee Moon" solo sound like something Eddie Van Halen played is a remarkable show of confidence.
1. "Side With The Seeds" (solo at 3:37) from Sky Blue Sky
Remember when Sky Blue Sky came out and everyone called it "Dad-rock?" That was fun. Even the most severe haters had a hard time dogging "Side With The Seeds," thanks to a sinister interlude, intelligent guitar interplay, and one badass Nels Cline solo. Cline has an ability to shred without sounding like shredding that is on par with the prog giants like Adrian Belew and Steve Howe; otherwise, the thirty-second note lead from "Seeds" would sound ridiculous. Cline was in process of transcending his hired-gun status around the time of Sky Blue Sky, and his work on "Side With The Seeds" elevates the song, displays his own technical ability and keeps with Wilco's overall aesthetic. It is impressive on every front.
See also: - Ten Bands You Never Would Have Thought Used to Be Good - The Ten Biggest Concert Buzzkills: An Illustrated Guide - The 15 Most Ridiculous Band Promo Photos Ever - The Ten Worst Music Tattoos Ever
Follow RFT Music on Twitter or Facebook. But go with Twitter. Facebook blows.