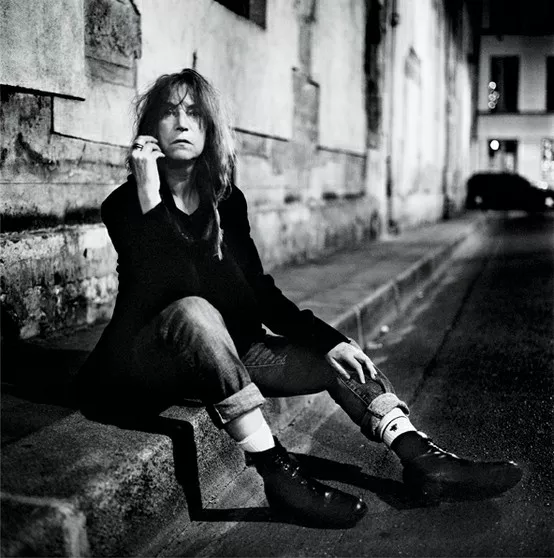 [Editor's note: Patti Smith reads from her poetry and performs a rock set at the Contemporary Art Museum St. Louis (3750 Washington Boulevard; 314-535-4660 ) Sunday at 7 p.m. Tickets are $30.]
There's no simple way to describe Patti Smith, the profoundly influential, incantatory songstress, poet, artist and writer -- though she may be best known simply as the Godmother of Punk. Her groundbreaking album Horses, released in 1975, has been hailed as one of the greatest rock albums of all time. Born in Chicago, she was raised in South Jersey and in 1967 made her way to New York City, where she met the now-celebrated photographer Robert Mapplethorpe, who at that time was a similarly struggling unknown. Their relationship and maturation as artists amid New York's downtown culture of the late '60s and '70s is chronicled in Smith's 2010 memoir, Just Kids, which won the National Book Award. An accomplished visual artist and poet, Smith has published several volumes of verse -- including the Blakean Auguries of Innocence in 2005 -- and exhibited her work at the Andy Warhol Museum among other venues. She was inducted into the Rock and Roll Hall of Fame (2007) and received an honorary doctorate in fine arts from the Pratt Institute (Robert Mapplethorpe's alma mater) in 2010. She released her eleventh album, Banga, which features long-time friend and fellow punk pioneer Tom Verlaine as well as her two children, last June.
Jessica Baran: Banga draws from so many disparate sources. The album and title song are named after Pontius Pilate's dog in Mikhail Bulgakov's novel The Master and Margarita, while other songs cite Renaissance painting, the discovery of America, sci-fi movies, the devastating tsunami and earthquake in Japan, the recent death of certain pop stars....
Patti Smith: When I made my first album, Horses, I was reading William Burroughs' The Wild Boys and Peter Reich's The Book of Dreams. My references are always based on what I'm reading, where I'm traveling, what my interests or obsessions are at a given moment. Banga was made while traveling -- it moves through a few different phases and countries. Lenny [Kaye] and I wrote a couple songs on the Costa Concordia, which put me in the mind of sea voyages, which then put me in the mind of Amerigo Vespucci. I was reading a lot of Bulgakov, and then I started to study Piero della Francesca and the life of St. Francis. All of these things -- Russian filmmaking, Tarkovsky, my friends [Johnny Depp's birthday, the death of Amy Winehouse and Maria Schneider] -- found their place in the album.
It's a collage of sources that seems very specific to your sensibility -- like a personal cosmology.
Well, at this time in my life, I'm 66, my children are grown, and I have no companion. I'm pretty much freewheeling, so my songs reflect the kind of contemplations I currently have. When I did the albums Easter and Wave, I was deeply in love with my future husband [Fred Sonic Smith], and so I wrote more love songs, and I wrote about things that were then more in my immediate sphere.
Just Kids is a remarkable piece of literature. What's so unusual about all of your work -- from that memoir to your poetry to your music -- is that you approach each discipline so intensely on its own terms: Your books of poetry contain rigorous, formal verse; when you give poetry readings, you fully embrace the craft of performance; and when you rock, you rock.
I move into each genre with the same expectations for myself -- with the same fervor, the same hopes to do something special. Nothing is a hobby -- each discipline is its own world with its own high standards. Of course, every artist has "minor works" that they do, but I don't think I have any "minor disciplines." Each discipline I approach as a major undertaking that I put my whole self into.
More often than not, people simply want to translate success with one discipline into that of another, without any consideration for the shift. But, like you said, you really try to master each form.
I'm much too self-centeredly ambitious to simply be content with the transfer of success from one realm to another. I would rather write or record something great and have it overlooked than do mediocre work and have it be popular. My goals are really work-oriented. I don't stay in one discipline because it's more lucrative than another. In fact, the most successful thing I ever did was Just Kids, for which I had absolutely no expectations. I just wanted to do a beautiful little book that would give Robert [Mapplethorpe] to the people. And then it became a global success. It's so funny, because Robert always cared about me becoming successful, while I never did. It's almost like he was suddenly saying, "Dammit, Patti, you're gonna be successful, even if I have to make it happen!" I always laugh when I think that my greatest success came through Robert.
Click through to the next page for more of our interview.
The book feels immediate, emotionally and visually. I'm struck by the level of detail you recall: what outfits you wore on a specific day, what you ate, the number of coins in your pocket.
There are a couple of reasons for that. For Christmas every year, my mother used to give me those cheap little diaries that would tell your horoscope and provide a little blank slot for each day. For that particular time -- 1970 to '72 -- I have a couple of those diaries that say what I did every day. Small things, like "cut Robert's hair like a rockabilly star" or "met Janis Joplin" or "hepatitis epidemic in the hotel" or "Robert took his first Polaroid picture." They're only notations -- there's nothing in them about how I felt. But reading these notations immediately brings back everything. It's like shorthand. Robert also sent me a lot of letters, which I still have; and I always kept journals -- poetry and struggles with poetry, writing in general about things I was thinking about. I think it also helped that I was not a self-destructive person; I didn't take any drugs.
You mentioned William Burroughs -- you and he were close for many years. Sunday evening you'll be doing a show here in St. Louis, where Burroughs is from. What do you think about coming to this city?
I wanted to come to St. Louis because I just wanted to say hello to William. I wanted to be with William. But I also like these types of cities. I was born in Chicago. Then my family went to Philadelphia, where we lived until I was nine, and then we moved to a very swampy, rural area in South Jersey. I worked in one of the only factories there. My father was also a factory worker, and my mother was a waitress. I feel a certain comfort in these places. There's loneliness there as well, but I also feel a strong attachment. It's part of who I am.
That you're coming to perform at our contemporary art museum highlights your long and deep relationship with visual art. In your memoir you describe yourself primarily as a visual artist. And you have a new exhibition, The Coral Sea, opening this month in Cincinnati.
Yes, it's a show mostly devoted to Robert that's opening in Cincinnati. I also have another show currently on view in Toronto. As I move toward my late 60s, it's time for me to start phasing out so much travel and rigorous performing and focus more on my visual art and writing. It's strange that I pursue these two disciplines that are so diametrically opposed. Performing is so public and collaboratively based. You have a band, you have technology; it's very dependent on others. And the other work I do is so very solitary -- taking photographs, drawing, writing -- for which I need stretches of time alone to think, study and contemplate.
Click through to the next page for more of our interview.
The fact that you work at these expressive extremes brings to mind Dan Graham's seminal video piece, "Rock My Religion," in which you're prominently featured. It's an amazing piece and, I think, so true in how it defines rock & roll as a kind of populist spirituality. Your work -- in all forms -- really embodies this.
There always has to be a way -- for the generation before me, my generation and generations to come -- to find a place for unity, creativity, and revolutionary energy that is basically positive and can incorporate everything. I found that in rock & roll, especially when I was younger. It was the perfect medium to spread thoughts I had about God, religion, love and sexuality and reach many people. Again, that's why I'm so amazed at how well Just Kids has done. I never imagined I'd be able to reach as many or more people with a book -- it's a beautiful thing. For me the numbers I really look at are how many people have accessed what I've made. There's artistic success, which only the artist truly knows, and there's success in communication. Success in communication -- whether it's through Guernica or a Rihanna song -- is something that reaches out and touches a lot of people. I also understand that certain work may linger in the limbo of obscurity for a while, but I'm ultimately always striving to reach as many people as possible. You have to be ready for both.
People are really always very suspicious of those who pursue multiple disciplines. They wonder how someone who makes rock & roll music can be a serious writer, or how a serious artist could get a real grasp on what it takes to make a rock & roll song. People constantly question whether that's valid or dilettantish.
Well, you nailed it: It takes a lot of work. That might explain why it's not often done well.
And in the center of all of that, I'm a mother. A widowed mother. I have a very intense parental responsibility. Even though my children are grown, I am their parent, I have to represent both father and mother to them. It's a wide range of responsibilities. I try to stay healthy and positive. Staying positive is key.
See also: - Ten Bands You Never Would Have Thought Used to Be Good - The Ten Biggest Concert Buzzkills: An Illustrated Guide - The 15 Most Ridiculous Band Promo Photos Ever - The Ten Worst Music Tattoos Ever
Follow RFT Music on Twitter or Facebook. But go with Twitter. Facebook blows.