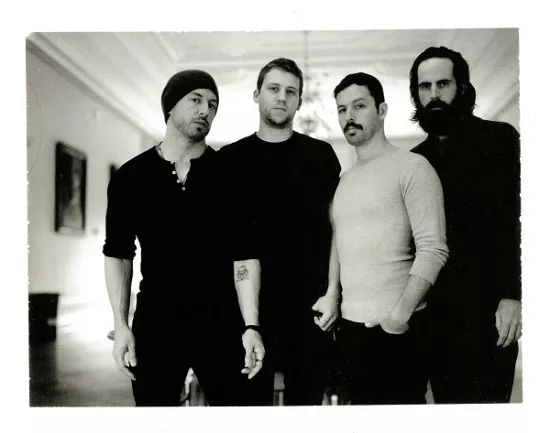 Looking for a good place to see flashy and exciting music played at high volume, have your mind blown by dark and powerful sounds, or just stomp around like a drunken goon with your shirt off? Then a heavy metal concert might be just the place for you. Each month I'll be offering my top picks of the upcoming metal shows in town that I think shouldn't be missed. And I'll try really hard not to make fun of the ones I think should be avoided like that atrocious new Bon Jovi Megadeth song.
Dillinger Escape Plan with The Faceless and Royal Thunder The Firebird, May 11th 8 p.m. / $18-$20
What can be said about the Dillinger Escape Plan that hasn't been said before? The band's comprehension of music, and how to write and perform it, is light years beyond all the rest of our understanding. I think I know what a 7/4 time signature is, and that's about as fancy as I get. First seeing the band open for Mr. Bungle at the Karma here in St. Louis back in 1999, I was told by friends they were your typical noisy hardcore band from New Jersey along the lines of Deadguy. But man, were they so much more. I felt like I was watching two guitarists play separate non-stop solos, while a drummer blasted around randomly and a bassist tried to keep the whole thing together as some psychopath screamed over it all. I didn't understand what I was watching, but I loved it.
Dillinger has obviously made some changes since that show almost fourteen years ago. Guitarist Ben Weinman is the only remaining member from those days, but the band still continues to push the envelope and challenge itself in new ways with every album. Love 'em, hate 'em, like the old stuff better, or have no idea who they are, the band puts on a show that's an assault on all the senses and never dull. Singer Greg Puciato is always a treat to watch, as he runs around like screaming mad Hulk and creates a sense of danger that is far too absent in frontmen these days.
Royal Thunder is an interesting choice for an opener, and its female-led doom rock adds some nice variety to the lineup. On the other hand, the Faceless is complete garbage, a fourth-rate Dillinger wannabe with cheeseball breakdowns galore. Go drink in the parking lot while the kids who think they're Tupac try to do karate moves.
Boris and Pallbearer The Firebird, May 12th 8 p.m. / $15-$17
The eclectic anything-goes approach to song-writing combined with the wall-of-sound heaviness and volume make it easy to dismiss Boris as Japan's answer to the Melvins. And although the trio may have named itself after a song off the Buzzo and co.'s Bullhead album, Boris have surely created an identity allits own over the course of seventeen studio albums and numerous EPs and singles over the last seventeen years. And if the inclusion of occasional cutesy, soft female vocals and a new album (cleverly titled New Album) that crosses the line into full-blown electronica makes you spew a dismissive "FALSE!" at the band, keep in mind that its albums are released through Southern Lord in the U.S., the same label that brings you Burning Witch, Nails, and so many others. Boris themselves even did a full collaborative double album with Sunn O))), who I very honestly think may just be the heaviest band in the world.
But if you don't think Boris is metal, that's okay with them. The band would actually prefer not to be pigeonholed into any category at all, and feel completely and totally free to make whatever kind of music it wants whenever it wants. They are too metal for metal. And that's pretty metal.
Opeth with Katatonia Pop's, May 16th 7 p.m. / $25-$30
Opeth are another excellent example of a heavy band that avoids barriers and incorporates anything it finds interesting into its music. Beginning with strong death and black metal influences in the early 1990's, the band have grown increasingly progressive over the years, infusing metal roots with classical, blues, folk, jazz and more. As one of the bands that put Sweden on the metal map, this is a show that Pop's and St. Louis itself should feel privileged to host, and one not worth missing.
Tagging along on the ride from Sweden is Katatonia, who similarly started in the early 1990's with a strong death metal influence before shifting gears over the decades. Although I can't say I'm a big fan of the band's more recent work, I'll keep my fingers crossed that it'll play some of the more death/doom oriented songs from Dance of December Souls era.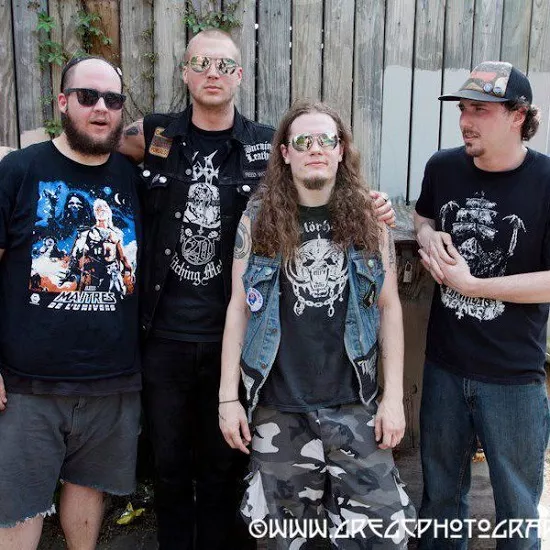 Speedwolf with Grand Inquisitor and Tropical Storm Fubar, May 20 8 p.m. / $10-$12
Remember the good ol' days when Metallica really just sounded like nothing more than an amped-up Motorhead and we were all perfectly okay with that? Before the dreadful Lulu stuff, the dumbed down Black Album, and even the matured Ride the Lightning album, when the band was just four young drunks who wanted to fuck shit up and play as fast as possible? Speedwolf are here to remind us all of those days, with racing guitars and blasting drums that conjure imagery of coked-up werewolves on a nationwide motorcycle killing spree. It's not the smartest or deepest metal you'll ever hear, but it may get your blood pumping and have you biting into some full beer cans Teen Wolf style. (Disclaimer: Van surfing still not safe.) This isn't Speedwolf's first visit to St. Louis from Denver, and with the release of 2011's Ride with Death on Hell's Headbangers and a new album due out later this year, I expect this is a band we can expect to hear more about in the future.
Also on the bill is Grand Inquisitor, a band newer to St. Louis' metal scene who have been spreading around an excellent self-released demo at recent shows and were the local highlight of last month's Mount Salem show. So get your ass up off your bar stool and watch the locals.
See also: - Ten Bands You Never Would Have Thought Used to Be Good - The Ten Biggest Concert Buzzkills: An Illustrated Guide - The 15 Most Ridiculous Band Promo Photos Ever - The Ten Worst Music Tattoos Ever
Follow RFT Music on Twitter or Facebook. But go with Twitter. Facebook blows.