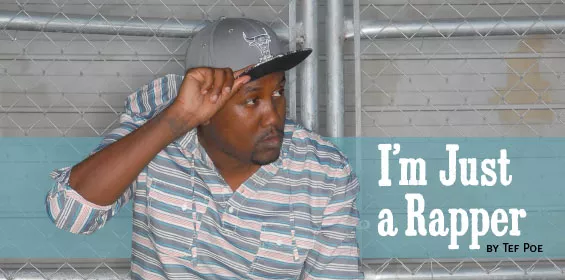 Editor: Tef Poe is an artist from St. Louis city. Through powerful imagery and complicated honesty, he has earned a reputation as one of the best rappers telling the story of St. Louis, which is about much more than one place. Poe has been featured in music publications such as XXL and Urb Magazine. His project The Hero Killer was released on January 21 and will be followed up by a full-length with DJ Burn One entitled Cheer For the Villain. Follow him on twitter @tefpoe. Get The Hero Killer here.
I'm sitting here 4 a.m. listening to the Chopped N Screwed version of Kendrick Lamar's Good Kid, m.A.A.d. City album (brought to you by Purple City). Honestly I think it's amazing, and suddenly it dawns upon me that I need to get this week's column done. I'm moving into a new apartment, so I'm kind of packing, but realistically I'm just letting my ADHD get the best of me. I'm sitting here thinking about life and all the wonderful troublesome things attached to it. Most of my thoughts are consumed by music and lofty visions of what I'm going to do next in order to add more progress to our movement. Here's the reality: I'm going to jump on the high horse and speak the real for a second.
Last year in my city I didn't matter much to a sea of people. We've always had a quiet movement growing on it's own terms; as a solo artist I've kind of always been around in terms of St. Louis hip-hop. We're talking years upon years of being patient and building a buzz. I've been rapping for a while, but the last four years are the years in which we decided to make our presence known. I'm not at the finish line, but I'm closer than before. I'm in a position to let you know that this life sucks.
I have 3,000 problems, God just piles them onto my tab more and more. I'm just trying to live with a positive attitude and continue progressing my situation. The politics of the music scene don't care about my rent, but truth be told I don't care about the politics, because the politics would've let me died as a dishwasher. Either way, as of right now if I die, I'm dead broke and useless.
You see, by the time you get to a point where everyone starts watching your next move and overly analyzing your Facebook statuses, suddenly the asshole tendencies you never realized you buried inside you start to rise and come out. You just grow to the point where you give two shits about an opinion. "Hey Tef Poe you could've blah blah blah." "What did you mean by blah blah blah?"
The real about it is, this shit sucks. I'm planning on using more profanity than I've ever used in my previous writings so hold tight to your fucking seats.
As I type this very blog a few of you self-righteous assholes are reading it just for the sake of tearing it apart. Well how about this: Fuck you and fuck your life. I started rapping at age twelve with no real plan of how to make this thing work for myself. I used my very own mind to get me precisely where I am. It wasn't easy and now I'm trying to continue building upon the foundation we've laid by working hard and out-thinking ourselves.
If I've never met you in real life and your name isn't Biggie Smallz or Tupac Shakur, I probably don't want to do the rap song you're sending me via Facebook for free. If you would've asked me to do this verse before my situation started buzzing, I may have felt more obligated to do it. But this is how this works; I built the buzz up and made a name for myself because I honestly believed these footsteps would get me closer to not rapping for free. You see, it's supposed to work like this: Rapper A builds a buzz and rapper B pays rapper A for his/her participation on rapper B's rap record because rapper B is attempting to ride rapper A's wave. Riding the wave isn't a negative term; I rode Killer Mike's wave when we collabed. I threw the record we did with Royce da 5'9 out to the blogs when the SlaughterHouse album dropped, hence, I also rode their wave.
I paid to ride these aforementioned waves, as you should. Anyways I desperately want this rap shit to work out for me, but I'm constantly frustrated by the energy it drains from me. I love music, but I hate the whirlwind of things the business of music has dumped into my life. You'll read this blog and criticize it because it's not funny enough, or I sound too much like a crybaby. I realize the tone of this blog is ridiculous on some level and I sound like a complete douche. The truth is though, it never gets better, and this is the secret the industry doesn't reveal to you when you're twelve years old, picking up your composition notebook and trying to write your lyrics. You start making music with all of these immaculate visions of taking over the world and being the most creative person the music world has ever seen.
This is where you're wrong, for starters. You're not the most creative person the world of music has ever seen. There are 30 trillion versions of you, and they all think exactly like you think.
You try your best to do everything you can to push your music. You come to this world of music blind to the facts. The vultures of opinion take over and destroy your perception of yourself. Everything you know is a damn lie and no one gives two shits about you. I'm here to say get off of your fucking high horse. Most musicians suck as people and this is the profession we chose to participate in. This culture is built upon the shoulders of some of the most selfish assholes that were ever born. I myself am fully aware of the fact that I am indeed one of these assholes. Welcome to the world of utter complete bullshit being forced upon you at all times. Everyone is constantly complaining because they're slept on. Everyone hates the current most popular artists in the mainstream. The fans constantly complain about the quality of the music falling off. Everyone is pissed off at the radio, but we only embrace new music from quality artists once we actually hear it on the radio, so why are we always so fucking pissed off?
Everyone constantly disses each other, and if you're one of the few artists that doesn't partake in dissing other emcee's you still have to deal with random jokers dissing you for no apparent reason, and random people thinking you actually are participating in a rap beef you know nothing about. Every rapper alive believes they are God's gift to the culture. We're surrounded by some seriously sadistic, self-centered bastards. Most rappers don't have a clue about handling business the right way, so you'll be scrutinized for refusing to participate in janky business tactics. There's no winning in this game, because even when you are winning people will attack you vigorously with their ridiculous opinions about you.
On the real, you're not about this life, and most people aren't. The problem is, most people don't realize they aren't. If I could jump out of a window wholeheartedly convinced that Hell is an illusion, I might've killed myself a long time ago. You'll spend 3,000 hours a week thinking about ways to progress your career, and once you figure it out you'll get a visit from folks that don't give two shits about their own music but they somehow someway want you to help them out.We're all royally fucked because we live in Missouri, and this is truthfully no different than living in Wyoming to certain people in the industry. People in Missouri are blind to the fact that this isn't California, so for some reason we have 30 trillion rappers walking around the streets of St. Louis. The truth is there are plenty of highs and lows to this lifestyle, but overall most of the energy surrounding being a rapper in today's music climate sucks monkey balls. I'm going to end this blurb right here because it's as close as I can come to leaving on a positive note.
See also: -Crotching Whiskey at the Justin Bieber Concert and Getting Thrown Out: A Review -The 15 Most Ridiculous Band Promo Photos Ever -The Ten Worst Music Tattoos Ever
Follow RFT Music on Twitter or Facebook. But go with Twitter. Facebook blows.