Dick Dale - Thursday, May 2 @ Blueberry Hill
Serenity now, serenity now!! What better way to start the week than with a series of nearby ground-shaking, Earth shattering construction noises to accompany a morning cup of joe? Luckily, headphones exist and a series of bookmarked live performances take me back to my quiet place. Music soothes all, and it's a busy, busy week. Find your inner calm by maxing out on live tunes including exciting visits from touring acts such as Dick Dale and Danny Brown. Then, get ready to party with Apop Records' 9th Birthday soiree and Cinco de Mayo on Cherokee Street. Look for all that and more after the jump.
Note: Though we wish we could, we can't feature every great show happening in town in just one measly post. Look for plenty more recommendations this Friday in our weekend show post, and peruse the St. Louis concert calendar for more ideas anytime.
Did we leave something significant out? There's a chance it didn't make it onto our radar! Send your show tips anytime to clubs@riverfronttimes.com.
Danny Brown Monday, Apr. 29, 8 p.m. w/ Kitty @ Old Rock House - $15-$20 By Cassie Kohler Danny Brown is definitely one of the most unique rappers today. The "Adderall Admiral" captivates with original similes and metaphors, all with a sprinkling of humor. His individuality stems to his abused drug of choice as well; Brown has admitted to using the ADHD medication in order to write songs. He is considerably older for a recent break-out in the rap game (Brown is 30), but that only makes the lessons of drug dealing, crime and addiction more believable. Heed the lessons Brown speaks.
G Eazy Tuesday, Apr. 30, 8 p.m. @ Old Rock House - $15-$20 By Evan C. Jones From "G-Eazy Talks About Headlining His First Tour and Success As an Independent Artist:" For most musicians, it can take a village to create everything that goes into a strong career, but most musicians aren't rapper G-Eazy. Early into his career, the young Bay Area native has criss-crossed the country on tour multiple times, shared the stage with such industry heavyweights as Drake and hit number three on the iTunes Hip-Hop Chart with his new release Must Be Nice...all as an independent artist. And he has no plans on slowing down now.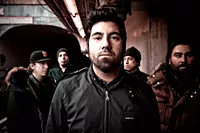 Deftones Wednesday, May 1, 8 p.m. @ The Pageant - $36 By Ryan Wasoba The biggest news in the Deftones camp has little to do with any new album or current members. The band's original bassist, Chi Cheng, passed away on April 13, five years after a car accident left him in a coma. Such news would cast a shadow over most bands' shows, but Deftones' music has always uplifted listeners by reveling in, rather than ignoring, the darkness of life. The turnout for the band's last performance at the Pageant proved fans' loyalty after years of inactivity. In the wake of Cheng's death, this show is likely to feel equally sorrowful and celebratory--two traits that, when combined, aptly define Deftones.
Dick Dale Thursday, May 2, 9 p.m. @ Blueberry Hill - $25-$27.50 By Jordan Harper Let's start with the obvious: the first five or so seconds of "Miserlou." In those five seconds of pure guitar, you can hear everything you need to know about why Dick Dale is a legend. The staccato picking, the slightly spacey feel, the clean surf sound: Every single element of those five seconds has been identified and plundered by another legend in the guitar world. Dale was heavy before heavy was cool, he was surf before surfing was cool, he kicked ass on his axe before shredding was cool. Dale is beyond cool -- he's proto-cool.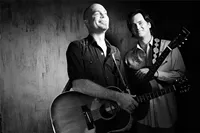 Eric Brace and Peter Cooper Friday, May 3, 8 p.m. @ The Focal Point - $15-$20 By Roy Kasten As a species, singer-songwriters are no strangers to narcissism. It's in the job description, if not the DNA. As veteran co-composers and touring song-swappers, Eric Brace and Peter Cooper have somehow managed to keep looking inward, on their own foibles and fetishes, and outward on the whirling world that always reflects back their obsessions - pop culture, baseball, the South and aging with grace - never losing their cutting and winning sense of irony. The two folk, bluegrass and pop influenced musicians take their craft seriously, but they take themselves with a wink and wise smile.
Grace Basement Record Release Friday, May 3, 8:30 p.m. @ Off Broadway - $10-$13 w/ Cassie Morgan and the Lonely Pine By Christian Schaeffer From a 2009 album review: Grace Basement bandleader Kevin Buckley may be a world-class Irish fiddler, but his gifts for harmony and melody don't stop at jigs and reels. As a guitarist, singer and songwriter, he synthesizes 50 years of popular music into engaging, direct three-chord rock songs. Buckley played every note on Grace Basement's 2007 debut, New Sense, but his Gunmetal Gray is a full-band effort and features other special guests from St. Louis' rock, folk and Irish music scenes (including his father Jack, who contributes sweetly keening Uilleann pipes). Even though Buckley surrounds himself with talented players, these ten songs are peppered with his unique trademarks: immediate hooks, stacked vocals, serpentine fiddle runs and quirky but heartfelt lyrics.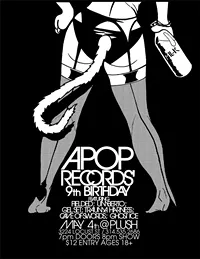 Apop Records' 9th Birthday Party Saturday, Apr. 4, 8 p.m. w/ Ghost Ice, CaveofswordS, Trauma Harness, Gel Set, Fielded, Umberto @ Plush - $12 By Joseph Hess APOP Records celebrates its wrinkles with sultry synth-pop and brain-wrecking noise. This stalwart house of subversive sound turns nine, and its oddities meet onstage at Plush. Chicago's Fielded slings soft keys over airy beats; Umberto creeps in and out with moody loops. Guitars are present with local punkers Trauma Harness, while CaveofswordS bridges the genre gap through spacey strings. Ghost Ice counteracts sequenced songs with hairy, carnal ambiance. While slinging wax and pushing tapes, APOP has given access to the inaccessible and accepted the unacceptable: live and lovably bizarre.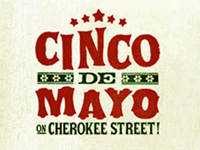 Cinco de Mayo on Cherokee Street Saturday, May 4, 1 p.m. w/ Black James, Bunnygrunt, Bug Chaser, Mystery Band, The Dock Ellis Band, The Feed, Magic City, Jon Hardy and the Public @ Cherokee Street - free By Mabel Suen Off Broadway presents the Gringo Stage at the annual Cinco de Mayo festival on Cherokee Street. This free local showcase includes a gamut of genres ranging from dance and hard rock to honky tonk and indie. Local personalities Mustard Rob of Googolplexia and Stag Night star Johnny Vegas MC the event. Come out for the music and stick around for the antics and street margaritas.
Patti Smith Sunday, May 5, 7 p.m. @ Contemporary Art Museum - $30 By Jaime Lees It's fitting that Patti Smith's first performance in St. Louis since 2004 is at the Contemporary Art Museum. Though she is best known as the reigning "Godmother of Punk," Smith's genre-defying career has no boundaries when it comes to art and expression. Smith's groundbreaking debut album, Horses, came out in 1975 and it is still hailed as one of the greatest albums in music history. Ten albums and nearly 40 years later and her career is still going strong. But Smith is not only a rock heroine, she's also a poet and an artist who explores and produces in many different kinds of media, including painting and photography.