Fill in the blanks, win a two-day pass to LouFest.
This morning LouFest launched a guessing game for its 2013 lineup, releasing a Wheel of Fortune-like thing with fill-in-the-blank band names and plans to release one letter a day between today and Monday, April 29. The first clue is the letter "U," which makes nine appearances in the lineup. In the coming days subsequent letters should reveal most of the bands.
Immediately speculation ran wild on LouFest's Facebook page, with some obvious acts all but outed and others hotly debated.
Submitted for your perusal, approval and/or rejection, here's RFT Music's best guesses for LouFest's 2013 lineup.
Predicting the lineup is slightly easier this year, as LouFest organizers are partnering with C3 Presents, the booking agents behind Lollapalooza and Austin City Limits.
See also: LouFest Joins with Lollapalooza, Austin City Limits Producer: What Will it Mean?
The biggest dead giveaway is Edward Sharpe and the Magnetic Zeroes, with other almost sure bets based on the letter "U" reveal being Trampled by Turtles, Court Yard Hounds, Youngblood Hawke, Jukebox the Ghost, and Fitz and the Tantrums.
As for headliners, our money is on the Killers (they're headlining Lolla) and Wilco, though it's possible it's the Strokes instead of the Killers -- this is all pure prediction, after all. Other puzzle-fits include Alabama Shakes, the Roots (to make good after last year's cancellation, maybe?), Cold War Kids, Ra Ra Riot, Delta Rae, Space Capone and Django Django.
Other early guesses based on the puzzle and based on who's playing Lollapalooza include the National, Local Natives, the Vaccines, Matt & Kim, Court Yard Hounds, Pujol, Brick + Mortar and Wild Cub.
Oh, and if the second-to-last act isn't St. Louis' own Kentucky Knife Fight, we'll eat our hat.
Click through to the next page to see our filled-out form with all of our guesses.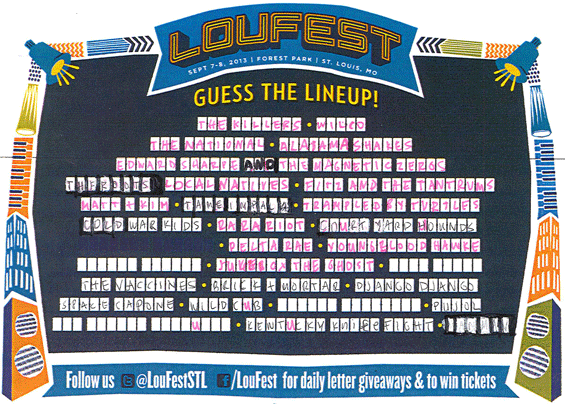 Then again, folks, we could be wrong across the board here. Agree? Disagree? Let us know your guesses for the LouFest lineup in the comments section below.
See also: -Ten Bands You Never Would Have Thought Used to Be Good -The Ten Biggest Concert Buzzkills: An Illustrated Guide -The 15 Most Ridiculous Band Promo Photos Ever -The Ten Worst Music Tattoos Ever
Follow RFT Music on Twitter or Facebook. But go with Twitter. Facebook blows.