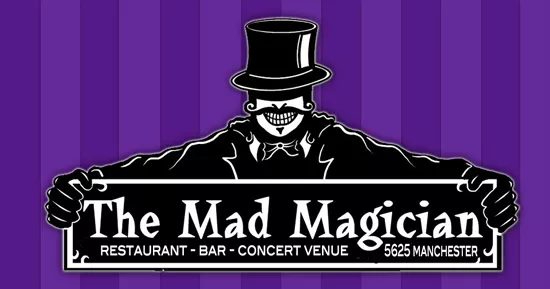 At the beginning of the year, some show announcements put a mysterious new local venue named The Mad Magician (5625 Manchester Avenue) on the RFT Music radar. A quick Google Maps street view search revealed that it replaces the former A-B's Place Bar (prior to that, it was M.P. O'Reilly's).
We contacted the listed contact, Archfront Media, and got in touch with its proprietor John Mancuso to get the scoop on the promotion company's new digs and long term goals.
See also: -Remembering STLPunk.com: How to View the Site Today and Find Your Old Profile Page
Construction for the single story, 5,000 square foot space is now complete, and the business currently awaits the approval of a liquor license, a process Mancuso says will take less than a couple of weeks at this point. A tentative opening date is now set for late May or early June, with the only confirmed gig, a battle to open for the Rockstar Mayhem Festival, booked on June 30.
The Mad Magician gets its name from the mid '50s thriller film of the same name, paying homage to starring actor and St. Louisan Vincent Price. The venue will also feature a full bar and a restaurant that serves handmade specialty American-style food from 11 a.m. to 1 a.m. every day.
Archfront Media, run by Mancuso and business partner Jason Rottler, has booked and promoted rock, punk, metal and hip-hop including acts like Method Man and Tear Out the Heart at local spaces including Fubar, Heartbreakers and the Coliseum since its inception in 2008. Before that, it operated similarly under the moniker of Mancuso Productions. Archfront also books throughout Missouri at venues in Kansas City, Columbia and Springfield, as well as Nashville, Tenn.
The inspiration to open a venue grew out of Mancuso's desire to have more freedom and control over the calendar instead of having to compete with other promoters for spots. In 2006, he intended to execute a similar idea in Farmington, Missouri but says, "It never got off of the ground."
"We want to be booking nationwide and developing artists eventually. We're hoping to give local artists chances to do things they've never been able to do as far as opening for bigger artists," he says.
In addition to The Mad Magician, Mancuso says his other plans for developing Archfront Media include putting together an artist roster featuring both local and national artists to provide booking support for from coast to coast. He cites Bone Thugs-N-Harmony as an example.
"We'd set up shows for them in all markets we book shows in and put some of our top hip hop artists with them for four to five dates," Mancuso says. "Artist development is the long term goal for Archfront Media. We're somewhat like a record label that's more involved in booking."
Mancuso also intends to bring back STLPunk.com, a URL he purchased in 2006. For the uninitiated, STLPunk was a local music-focused website that many St. Louisans still claim was ahead of its time in terms of social networking trends.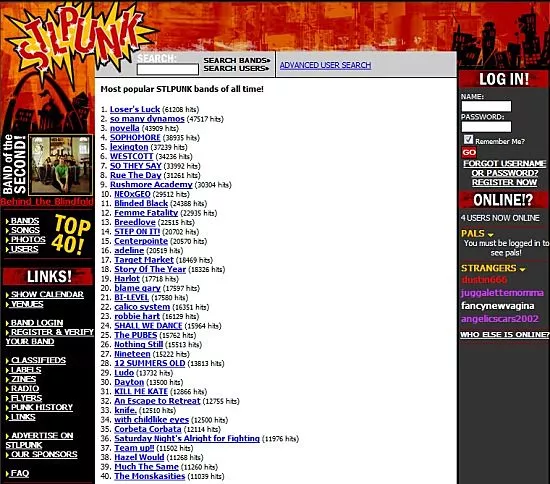 STLPunk's "Most Popular Bands of All Time", as of November 12, 2006.
"It's part of the long term nationwide thing we're working on. It's going to eventually become exactly what it used to be but we're going to open it up to include separate pages for other cities we book," says Mancuso, who has taken web programming classes to prepare for the launch. "It's something I'm just sitting on until the right time."
Mancuso says this version of STLPunk will be more like the website in its mid-'00s heyday. The front end will feature a concert calendar for people to find out about local music, and the back end intends to connect bands through booking services. He says the website is about 90% complete, and he hopes to roll it out for testing sometime this summer.
In response to potential mud-slinging based on Mancuso's reputation for stirring up a bit of a commotion in the local music scene, he says, "Bands get upset because they don't like their set time or whatever. They're notorious for seeing 60 to 100 people at a venue and thinking that they should be getting paid without understanding that it might cost thousands of dollars to do that show. They might jump to conclusions before understanding the situation. "
He adds, simply, "When you deal with as many people as I do, you can't keep everyone happy."
See also: -Ten Bands You Never Would Have Thought Used to Be Good -The Ten Biggest Concert Buzzkills: An Illustrated Guide -The 15 Most Ridiculous Band Promo Photos Ever -The Ten Worst Music Tattoos Ever
Follow RFT Music on Twitter or Facebook. But go with Twitter. Facebook blows.