Christy Merrell, music therapist extraordinaire at Children's Hospital.
Here at RFT Music we report frequently on local music events, but we're guessing that it's rare that a story of ours directly inspires one.
Last month I wrote about the music therapy program at St. Louis Children's Hospital. The story was so intense and personally touching to me that I also wrote a blog post explaining what I experienced while gathering information for the story.
See Also: -Changing Lives: Christy Merrell and Children's Hospital's Music Therapy Program -Healing Powers: Music therapy provides more than just entertainment for sick kids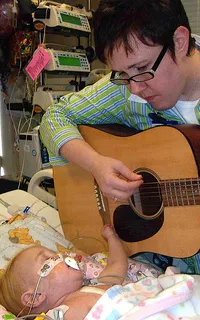 Merrell performs for a young fan.
The article received an amazing positive response, with heartwarming comments left on web pages, nice feedback on our Facebook page and congratulatory emails all around.
Well, apparently the story was especially touching to a woman named Dani Reel. Reel read the article and sent me an e-mail, saying that she was organizing a music event to benefit the hospital's music therapy program.
Somehow in the short amount of time since the article published, Reel managed to secure a venue, book bands and pull together an absolutely amazing amount of donations from local artists and businesses. Everyone involved in her event has donated their time or their work or whatever they had to give. (Extra props to the venue, 2720 Cherokee, for allowing Reel to host her event there for free.)
The party is called M.A.G.I.C. (Musicians & Artists Giving in Collaboration) and it's tonight. If you, too, are touched by the good work that happens in the music therapy program (or if you just like supporting local bands and artists), pop down to 2720 Cherokee this evening to celebrate the ongoing good vibes and to witness the healing power of music.
Here is the full line-up and list of other activities, from the event's Facebook page:
Artist Line-up: Stone Sugar Shakedown Mama Sutra Justin Torres Loop Project The Nancy Boys Damien Maxwell Merrick Astroth Goodness Gracious
Also, there will be: -silent auctions -raffles -art for sale -kid friendly events -live performances -chair massages -attendance prizes
Tickets: $25 suggested donation, any donation meeting or exceeding suggested amount includes a free commemorative T-shirt.
Follow RFT Music on Twitter or Facebook. But go with Twitter. Facebook blows.