Bob Dylan | Dawes April 23, 2013 The Peabody Opera House
He's leaving in the morning just as soon as the dark clouds lift: No photo credentials issued on this tour, but last night's main event looked kinda like this dude.
For Bob Dylan's visit to St. Louis last night -- his first since October 2010 and the fourteenth stop on his current tour -- the Peabody Opera House (14th and Market streets; 314-241-1888 ) stage was backed by a full-height semicircular black curtain with four lighthouse-grade spotlights suspended in front of it that occasionally commenced to glow like so many massive moons orbiting Planet Bob.
Bob Dylan has finally become what he has probably always dreamed of being: an old bluesman. That's a good thing, too. He's small in stature, smaller than ever, thin and bandy-legged. And he commands a stage like no other artist. Make no mistake about it: His bell still rings.
See also: - Bob Dylan Alive and Kicking at the Chaifetz Arena, 10/21/10 - Elvis Costello and Bob Dylan at the Fox Theatre, 10/22/07
The six-piece band took to the stage a little after eight-thirty and shuffled into "Things Have Changed," all of them be-hatted save for multi-instrumentalist Donnie Herron, who plied his banjo, electric mandolin, pedal and lap steel guitars bareheaded. (It wasn't raining inside the Peabody.) Dylan sported a vaguely Western, vaguely military black suit, with red piping down the pantlegs and a pair of wide scarlet bands at each wrist. His hat was a flattop grey felt number with a rolled brim, a gambler's hat.
They steamed through the sixteen-song set (two almost imperceptible water breaks, only one encore) that lined up with the repertoire Dylan rolled out on opening night, April 5, in Buffalo. That is to say that many in the audience, having prepped with a visit to bobdylan.com or, in the connoisseurs' case, boblinks.com, didn't arrive in a gambling frame of mind, expecting spontaneity. Such is the age of the Internet.
Not that it matters.
A Bob Dylan show presents the potential for surprises that go beyond the setlist, variations that can only come with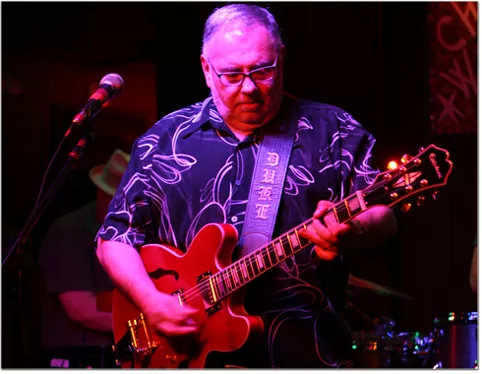 The Pride of Woonsocket, Rhode Island, Duke Robillard | image via
As does the band's most recent addition, legendary Duke Robillard, a virtuoso blues guitarist from Woonsocket, Rhode Island, who appears to have stepped in after the eleventh-hour departure of longtime lead player Charlie Sexton. Despite a nearly complete lack of rehearsals, Robillard is keeping pace just fine the majority of the time and, at his best, setting it. (In fact, generally speaking, the most polished numbers are the ones on which Dylan stays away from his keyboard and sticks to vocal and harmonica, leaving Robillard to carry the instrumental weight.)
Least according to form on the current setlist is "What Good Am I?" -- a song Dylan hasn't performed in concert since 2010 (four times that year) and hasn't been in regular rotation since...when? Dating back to 1989's Oh, Mercy, the song is remarkable for its spare, first-person construction -- Dylan singing about what he's feeling, no obtuse historical nods, no assumed persona.
"What good am I if I'm like all the rest/If I just turn away, when I see how you're dressed/If I shut myself off so I can't hear you cry/What good am I?"
To respond to a question with a question -- something Dylan would, and does, do all the time: Why's he singing that now? It might have to do with the sole stage decorations on this tour: three elegantly framed mirrors, portrait-size and randomly angled but all facing the audience.
Before and after the single encore, the band assembled near the front of the stage, arranging themselves as though for a Civil War-era daguerrotype.
Looked strikingly like this, actually, with large-and-in-charge Robillard playing the Garth Hudson part and wispy, puckish Dylan a spectre, present front and center, but looking like he apparated, just for this occasion, from some other place:
The pre- and post-encore bows at the Peabody Opera House, April 23, 2013 (artist's conception).
Critic's Notebook: Personal Bias: This man, who has been averaging 90 to 100 live shows a year since the day he turned 60, is a gift. Every single time he takes the stage. Why does he do it? Might as well ask why rain rains. It's what he does. It's a gift. And like any gift, it's here for the taking -- while it's here. You can get more than a hint of the real thing by listening (for now, anyway) to shows that devotees have uploaded. But a sound file alone does not convey the presence.
Random Detail: Warming up a crowd for Bob Dylan: your proverbial two-edged sword. But Dawes did it just right, delivering a package of Jackson Browne/Warren Zevon school of LA rock in a precise 40 minutes. That said, when viewed in profile, bandleader Taylor Goldsmith bears more than a passing resemblance to Wayne Szalinski.
Overheard: (in front of a flatscreen in the Kiel Club lounge, between sets): Cardinals Ballcap Guy 1: "Dylan, or Wainwright pitching the ninth?" Cardinals Ballcap Guy 2: "Dylan. I've got the Cardinals on DVR. No Dylan on DVR."
Setlist Things Have Changed (2000) Love Sick (1997) High Water (For Charley Patton) (2001) Soon After Midnight (2012) Early Roman Kings (2012) Tangled up in Blue (1975) Pay in Blood (2012) Visions of Johanna (1966) Spirit on the Water (2006) Beyond Here Lies Nothin' (2009) Blind Willie McTell (1997) What Good Am I? (1989) Summer Days (2001) Scarlet Town (2012) All Along the Watchtower (1967) Ballad of a Thin Man (1965)
Bob Dylan piano, harmonica Tony Garnier bass Donnie Herron banjo, electric mandolin, pedal steel, lap steel Stu Kimball acoustic rhythm guitar George Recile drums Duke Robillard lead guitar
See also: - Crotching Whiskey at the Justin Bieber Concert and Getting Thrown Out: A Review - The 15 Most Ridiculous Band Promo Photos Ever - The Ten Worst Music Tattoos Ever
Follow RFT Music on Twitter or Facebook. But go with Twitter. Facebook blows.