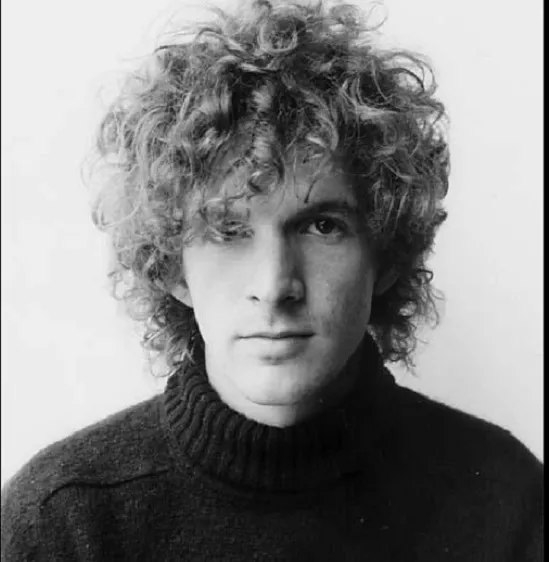 "Scott and I have known each other since second grade. We were in bands together in high school. Our first bands were in eighth grade, I think. We didn't do much more than play in the bedroom." - Jozef Becker, 1993
I first heard Scott Miller's band, Game Theory, the summer after my first year of college. Driving around the hometown from which I'd finally escaped the previous year, I heard a song that was half Let's Active, half Big Star. The chorus was huge and melodic; the lyrics were about turning 24 and still being insecure about your place in life. I was an instant convert. Later I bought Real Nighttime, the album from which "24" came. It was endlessly melodic, wide-eyed, a little arrogant. The combination of self-assured, huge power-pop hooks and insecure lyrics was irresistible. It is still my favorite Game Theory album decades later.
"I was doing music so far back that I don't remember starting. I remember singing into a tape recorder before I knew how to play anything. I got some kids together in the neighborhood to pretend we were the Monkees. But it was completely unclear to us that we weren't sounding exactly like the Monkees' records while we were doing this. We simply were the Monkees." - Scott Miller, 1993
In 1993, I interviewed Miller when his next band, the Loud Family, came to New York City. Along with Becker, his drummer and childhood friend, we spent about an hour chatting in the old Knitting Factory on Houston Street. I had been obsessively listening to the Loud Family's debut LP, Plants and Birds and Rocks and Things, for most of that year. It was a continuation of Game Theory's brainy power-pop sound, but slightly harder and more brittle. So it was with more than a little trepidation that I introduced myself at the Knitting Factory. To my surprise, he not only remembered a brief conversation we had at a Loud Family show a few months earlier, but he also remembered the fanzine I gave him. Our interview was engaging and thought-provoking, and I was proud to run it several months later in my next issue. We spoke a few more times at Loud Family shows, and he always remembered me and always took the time to chat for a minute or two.
"Everyone's kind of an idiot when they're an adolescent. But I have this gleaming record of it because I used to make tapes. So there's this record of my adolescent psyche and it's just...painfully obvious what an egotistical, self-absorbed creep I was. Kind of a liar, too. There were all these songs about my experiences with women when I was fourteen years old and a real, real virgin." - Scott Miller, 1993
In 2000 the Loud Family did a short West Coast tour. The band played in Seattle, where I lived at the time, at a club called Graceland. Before the show, several of us from the Loud-Fans mailing list got together for drinks. Some of our crew had flown out from Boston to see the band on this Northwest leg. Miller actually joined us at our table, and other members of the band came and went. I don't remember chatting much, but I was impressed by the fact that he'd chosen to spend his off-hours at a gathering of fans. It said a lot about his generosity and his appreciation for the limited audience who'd taken his music to heart.
But here's the thing: if you look around the Internet, you'll see that almost everyone has a similar story.
Facebook alone turns up anecdote after anecdote about Miller writing back to letters or e-mails, taking a personal interest in each one, offering encouragement or advice. Not only does no one have a bad word to say about him, but he seems to have been one of the nicest people in the music business.
Me: "Why did the 'G' always enlarge on Game Theory's record covers? Miller: "I thought of it as traveling into something, like getting deeper into the psyche." Me: "Up until Two Steps From the Middle Ages, when the G suddenly shrinks." Miller: "Two Steps did not go as deep into the psyche. It dealt more in a rational way with social situations and debunking social misconceptions and inappropriateness." - 1993
Last week was a very weird, very disorienting and violent week in America. Still, nothing prepared me for the confused punch in the gut I felt when I logged onto Facebook on Wednesday night to read Miller's obituary. He was only 53 years old. The cause of death has not been released. Apparently Miller was actually gearing up to record a new album this summer under the Game Theory band name, which he has not used since 1990.
Absolutely none of this made sense. Was he sick? But wait, just a week ago, he posted on Facebook about celebrating his birthday with his wife and two daughters. He wrote, "To all my friends on Facebook who wished me happy birthday, this is very much appreciated and has put me in great spirits. I'm looking forward to doing something musical this year. Love and thanks to all." Now we're reading his obituary? What the hell was going on here?
"(My earliest recordings) sound kind of stupid to me. Like there's this one song, 'The Young Drug,' that's stupid -- let's admit it. But it has these little parts that are quite well constructed. I'm sort of surprised that I was able to, in the midst of bungling the concept as a whole, do right in these little chunks. And the later records do get better. I can listen to the, and be like, 'Go, Scott! That's a good thing there!'" - Scott Miller, 1993
The Loud Family broke up shortly after that last 2000 tour. The last album, Attractive Nuisance, sure sounded like a farewell. The lyrics weren't so much bitter as resigned, with recurring images of lateness, regret and missed opportunity. On "Years of Wrong Impressions," keyboardist Alison Faith Levy (a fine solo artist in her own right) contrasted the troubled present to earlier, more innocent days: wanting life "to be New York and we are Nico and Jackson Browne," but suggesting that "maybe we'd better leave the past alone." The final track, "Motion of Ariel," straight-up admitted, "I don't know what the radio wants when the radio taunts." It was about as graceful a finale as one could have wanted. And almost no one, not even Miller's fan base, noticed it at the time.
"I hate changing band members. I really do. I've never kicked a person out of the band since the beginning. So I'm very glad that this lineup has stayed solid for three years now. If they don't quit, I won't fire them." - Scott Miller, 1993. (Note: Miller was the only original member left by 1996.)
So Miller went back to his day job as a computer programmer. He got married and had a couple of kids. He released one album, 2006's What If It Works, with collaborator Anton Barbeau. It was neither a grand statement a la Game Theory's Lolita Nation or the Loud Family's Interbabe Concern, nor a collection of would-be hits a la Game Theory's The Big Shot Chronicles. Still, it had its moments. Its best song, "Total Mass Destruction," gave a hint as to the songwriter's state of mind:
"There are rock bands all doing handstands Think they're the thrill to end all thrills And the fanzines rave, but I can't see it paying no bills."
Apparently he never stopped writing songs. If word of a Game Theory reunion album seemed unexpected this week, he did give at least one interview toward the end of his life wherein he hinted at plenty of unreleased material. Mostly, though, he wrote music criticism. He began contributing to small fanzines, like Hollywood's Scram. He answered fan questions on the website through an "Ask Scott" column (including, on December 17, 2007, my question about Game Theory's Real Nighttime). Most ambitiously, he compiled lists of his favorite songs from the past several decades and wrote a paragraph or two about each. Eventually he assembled these into a book, entitled Music: What Happened? It turned out that not only was Scott Miller one of the music world's best songwriters, he was also a better rock critic than almost anyone who'd ever reviewed his work.
Game Theory never played St. Louis. However, The Loud Family came to town a few times. They played the old Cicero's in 1993, and the Gargoyle around 1996. In July 1998, they played the Hi-Pointe and did an in-store performance at Euclid Records' old Central West End location. St. Louis has always had a power pop fan base, so these shows were highly anticipated. "I don't remember anything except that it was fantastic and that I didn't want it to end," said Rene Spencer Saller, later the RFT's music editor. "The sound wasn't great, but that was not unusual for the Hi-Pointe."
Euclid Records owner Joe Schwab's memories are similarly hazy, but he remembers, "I was very intimidated by Scott Miller. Of course, I was a big Game Theory fan, so that was part of it. I could tell he was extremely intelligent. He was very analytical - much like Chris Stamey, whom I find pretty intimidating as well."
"'The Ballad of How You Can All Shut Up' is about coming to terms with everything you've worked for collapsing. Something's got to give: 'Okay, that was my little dream. Now I need a new little dream.'" - Scott Miller, 1993
Fair enough: so what does his music sound like? I'd refer you to the Guardian's blog entry for a decent introduction.
Salon has republished an excellent piece by poet/critic Stephen Burt, originally written for the New Haven Review. The entire Loud Family catalog (except 1998's Days for Days) is available for streaming on Spotify. I'd recommend Plants and Birds as a starting point, followed by Interbabe Concern. Game Theory's recordings have been out of print for years, but his webmaster has made them available as sound files at the Loud Family's website. Start with Real Nighttime and The Big Shot Chronicles, and then work your way forward and backward.
"I don't think I'm in danger of making albums that don't age well, because I haven't ever fit into the times spectacularly well. I've always been aware of myself drawing on a musical vocabulary so broad that a lot of people don't get what I consider to be my real songwriting coups. I think they go right past a lot of people. The bad part of that is I probably won't become a big star. But the good part is that I don't think people will find the albums less useful over time. They'll sound as good in 2004 as they will in 1994." - Scott Miller, 1993
Scott Miller is survived by his wife, two daughters, and thousands of appreciative fans, friends and fellow musicians who loved his music, perused his lyrics, and formed communities of their own. He will not be forgotten. In fact, it's a near certainty that future generations will discover and rediscover his work, a la Nick Drake or Chris Bell.
Jozef Becker has set up the Scott Miller Family Memorial Fund. Please visit if you'd like to contribute.