Mykki Blanco | DJ Billy Brown | 18&Counting April 18, 2013 The Demo
Mykki Blanco cuts a commanding figure on stage. At last night's show at the Demo (4144 Manchester Avenue; 314-652-3366), the self-described "acid punk rapper" owned the room. The small venue was far from packed, but during Ms. Blanco's captivating, visceral 50-minute set of songs -- mostly off mixtape Cosmic Angel: The Illuminati Prince/ss -- felt like a sold-out Saturday night show.
This all wasn't lost on Mykki Blanco: She told the audience to enjoy the intimate show, as she'll probably be playing bigger venues the next time she's in town.
Based on last night's performance, no doubt she will be.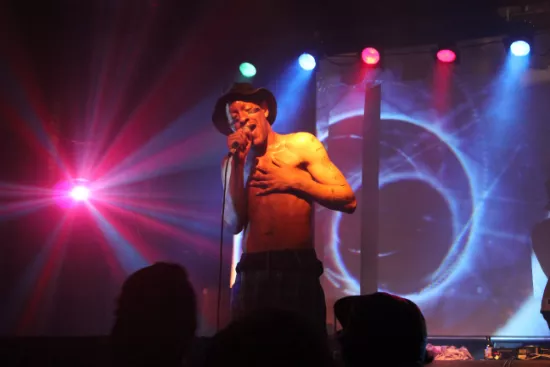 Blanco was last week's feature story in RFT's New York sister paper the Village Voice. In a cover story titled "The Making of Mykki Blanco," writer Jenna Sauers unfolds her story: Mykki Blanco is the rap alias of 27-year-old Michael Quattlebaum Jr., a Brooklyn resident and North Carolina native who grew up listening to hip-hop and riot grrrl music with an artistic itch.
After bouncing around art schools across the country in his mid-20s and never finding just the right medium for his talents, Quattlebaum fell into the character of Mykki Blanco a little over two years ago. In that time, Blanco has recorded a critically acclaimed mixtape as well as multiple music videos, traveled the world on a 22-city European tour and is currently on her first U.S. tour, stopping in St. Louis dead in the middle.
"I'm really excited to be in St. Louis, because St. Louis is America," she told the crowd at the Demo. "New York, L.A., San Francisco are not really America. And I'm American."
Outfitted in a black bucket hat, black face paint, contrasting plaid-patterned shorts and a shirt and knee-length combat boots, Blanco looked equal parts Kurt Cobain and the Scarecrow from The Wizard of Oz. Her set last night comprised most of the tracks from her mixtape, as well a freestyle of "Go In," a track produced by Lawrence, Kansas-based producer Morri$.
Very rarely can a performer move around on stage like she does and still rap so clearly, powerfully, smoothly. At certain points she wielded the mic stand like a scarecrow hanging at attention, melting into sharp movements like a marionette dancing on strings. And there wasn't an inch of the stage she didn't use.
After the show, Blanco said she and her DJ would be hanging out and drinking beers, if fans wanted to stick around -- it was only 1:15 a.m., after all, and the Demo serves drinks till 3. Once she descended the stage, though, she didn't make it to the bar for at least another twenty minutes, as fans kept approaching in waves.
The room might not have been crowded, but everyone in it wanted a minute with Mykki Blanco.
Click the jump for critic's notebook, setlist and more photos of Mykki Blanco.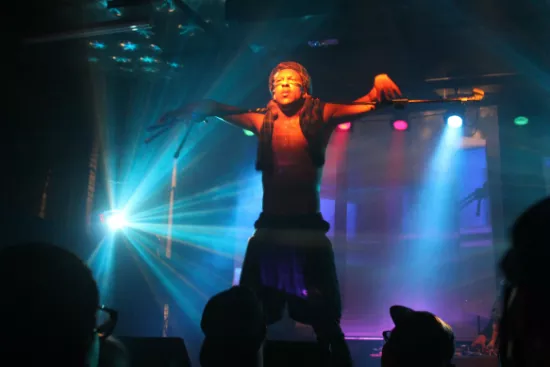 Critic's Notebook: Personal Bias: RFT's own DJ Billy Brown and 18&Counting opened the show with strong selections that set the pace for the night. Random Detail: This is my first show at the newly opened Demo, the former Fox Hole at Atomic Cowboy, and the sound and light show were exceptional. Overheard: In reference to seeing Blanco perform: "That was an out-of-body experience."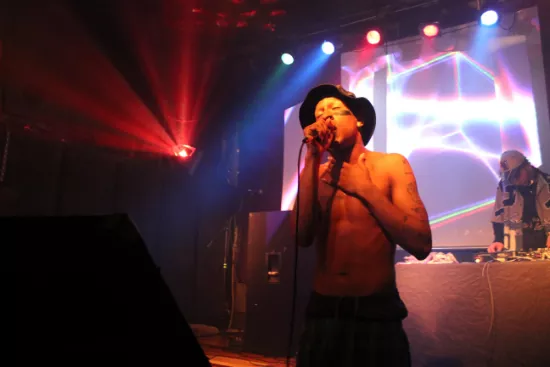 Setlist: Welcome (freestyle) Haze Boogie Life Kingpinning Betty Rumble Special Virginia Beach Join My Militia (Nas Gave Me a Perm) Squanto Freestyle on "Go In" (produced) by Morri$ Carpe diem freestyle YungRhymeAssassin Wavvy 5th Element
See also: -Crotching Whiskey at the Justin Bieber Concert and Getting Thrown Out: A Review -The 15 Most Ridiculous Band Promo Photos Ever -The Ten Worst Music Tattoos Ever
Follow RFT Music on Twitter or Facebook. But go with Twitter. Facebook blows.