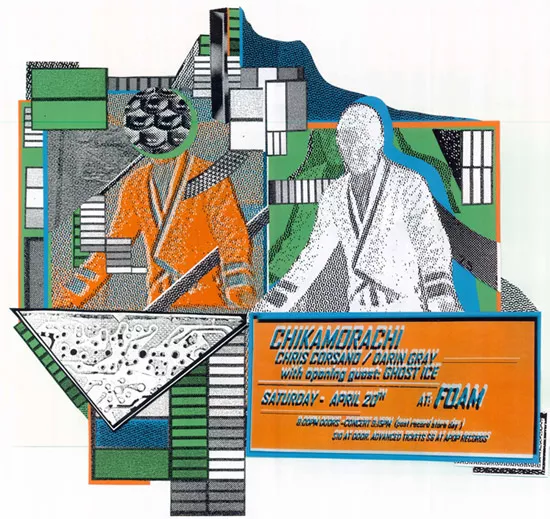 Jeremy Kannapel
Flyer by Ghost Ice
Chikamorachi: Chris Corsano & Darin Gray Saturday, April 20 FOAM at 3359 S. Jefferson Ave. 8 PM, $10
Record Store Day attracts the collector and show goer alike as area stores pile live bands on top of limited releases. The whole affair recalls a certain holiday spirit fueled by feedback and wax. The in-store spectacle is enough, but what of the seedy after party? Apop Records curates an all day rager on Saturday, but opts to punctuate the night over at Foam with Chikamorachi.
Drummer Chris Corsano and bassist Darin Gray join forces to incite tumbling sounds. Chikamorachi feeds into itself, producing a sharp loop of free playing and reaction. The duo provides range through an utterly exploratory approach to performance. Think punk rock meets jazz, only stranger.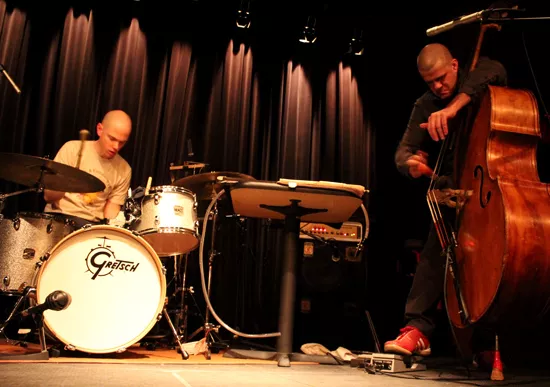 Mabel Suen
Chikamorachi performs at the Kranzberg in early 2012
Gray, a native of Edwardsville, Illinois, has worked with Corsano since 2005. The duo has toured Japan nearly every year since, with Japanese saxophonist Akira Sakata and Jim O'Rourke. Their work has taken them through Belgium, Russia and other parts of Europe. Recordings include six studio albums, including music released through Columbia Records of Japan.
"Chris doesn't really make it to the Midwest too often, so I'm really happy that he's making it out this way," Gray says, speaking on Saturday's upcoming performance. Although Chikamorachi tours annually, the duo rarely hits America, much less Saint Louis. Gray and Corsano first performed in St. Louis only last year to a captive crowd at the Kranzberg Arts Center.
Gray's approach to stand-up bass appears deeply personal and dangerously reactive. Chikamorachi avoids locked rhythm to further a free flow of conscious music. When asked about working with Corsano, Gray said "Playing with Chris poses a lot of questions to me, and I have to figure those things out in split seconds. Chris can give so much simultaneous information at once."
Mabel Suen
Chikamorachi performs along with Dave Stone
Corsano's rabid force on the kit feels peppered with subtlety. Corsano, having worked with Thurston Moore, Kim Gordan and Jandek among others, constantly builds his weathered sound. Sticks can tip-toe around each skin or whip each shell into a funnel; Regardless, Corsano maintains control.
"Chris, to me, is a musician that exists outside of music, in a way. I feel lucky to be able to play with him, I really do," says Gray.
Catch the singular Chikamorachi over at Foam this Saturday evening. The event begins at 8 PM, and there's really no sense in showing up late. Ghost Ice appears to open with an ever-engaging set of gripping electronics. Tickets can be had today or tomorrow prior to the show for $8 through Apop Records, or be prepared to shell $10 at the door.
You can view available records by Chikamorachi over at the Family Vineyard record label website: http://family-vineyard.com/artists/chikamorachi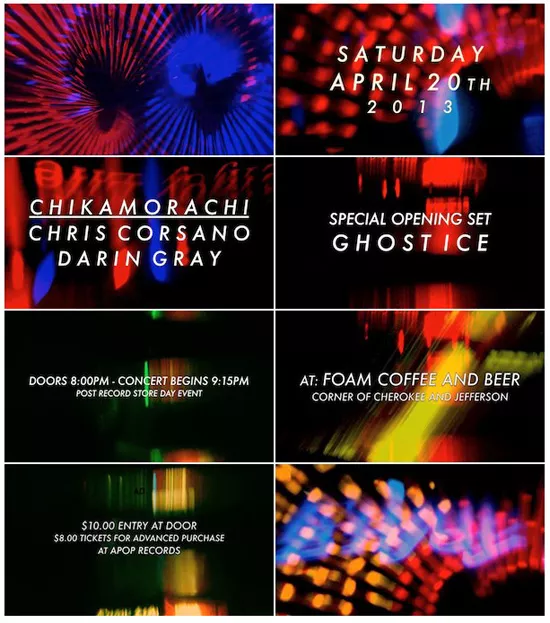 Jeremy Kannapel
Flyer by Ghost Ice
See also: -Ten Bands You Never Would Have Thought Used to Be Good -The Ten Biggest Concert Buzzkills: An Illustrated Guide -The 15 Most Ridiculous Band Promo Photos Ever -The Ten Worst Music Tattoos Ever
Follow RFT Music on Twitter or Facebook. But go with Twitter. Facebook blows.