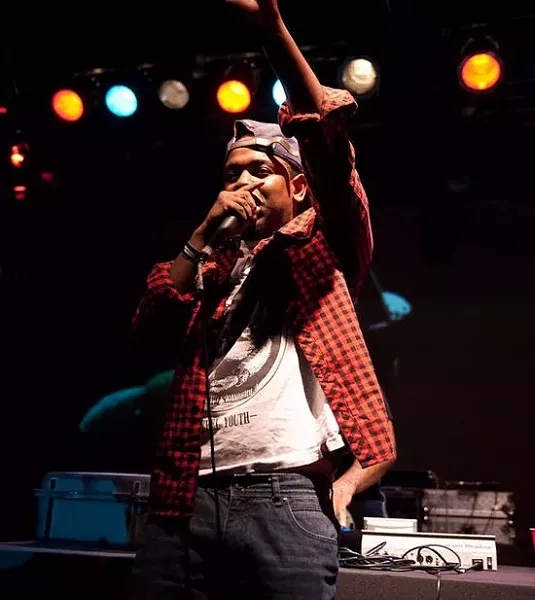 Timothy Norris
Kendrick Lamar performing live, courtesy of LA Weekly.
Compton's new "King of West Coast Hip-Hop" (so dubbed by the likes of Dr. Dre, the Game and Snoop Dogg) made a stop in St. Louis last night to a packed Chaifetz Arena. The prodigious, fan-favorite rapper was welcomed by a rabidly excited crowd, and he performed with the confidence of a veteran, rather than a relative newcomer.
See Also: -Kendrick Lamar's Debut is One of the Most Important Hip-Hop Albums of Our Era
Upon making it past security, I entered the Chaifetz Arena somewhat confused. The combination of the building layout and the members of the crowd surrounding me gave the atmosphere of a pep rally before the big homecoming game. That's not meant to be mistaken as jaded and/or too cool for school (literally in this case, as the show was at Saint Louis University). I was simply swept up in the moment with the mindless "Woo!" and "Threes up!" chants this young-but-not-too-young crowd was throwing out. This show was like a really fun prom/sweet-sixteen-type party. It chock full of neon assholes, dressed-down nerds and legitimate hip-hop fans. They were all ready to party, and everyone got along fine with one another.
To my surprise, there was an opening act, Bad Rabbits. The band sounded like the theme song from Men In Black, if it were 45 minutes long, wouldn't stop pogo-ing, and had double-bass breakdowns. That's not to say that it wasn't good -- this set of silly-but-earnest funk just didn't match up to the hype of either headliner Steve Aoki (mild hype), or the real reason people showed up, Kendrick Lamar (all the hype). Bad Rabbits' set brought to mind that long-cliched scene from teen movies about starting bands. You know the one: It's at the end, when the band nobody believed in finally gives all the naysayers their comeuppance, and the random supportive characters do their callback jokes to other shitty jokes in the movie. The set was like that, but a couple years down the road, after hitting the wedding-reception circuit.
The most memorable thing during this set was when their singer (who was wearing a dashiki) got everyone to throw one hand up. Now, this is very standard concert crowd interaction, if the hands in question don't resemble a crowd full of "seig heils." These (very uncoordinated) ones did. Little to Dashiki Hitler's lack of self-awareness, and the crowd's, the most ironic Reich of all time almost formed accidentally in the middle of a (presumed) basketball floor while their fearless/clueless leader did the MC Hammer dance across the length of the stage as a closer.
A few minutes later, an average hype-up /iTunes playlist of random 2 Chainz/Rihanna/other club rap /R&B that TDE (Top Dawg Entertainment) blared out of the PA, getting the crowd all riled up. I encountered a wild tribe of upright-walking mammals that we will refer to here as the "tank top posse." Watching these creatures fail to attract mates with their off-time presentation technique was entertaining, and it boosted my confidence -- at least I'm not the biggest dork here. About fifteen minutes went by as I watched the tribe fail to attract anyone else, even after waving their iPhones in the air during the mating dance.
Suddenly. the lights went down and a chilling invitation echoed from the PA: "Everybody, everybody. Everybody...everybody sit your bitch ass down and listen to this true mothafuckin' story told by Kendrick Lamar on Rosecrans, ya bitch!" And the crowd went apeshit.
An intro video played over the song "The Art of Peer Pressure," quickly incorporating Lamar's laid-back-with-a-vengeance attitude into the monitor above the stage. The crowd started dancing as hard as possible, then the lights came up as the song finished to just the DJ onstage. People continued to dance and sing along, although the confusing tension could've been cut with whatever one uses to tear open a blunt.
Then Compton's newest prodigy, Mr. Kendrick Lamar, tore onto the stage, ripping into "Westside, Right On Time" to the most adoring crowd I've ever been a part of. All the thugs, weirdos, nerds, normies and (ugh...I'm worn on this term) "hipsters" all jumped headfirst into the atmosphere and had a kick-ass time. Throughout the show, Lamar performed with the chops of a veteran twice his age. He operated the crowd like a bunch of marionette puppets, only with bigger booties and camera-phones. He seemed in control and excited, announcing that this was his first time performing in St. Louis. "What the fuck is up, STL? Party tonight!" A clever way to get people to do what you want: Yell a bunch of nonsensical colloquialisms at a bunch of drunk people -- nobody wants to be the one who doesn't get it.
Lamar did his own music justice. He didn't rely on any hypemen, other than the crowd. When he surprised us with the chorus and his verse from A$ap Rocky's hit "Fuckin Problems," he kept going after the song was over. He started to repeat his verse, and then turned the mic to the crowd. It's pretty cool to take part in a mob of people screaming at one another, "Girl! You know you want this dick!" He continued to do this after most of his songs, most notably "Backseat Freestyle" and "Bitch, Don't Kill My Vibe." We bitches definitely did our best not to.
The 60-plus-minute set was a very random, fun, collective experience. I think this is how eleven- to sixteen-year-olds feel after seeing their favorite band for the first time. It was refreshing, among all the possibilities for annoyance or disappointment, to just let go and scream my fuckin' head off with everyone else.
"Who been with me from day one?" Kendrick said, testing the crowd. "How many of y'all motherfuckers know bout Section 80?" That had EVERY MOTHERFUCKER BOUNCIN' immediately, to prove themselves winners in a nonexistent competition for "number-one Kendrick fan." The only fan called out by Lamar's playful threat was "some motherfucker who ain't turnt up, but gonna be turnt by the end of the show."
Kendrick continued, telling everyone in the SLU gymnasium that "Y'all need to be the loudest motherfuckin' school on this whole tour." It didn't seem forced, just encouraging for everyone to have the best party that they could handle. Eventually he conceded that this had, in fact, been the loudest school on the tour. Which can never be proven or disproved without that decibel reader test thingy Manowar used to win "loudest band on Earth" a million years ago.
Regardless, Lamar seemed to be dishing out as much fun as he was having. He then went into "The Recipe." If you've heard the song, then you know that it namedrops a bunch of cities -- New York, Atlanta, Miami, Chicago, etc. It is the modern hip-hop equivalent to "The Heart of Rock n' Roll" by Huey Lewis & the News. Not in that it is cheesy and blows dogs, but rather in that it was our city's chance to get motherfucking represented! Kendrick didn't disappoint, as he modified one of the lyrics in the hook to "St. Louis be fucked up!"
The set was about to come to a close after the hit single "Swimming Pools (Drank)" and the freestyle that followed. Then the untrained started to make tracks for the door, apparently somehow unaware of the existence of encores. The Kendrick chants began, and within a couple minutes the rapper returned to the stage to perform "Cartoons & Cereal," a song about those two things being the "opiate of the masses." During the end of this song Lamar pulled a little boy in the crowd onstage to dance and go nuts. Aside from the fact that the kid wouldn't stop grabbing his genitals, this seemed an almost poignant, albeit calculated move on Lamar's part, given the song's context. Still, Kendrick Lamar gave the St. Louis audience its money's worth, even if he didn't do "Fuck Your Ethnicity."
Continue to the next page for notes and the complete setlist.
Critic's Notebook:
Notebook Dump: Couple walked by in matching black "Say 'yolo' one more time and I'll fuck you up" T-shirts, along with matching white jeans and neon-green shoes. Interesting.
Girl throws money off of balcony to dumb-dumb for beer. Dumb-dumb runs off with money, laughing.
Frat boy asked me where to get molly, went to someone else, then asked me again as if we hadn't already just discussed this.
Tank-top posse has returned with Mardi Gras beads and captain's hats. Fish still aren't biting.
Oh, and his first mix-tape from when he was a teen surfaced recently (thanks to the king hip-hop dorks at the Bridge9 Board for the tip).
Setlist:
1) Westside, Right On Time 2) Hol' Up 3) Fuckin' Problems (A$ap Rocky song,his verse) 4) R.I.P. (Young Jeezy song, his verse) 5) ADHD 6) Money Trees 7) Backseat Freestyle 8) Bitch, Don't Kill My Vibe 9) Poetic Justice 10) Maad City 11) The Recipe 12) HiiiPower 13) Unreleased Old Song of his about learning 14) Swimming Pools (Drank) + random freestyle Encore: 15)Cartoons & Cereal
See also: -Crotching Whiskey at the Justin Bieber Concert and Getting Thrown Out: A Review -The 15 Most Ridiculous Band Promo Photos Ever -The Ten Worst Music Tattoos Ever
Follow RFT Music on Twitter or Facebook. But go with Twitter. Facebook blows.