Mark your calendar and prepare your wallet: This Saturday, April 20, marks the sixth annual Record Store Day. Originally begun in 2008 as a way to pull music fans away from their computers and back into the already-dwindling brick-and-mortar shops, Record Store Day has grown larger with each passing year. It's not quite a bank holiday, and Hallmark hasn't yet issued cards for it (we checked). However, it's certainly become an annual tradition, probably destined to take its place next to Cinco de Mayo and Earth Day as accepted celebration days.
Record Store Day is not without its critics. Most of the gripes stem from the so-called exclusive releases -- some vinyl versions of long-deleted classics, some deluxe versions of well-known hits, but most of them overpriced. This is a fair point. There's definitely some profiteering going on. I remember spending last year in a line snaking through Vintage Vinyl to the exclusives, only to find them either picked over or, frankly, more expensive versions of releases still widely available. My patience was rewarded with a copy of Numero Group's WTNG 89.9: Solid Bronze, an amazing compilation of '70s and '80s radio station private pressings. But I wasn't about to pay $28 for an album release that I could probably find in the back of the store in the used vinyl section.
For that reason, here is my three-point plan to best appreciate Record Store Day.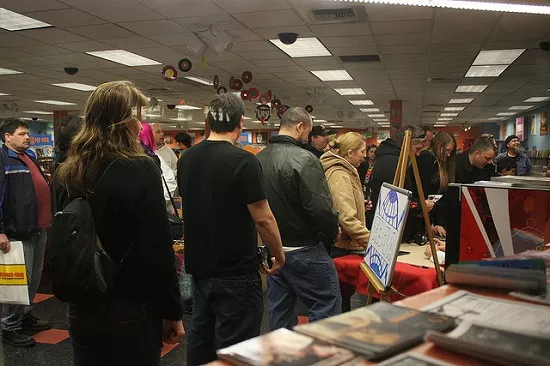 1) Ignore the exclusives. Focus on the other 80 percent of the selection that will still be there the next day. Make every day Record Store Day. Your new favorite record may be waiting for you deep within the recesses of the used bins, and it may only set you back a few bucks. (That noted, do not pass up the chance to pick up the Husker Du seven-inch, the Orange Juice vinyl reissues, and the 1982 live LP by reunited pop-psych masters The Three O'Clock.)
2) Buy local. Several St. Louis labels and artists are bringing out new material to coincide with Record Store Day's foot traffic. Grace Basement's latest album, Wheel Within A Wheel, should be available on the 20th. Cassie Morgan is releasing a solo seven-inch, "A Day Longer" / "Wake Up," her first new recordings since 2010. New label Extension Chords debuts with two releases, a seven-inch by the Chainsaw Gentlemen and a split single with Beth Bombara and Town Cars. Rankoutside Records is coming out with seven-inches from the Union Electric, Tenement Ruth, and May Day Orchestra. And established labels like Tower Groove are taking advantage of Record Store Day to put on in-store showcases.
3) Come for the records, stay for the free beer and live music. Several area shops are taking advantage of the day to put on mini-music festivals. Literally dozens of local bands, rappers, DJs, solo performers and local personalities will be performing for free. Even if you're broke, there's no reason to miss out on a rather jaw-dropping array of local talent between the various locations.
Click through the following pages for a rundown of the various RSD celebrations taking place at local stores.
Josh Ritter, appearing at Vintage Vinyl.
Vintage Vinyl, for instance, is offering free Schlafly Beer and Monster energy drinks while supplies last. The festivities start at 10:30 with the Chainsaw Gentlemen, followed by Kisser, Beth Bombara, Accelerando, Bruiser Queen, Josh Ritter, The Incurables, Mathias & The Pirates, Scripts N Screwz, Thelonious Kryptonite, Adult Fur, CaveofswordS, Brothers Lazeroff, Da Fly D-Ex, G-Wiz, DJ Alejan, DJ Needles and DJ B-Money. Inside, the music will be spinning courtesy of Jesse Raya and Holly Renshaw (The Pageant), Lern (KSHE-95), Ryan Kelley (Pop's), music photographer Bryan Sutter, KDHX DJs Chris Bay and John Wendland, Dean Minderman (St. Louis Jazz Notes), Jay Chandrasekhar (Broken Lizard), and Justin and Jerid Saffell (Heavy Riff Brewing).
Trauma Harness - Playing at Apop Records.
Over on Cherokee Street, Apop Records presents its "wild and completely unstoppable" Raw Record Store Day event. Billed as an outdoor block party, the live music kicks off at noon with Wax Fruit, followed by NRML PPL, Broken Prayer, Bad Dates, Grand Inquisitor, Redemer, Trauma Harness, Brainstems, Union Electric, Ou Où, Lumpy, Black James and Shaved Women. In between bands, DJs Ryan Snowden, Jeff Hess, and Cosmic Slop (Mark Willy and Mike McHugh) keep the turntables spinning. Chizmo TV presents "live video weirdness." The block party will feature outdoor booths from such local institutions as Acid Kat, BDR Records, Dudes Magazine, Extension Chords Records, Freezerburn Industries, KSLU, KWUR, Rankoutsider and Rerun Records. At the beer courtyard, you'll be able to choose between Pabst Blue Ribbon, Schlafly, New Belgium and new sponsor Urban Chestnut.
If you're feeling restless, however, why wait for Saturday? Euclid Records is putting on a whole three-day Record Store Weekend in the heart of Webster Groves. Friday night kicks off at 5:00 p.m. with Troubadour Dali, the Vanilla Beans, Black James and Adult Fur. On Saturday at 11:00 a.m., it's the Jungle Fire, Bo and the Locomotive, Fumer, née, Cotton Mather, the Love Experts, the Jans Project, Sleepy Kitty and the Bottle Rockets. Finally, Sunday's music starts at noon with the Deciders, followed by Superhero Killer, CaveofswordS, Dibiase, Karate Bikini and Yowie. There will be DJs and a sidewalk sale outside, as well as free PBR and food and drink courtesy of nearby Cyrano's, Tiny Montgomery and Highway 61 Roadhouse. FInally, the St. Louis Music Video Preservation Project will screen classic footage from the past. This is going to be your last chance, by the way, to visit Euclid at its current location; later this month, the store moves to 19 N. Gore Ave. in Old Webster.
Seminary Villians - Playing at the Alton Slacker's location.
Further afield, Slackers is celebrating Record Store Day with specials on T-shirts, used CDs, vinyl and cassettes. At the Alton, IL store, the live music starts at 11:00 a.m. With I Could Sleep in the Clouds, followed by 3 of 5, Ardor Glowing, Same Old Explosion, Sweet Dirt, Seminary Villains, 33 on the Needle and Skinney Boy. At the St. Charles location, Skinney Boy plays at 3:00 before heading across the river to Alton, followed by the Weekend Routine and Losing Controllers.
Finally, there will be two Record Store Day-related events at local clubs. At Foam, Apop Records presents Chikamorachi (Darin Gray and Chris Corsano) and Ghost Ice. And at Off Broadway, five dollars gets you into the Extension Chords launch party, featuring performances by the Union Electric. In the courtyard, ten to fifteen local vendors will have music, clothes and other items for sale.
That enough? Go out this weekend, buy a record or two, and run yourself ragged between the various stores and clubs involved in this thing.
See also: -Ten Bands You Never Would Have Thought Used to Be Good -The Ten Biggest Concert Buzzkills: An Illustrated Guide -The 15 Most Ridiculous Band Promo Photos Ever -The Ten Worst Music Tattoos Ever
Follow RFT Music on Twitter or Facebook. But go with Twitter. Facebook blows.