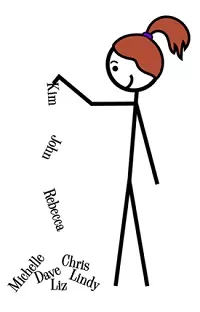 Musicians frequently reference each other, consciously or otherwise. Usually the reference is something subtle, like a chord progression or a melodic phrase. For those less subtle moments, here are the six best name-drops in song. Let us know your favorites in the comments, but make sure that your pick is something super-obscure that will make you sound hip by mentioning it.
See Also: -The Six Most Factually Inaccurate Lyrics In Songs -The Six Coolest Members of Otherwise Uncool Bands -The Six Most Uncool Members Of Cool Bands
6. R.E.M. - "It's The End Of The World As We Know It (And I Feel Fine)" Did you know that every name mentioned in this R.E.M. classic contains the initials L.B.? In fact, the No. 6 spot on this list goes specifically to the moment where the music stops and Michael Stipe forcefully sings "Leonard Bernstein!" In other news, the score to West Side Story is better than you remember.
5. The Impossibles - "Hey You Kids"
This mostly forgotten Austin, Texas, band made an unprecedented transition from third-wave ska to post-Weezer emo pop in the early 2000s. The only moment where the group tried too hard to be cool is on the track "Hey You Kids," when singer Rory sings "Rock kids, time to testify/At the Drive-In kicking ass next to Les Savy Fav." Having been the former ska kid who wanted desperately for people to know I like better music now, I can relate. But come on, dudes. Come on.
4. Katy Perry - "The One That Got Away"
This is the Katy Perry song that opens with the lines "Summer after high school when we first met/We make out in your Mustang to Radiohead." It's a namedrop so confusing, so mismatched to the performing artist, so bad, that it is fascinating. It's not even a clean rhyme. I rarely compliment Russell Brand for anything, but way to get out of that one.
3. Sheryl Crow - "If It Makes You Happy" "Listen to Coltrane/Derail your own train," sings Ms. Crow, formerly known as the future Mrs. Clapton. There's the element of cred to this namedrop, not far detached from the Katy Perry/Radiohead number mentioned earlier. Sheryl Crow's drop is more successful than Perry's because Crow is cooler than Perry and chose an appropriately cooler artist to mention. (Note: while the coolness of John Coltrane and Radiohead are negligible, it is generally cooler to like the former over the latter.) Plus, the strung-out vibe of Coltrane's music matches the feeling of Crow's best song.
2. Deep Purple - "Smoke On the Water" It might be the best riff of all time; we have yet to conjure the balls to publish that list. The signature guitar phrase is so powerful, it distracts from the line "Frank Zappa and the Mothers were at the best place around." Now, Zappa is not the most obscure artist. But considering how popular "Smoke On the Water" has become -- that riff, that damn riff, is one of maybe ten pieces of music that every American has heard -- the namedrop is triumphantly sly.
1. Stevie Wonder - "Sir Duke" "Sir Duke" is fascinating because it's a song about how great music is. It is a shining example of preaching to the choir. Fast-forward to the second verse, a clunky setup for the best namedrop of all time, where Stevie lists influential jazz musicians. "Basie, Miller, Sachimo and the king of all Sir Duke," which is even hard to type without hearing the "baddap" on horns afterwards. Intellectually, "Sir Duke" is lame. The track is essentially an infomercial for music as a whole. But wait, there's more: Amazingly, "Sir Duke" accomplishes its own mission statement whenever it is played: You can feel it all over.
See also: -Ten Bands You Never Would Have Thought Used to Be Good -The Ten Biggest Concert Buzzkills: An Illustrated Guide -The 15 Most Ridiculous Band Promo Photos Ever -The Ten Worst Music Tattoos Ever
Follow RFT Music on Twitter or Facebook. But go with Twitter. Facebook blows.