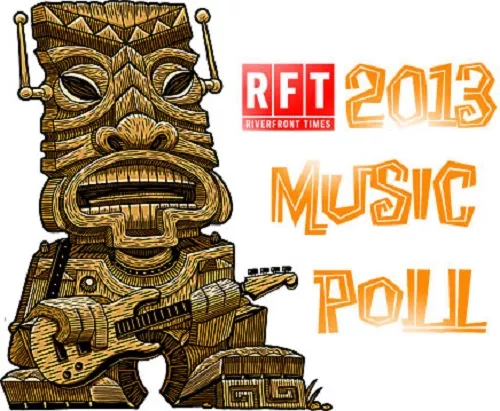 [Update: The poll is live! Vote now at this link. Good luck to the nominees. Also, sign up for the Music Email to receive info on our exclusive pre-sale, running from April 16 to 18.]
Well, it's that time again, folks! Each year, we at RFT Music HQ present the RFT Music Awards, an annual celebration of the best and brightest musical acts St. Louis has to offer. The nominees are chosen by a crack team of industry insiders, dedicated die-hards and various other musical minds from organizations all over the city -- and then the winners are chosen by you, the readers!
Many of these fine musicians will appear at the RFT Music Showcase, to be held this year on June 1. Important: If you are one of this year's nominees, please e-mail us at showcase@riverfronttimes.com and include the best e-mail address and phone number at which to reach you this week in order to be sure you are included in our coverage.
So let's get to it! The polls will open for voting later this week, possibly as early as tomorrow, so keep checking back. Congratulations to all our nominees.
*Notes: You won't see the Union Electric on this list, due to one of its members being inducted into the Hall of Fame. No slight intended to that great band. You will see Tef Poe, who writes for RFT Music, but his inclusion is purely subjective.
Americana Alley Ghost Grace Basement Melody Den Pretty Little Empire The Hobosexuals
Blues Boo Boo Davis Cee Cee James Rum Drum Ramblers The Bottoms Up Blues Gang The Jeremiah Johnson Band
Chamber Pop Palace Rats & People Motion Picture Orchestra Scarlet Tanager The Educated Guess The Great Grandfathers
Country Dive Poets Jack Grelle and the Johnson Family Band Old Capital Square Dance Club Prairie Rehab Colonel Ford
Cover Band Capone Dance Floor Riot Trixie Delight Superjam The VCRS
DJ 18andCounting DJ Epic DJ Jewel DJ Mahf DJ Needles
Electronic/Dance Adult Fur Black James Franco/Hill Nee Volcanoes
Experimental Britches Darin Gray Eric Hall Ou Ou Yowie
Folk Arthur & The Librarian Cassie Morgan Dots not Feathers Indian Blanket Joe Stickley
Hard Rock Fumer Greek Fire LucaBrasi Tok Mother Father
Hardcore Cathedral Fever Everything Went Black Pink Sock Shaved Women WFC?
Hip-hop (Group) Buff N Chubb Doorway Family Affair Farout Scripts & Screws
Hip-hop (Solo) Fresco Kane Keem Saint Orleans Tef Poe Trixie
Indie Rock Aquitaine Bear Hive Foxing Old Lights Sleepy Kitty
Jazz Dave Stone Denise Thimes Hamiett Bluiett Lamar Harris Peter Martin
Metal Bastard Black Fast Fister Lions's Daughter Thorhammer
New Band Acorns to Oaks Good Luck at the Hog Slaughter Lumpy and the Dumpers Rat Heart Town Cars
Noise Raglani Catholic Guilt Corrigan Brothers Ghost Ice Spelling Bee
Pop CaveofswordS Middle Class Fashion The Blind Eyes The Jump Starts Tight Pants Syndrome
Post Hardcore Anodes Jack Buck Sine Nomine Trauma Harness Brainstems
Psych Bug Chaser Demonlover Magic City The Reverbs Troubadour Dali
Punk BassAmp & Dano Better Days Black Panties Doom Town Maximum Effort
R&B Brad Young Kim Massie Mai Lee TeresaJenee Theresa Payne
Rock Bruiser Queen Kentucky Knife Fight Kisser Little Big Bangs Via Dove
Singer Songwriter Ben Bedford Beth Bombara Fred Friction Ryan Spearman Zak Marmalefsky
Soul/Funk Big Brother Thunder and the Master Blasters Funky Butt Brass Band Nikki Hill Roland Johnson & Soul Endeavor The Jungle Fire
The 2013 RFT Music Hall Of Fame Inductees Jia Davis Rockwell Knuckles Son Volt Tim Rakel Tom Hall