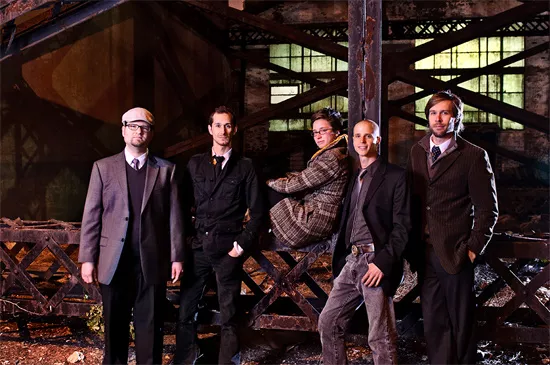 Last to Show First to Go CD Release - Friday, Apr. 5 @ The Demo
Sometimes, it's good to unplug the headphones and take a break from music for a minute simply to absorb the sounds from immediate surroundings. Take the Riverfront Times office soundtrack lately, for instance. Above my head, some intense industrial power sanding or something rattles the mug of tepid coffee on my desk. On either side of my workspace, I can hear my Daily RFT counterparts discussing Mike Tyson and interviewing accused puppy draggers. And every few days, I can look forward to the sounds of the workplace Jellinator creating ripples of mixed reactions from the far reaches of cubicles. Never a dull moment.
OK, I lied. Sometimes, there are dull moments. But I reckon that's when looking toward the weekend comes in handy. What soundtrack will you choose to fill the likes of Friday and Saturday? There's so much going on that we couldn't narrow it down to just one post. Check out our most recent Out Every Night post for options including The Futurebirds, Hey Marseilles, Hot 8 Brass Band, Tight Pants Syndrome's EP Release and Useless Eaters, and read on for even more recommendations.
Friday (Apr. 5):
Altar of Complaints w/ Laika, Good Luck at the Hog Slaughter @ Lemp Neighborhood Arts Center 8 p.m. | $5 Emo lives, albeit in finicky forms. Nashville post-hardcore rears its heavy head at Lemp while locals Laika and Good Luck at the Hog Slaughter, both still new on the scene, offer up their post punk-tinged interpretations. (MS)
Last to Show First to Go CD Release w/ Wildeyed @ The Demo 8 p.m. | $5 Last to Show, First to Go releases its latest EP, Everything's Fine, America at this show. Watch for our Homespun review of the album in next week's print edition. (DH)
Rage Mode w/ Savant, David Fields & Beau LeMaster, Jim K, Jaizen, Sweets, Jen Z & Dienda @ 2720 Cherokee 8 p.m. | $12-$20 EDM artist Savant comes to St. Louis all the way from Norway! That's pretty far away, I hear. (DH)
Tef Poe w/ Sean Falyon, Doorway @ The Gramophone 10 p.m. | $5 Tef Poe celebrates his induction into BET's 106 & Park Freestyle Friday Hall of Fame with a $5 show at the Gramophone. Check out his recently-released, excellent ten-minute freestyle over Drake's "5 A.M. in Toronto" instrumental, and come early; this show is likely to sell out. (DH)
Tiffany w/ Young MC, Cowboy Randy Jones @ Boogie Nights (Hollywood Casino) 9 p.m. | $5 Disco Stu dons his retro duds for the opening of Boogie Nights, a '70s and '80s themed dance club opening at Hollywood Casino. Saturday night features a line-up that includes Sugarhill Gang and Good Times' Jimmie Walker. (MS)
Useless Eaters - Friday, Apr. 5 @ CBGB
Saturday (Apr. 6):
Appleseed Cast w/ Payphones, This City of Takers @ The Demo 9 p.m. | $10 Post-rock veterans return to St. Louis with a wall of airy, atmospheric guitar sounds. (MS)
Bad Religion w/ The Bronx, Polar Bear Club @ Pop's Nightclub 7 p.m. | $28 Thirty years and sixteen LPs in, Bad Religion are still at the head of the class when it comes to intelligent, catchy punk rock. The band's latest, True North, is loaded with catchy sing-a-longs and riffs -- check out our interview with the band about the new album here. (DH)
MME w/ Mikey Wehling & the Reverbs, Thelonius Kryptonite, Darris Robins, LooseScrewz @ Black Bear Bakery 8:30 p.m. | $5 This event, donned "Drop Beats, Not Bombs," raises funds for Black Bear Bakery's Indiegogo campaign. Bread and bands go hand in hand! (MS)
The Rats & People Motion Picture Orchestra @ Webster University - Moore Auditorium 7 p.m. | free The ever impressive R&P MPO orchestral ensemble debuts a new score to accompany Erich von Stroheim's silent film Greed as part of the Greater St. Louis Humanities Festival. (MS)
The VCRs: A Tribute to the '90s @ The Gramophone 9 p.m. | $5 The VCRs quite aptly play covers of songs from the 90s -- think all the stuff you would hear on the "Wayback Weekend" on the Point -- with TVs and actual working VCRs onstage, allowing fans to choose from a variety of "classic" 90s movies to watch along with the music. Fun! (DH)
See also: -Ten Bands You Never Would Have Thought Used to Be Good -The Ten Biggest Concert Buzzkills: An Illustrated Guide -The 15 Most Ridiculous Band Promo Photos Ever -The Ten Worst Music Tattoos Ever
Follow RFT Music on Twitter or Facebook. But go with Twitter. Facebook blows.