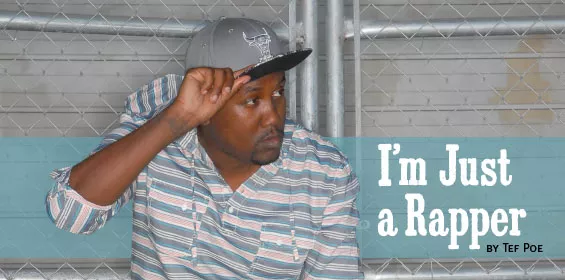 Editor: Tef Poe is an artist from St. Louis City. Through powerful imagery and complicated honesty, he has earned a reputation as one of the best rappers telling the story of St. Louis, which is about much more than one place. Poe has been featured in music publications such as XXL and Urb Magazine. His project The Hero Killer was released on January 21 and will be followed up by a full-length with DJ Burn One entitled Cheer For The Villain. Follow him on twitter @tefpoe. Get The Hero Killer here.
I'm going to say some things in this article that may hurt a few feelings, but if you listen and pay attention you'll learn something, I promise.
I've honestly grown to the point where I hate writing articles that consist of pointers given to other artists. Something about it just makes me feel slightly cornball-ish. I'm not an industry titan; I'm still learning the ropes and figuring out certain things about the grind myself. I feel like one too many rappers sincerely expect someone to figure it out for them, rather than figuring it out for themselves by committing to research through the trial-and-error process. Education really is the key, and you just have to put yourself in a position to learn the game.
Over the course of the last few months I've tried to give away some golden nuggets. I know for a fact some of these tactics work, because I've used them myself and reaped the benefits they've produced. If you're making music for the sole purpose of obtaining a massive radio hit, you are, in fact, hustling backwards. I mean, this works for some artists, but for the most part this is not how you build a fanbase whatsoever. I'm not saying you shouldn't attempt to create a smash record for the radio; I'm simply saying that, initially, this can't be your primary objective. People don't become fans of your work through one song. This isn't 1993, and even the artists you assume are one-hit wonders or "radio" rappers have a track record that has allowed them to build a fanbase and nurture it outside of the radio. The truth is, thousands of dollars go into promoting a song via the radio. Most artists hire companies that specialize in securing these spins. There are some grassroots movements that end up growing wings on their own, but more than likely you don't have the talent or hustle behind you to share this unlikely fate.
I've witnessed artists like Saint Orleans grind it out on a person-by-person basis in a way that did not consist of spamming his music. Artists like Saint O. don't need radio to exist, and without its influence their core fanbase would still support them. Being on the radio is an added pro for Saint O., but he would exist without it, and he didn't harass us into liking him. I see rappers on social networks spamming and borderline harassing people nonstop -- in 2013 there's absolutely too much material floating around online for this approach to work.
I'm sure at this point you want to know what actually does work. The truth is, there's no solidified formula, but a few things are tried-and-true sure shots. Being a genuinely interesting person outside of your music always works better than anything under the sun in terms of pushing your brand and exposing it to new listeners. This alone is part of the reason I write this weekly column; I use this format as a platform to speak to potential music lovers. I try to show them I'm a real person with real concerns and a sense of humor. I strongly believe genuinely being yourself works, for the most part.
I remember a relatively unknown genius of a rapper named January Elle approached me and my friend Nate on the street. He gave us a copy of his CD and kept on pushing. We left the CD on the floor of Nate's car for almost the entire summer. We finally popped it in one morning while sitting outside of Black Spade's house. It was 4 a.m. according to the clock, and for some reason this music sounded so amazing Nate took it upon himself to find January Elle (back then he was named Jaunuary Blaq) the next day. We became friends with him through this encounter and forever will remain fans of his music on some level.
The problem is, rappers don't understand how much people sincerely don't like to be bothered. There's nothing unique about 99.9 percent of the rap songs being spammed to a person via social networking. Even if you're extremely talented and you know for a fact your music is jamming, people more than likely don't care.
We don't listen to music the same way past generations did. If we manage to stumble across a body of music that we actually like, we hastily need to know everything there is to know about this artist as a person. I need to know everything there is to know about the way they talk and think. I need to know what city they're from. The name of the game is emotional attachment. If I'm not emotionally attached to your brand then it doesn't matter. It's your job to figure out a way to get new listeners to feel obligated to listen to you without appearing to be another thirsty uneducated rapper wasting their life by pursuing a career through rap music. You're not Nas, and its not 1991, so I probably won't fall in love with your music from one listen.
Emotional attachment is created through the experience the artist offers the fan more so than the content and the sound of the music. Everything should start and end with the music, but you need the listener to understand you as a human more so than a musician. Unfortunately, everyone thinks they can do what you do, because rap music is a disposable art form to the average person. What do you believe in? Do your philosophies tie into the way a specific group of people think? These are questions the listener wants to know the answer to. You need to answer these questions with your music, obviously, but your potential fanbase will likely start to research the persona you created via the music. I hate to break it to you, but more than likely your music isn't special enough to get the job done by itself.
You also need to understand how fast the Internet moves if you're pushing your music via the net. You need to learn about analytics and the proper time frames in which you should release tunes on Twitter or Facebook. This can be complicated, so I have a few general rules that I'll share with you.
We release all Tef Poe music around 9 a.m. in hopes to beat the lunchtime rush. This allows the people who are at work, slacking early in the day, to spark the buzz for the noontime downloaders. Your peak hours in this time frame will be from noon to 2 p.m. Soon after that you'll notice download numbers dipping low, because people are more than likely preparing to go home and call it a night.
You can relax and return to Twitter sometime around 8 p.m. to midnight. People have eaten dinner by this time, and they're more than likely indulging in some wholesome social networking. This means, get your links circulating and start creating dialog about the music you're pushing -- the more dialogue you create, the more fans will see it and feel the need to support you. This allows you to take over Twitter without spamming everyone, and because you're not spamming, no one will block you. You're playing the game smart and RTing anytime anyone mentions you or the album.
It's also smart to use mixtape engines that actually help promote your music with every download. Most artists probably use Datpiff.com to upload their tapes because its free and easy. I happen to be very fond of LIVE Mixtapes because every time a person downloads your project LIVE will send an automatic tweet which gives you the option to RT. So if you get 400 downloads via LIVE Mixtapes, this number can potentially double due to the fact that the website is tweeting your link with every download.
To win this battle you'll have to know a little bit about analytics. You'll have to learn about the type of people that listen to your music. You need to begin to understand what your fanbase likes and dislikes. Why do people listen to you? Once you discover this it will make the plight of marketing yourself a tad bit easier. Create deadlines that make sense according to analytics. Some rappers try to release music according to special selected dates, such as birthdays -- this really isn't the smartest move, because your birthday probably wasn't meant to be a release date.
For the most part dropping music on a Tuesday has always worked. We live in a speedball generation; dropping on a Monday may also work now. Releasing music on a weekend is almost always a horrible idea. Big-name artists like 50 Cent and Young Jeezy had a large enough fanbase to release music on a Friday and see results. However, you're not Jeezy, nor are you 50 Cent, so you won't be able to see the same type of action from doing this. In other words, you're just begging to fail.
I'm tired of the spammage so I'm trying to show fools how to make it work. Create dialog around yourself and your music. Start a Tumblr page where you can rant about yourself and your music all in one spot. Promote this Tumblr page as an official stop spot for your stuff. Most of the time it's all about using some sort of common sense. Just be smart about what you're doing, and actually hustle your product.
Purchase some hard copies, and everywhere you go pass them out to random people who will potentially like your music. My goal this summer is to distribute 10,000 hard copies of my music. Everywhere I go I'll be passing out mixtapes; without a shadow of a doubt I'll know that the music is in circulation. Harassing people online just damages your brand and makes you look thirsty. Even if your music is amazing, spamming me won't get you the listens you deserve.
See also: -Ten Bands You Never Would Have Thought Used to Be Good -The Ten Biggest Concert Buzzkills: An Illustrated Guide -The 15 Most Ridiculous Band Promo Photos Ever -The Ten Worst Music Tattoos Ever
Follow RFT Music on Twitter or Facebook. But go with Twitter. Facebook blows.