Mount Salem - April 7 @ Fubar
Looking for a good place to see flashy and exciting music played at high volume, have your mind blown by dark and powerful sounds, or just stomp around like a drunken goon with your shirt off? Then a heavy metal concert might be just the place for you. Each month I'll be offering my top picks of the upcoming metal shows in town that I think shouldn't be missed. And I'll try really hard not to make fun of the ones I think should be avoided like Hulk Hogan's sex tape.
Mount Salem, Nothing Set in Stone, Sunnyvale, Death Horse, and Grand Inquisitor at Fubar April 7 8:00 p.m. / $8-$10 Having a female singer is probably one of the most effective and therefore overused gimmicks in modern metal (next to being a Christian band), and usually seems to serve no purpose other than to get the attention of all us lonely metal nerds. Chicago's Mount Salem seems to be the exception to that rule, with a lady behind the microphone who actually sings like a lady rather than screaming and growling and showing you how much bigger her dick is than yours. This gal's haunted pipes blend perfectly with the band's spooky stoner riffs in a way that sounds as if Ann Wilson were fronting Black Sabbath. The band is fairly new and is most likely unknown to majority of St. Louis metal fans. This would be a good one to come support quality underground metal and send Mount Salem back to Chicago telling all the other great bands up there that our town does in fact have a metal scene, and is worth paying a visit.
Cemetery Gatez - April 19 @ Pop's
Cemetery Gatez, Conquest, and Tropical Storm at Pop's April 19 7:00 p.m. / $5-$12 That's right. Cemetery Gatez is a Pantera tribute band. And if you didn't notice, they spell their name wrong intentionally. How could this not be hilarious? Now, I love Pantera as much as the next angry white guy -- give me a few shots of whiskey, put on Vulgar Display of Power and just see how quickly I start fucking up my life -- but I have a hard time imagining being able to take a Pantera tribute band at all seriously. Gatez? Really? Are there that many other Pantera tribute bands around that this was the only way to be distinct? Was "sematary" not available so you'd at least have a cooler sounding Stephen King tie-in?
On the other hand, what if I'm wrong? What if this band hits the reinvented-steel spike right on the head? How awesome would that be?
Local band Conquest will be playing as well, who is also a tribute act...to 1992 local bands. Opening the show is STL's resident WWF-style trouble makers, Tropical Storm, whose party thrash seems slightly out of place on this bill and will no doubt only make the evening more interesting. Call in the camera crew; this may be the chance to capture that sequel to Gummo we've all been waiting for.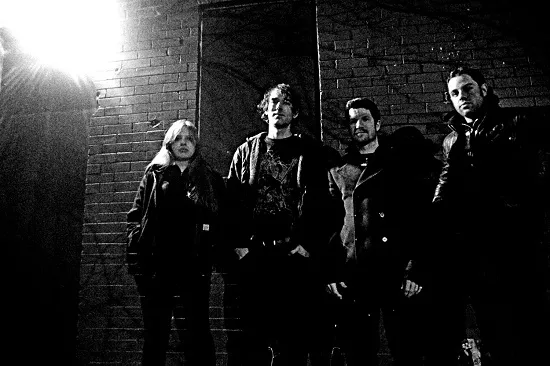 Enabler - April 25 @ Fubar
Enabler and Everything Went Black with TBA at Fubar April 25 9:30 p.m. / $8 Milwaukee's Enabler is no stranger to St. Louis. The band has played DIY shows in our city several times over the past couple years, everywhere from the old Lemp Brewery to Apop Records. This upcoming visit has the quartet stopping in at Fubar to bring its fast-paced temper tantrums to the venue's more intimate lounge side, in support of the upcoming Shift of Redemption EP due out April 9. The band plays metallic hardcore with shades of black metal, death metal, and anything else ugly and angry thrown in the mix. "The world is fucked and this is the soundtrack to it's demise." The band's bio sums up its sound perfectly.
Opening the show will be local Everything Went Black, fresh off a US tour promoting its Prosthetic Records debut, Cycles of Light. There will also be one more band that is to yet be announced, but given promoter Iron Bird Booking's excellent track record, the band will probably not suck.
See also: -Ten Bands You Never Would Have Thought Used to Be Good -The Ten Biggest Concert Buzzkills: An Illustrated Guide -The 15 Most Ridiculous Band Promo Photos Ever -The Ten Worst Music Tattoos Ever
Follow RFT Music on Twitter or Facebook. But go with Twitter. Facebook blows.