[Editor's Note: For a change, this week's print edition features two Homespun reviews written by RFT Music Senior Writer Christian Schaeffer, because why not?]
Tom Stephens' long-running (and member-shuffling) power-pop combo Tight Pants Syndrome rarely lacks for material; in 2010 the quintet released the seventeen-track Fully Attractive alongside the more blustery Don't Panic EP. That year's output rivals some bands' entire catalogs. So while the appearance of more polished pop music from TPS is always welcome, this four-song EP feels a little scant by comparison, given the band's track record. (Don't worry: A full length is due by the year's end.)
The EP begins with a bang, as "Cherry Don't Quit" follows the formula of perpetual-motion music, but with a few new twists: The sawing strings give just the barest hint of baroque pop, and drummer Jeff Hess makes his vocal debut with the band. His voice gives an adenoidal but tuneful gruffness amid Jenn Malzone and Brian McClelland's more conventional harmonies. On the lead-off track, Hess proves an able pinchhitter on an already stacked lineup. Malzone and McClelland square off for the rest of the tracks, which contain some of same romantic snark as on the pair's work with Middle Class Fashion, albeit with more guitar, less piano and a lot more of McClelland's strong, high tenor. There are nuggets of pop bliss every 45 seconds on these overloaded songs -- note the Beach Boys-aping harmonies on "My Arm Hurts" -- but the formula-tinkering on "Cherry Don't Quit" is the real raison d'être for this little transmission.
[Continue to page two for the Whoa Thunder review.]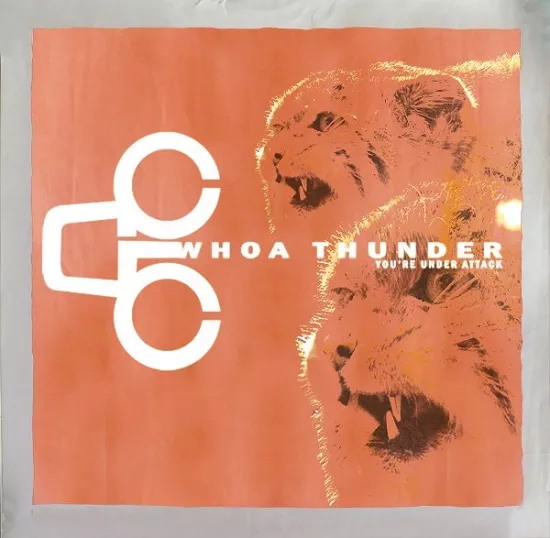 If the four songs on the TPS extended play only whet your appetite for sharp pop tunes without bedding it back down, give a few spins to Whoa Thunder's You're Under Attack, a sixteen-song LP spearheaded by McClelland. The record has an interesting enough history -- back in 2009, McClelland recruited two friends, Sarah Gremillion and Kimberly Faulhauber, to play bass and keyboards in a new project. Neither had any musical background, but with some tutelage, the pair became more than capable at these modern bubblegum numbers.
The one-two kick of "Real Cool Hand" and "Bottlehands" gives a good idea of what Whoa Thunder is after. Buzzy monophonic synths, handclap-ready rhythms and cooing female harmony vocals combine to create futuristic playground chants. Gremillion and Faulhauber's K Records-worthy parts on a song such as "Allison" show a twee verve alongside McClelland's more polished sensibility, and this experimental-but-breezy tone fits in nicely alongside his other projects. One wouldn't think that McClelland would need another outlet for his pop confections, but You're Under Attack reveals its easy, immediate charms on first listen.
Want your CD to be considered for a review in this space? Send music c/o Riverfront Times, Attn: Homespun, 6358 Delmar Boulevard, Suite 200, St. Louis, Missouri, 63130. E-mail music@riverfronttimes.com for more information.
See also: -Ten Bands You Never Would Have Thought Used to Be Good -The Ten Biggest Concert Buzzkills: An Illustrated Guide -The 15 Most Ridiculous Band Promo Photos Ever -The Ten Worst Music Tattoos Ever
Follow RFT Music on Twitter or Facebook. But go with Twitter. Facebook blows.