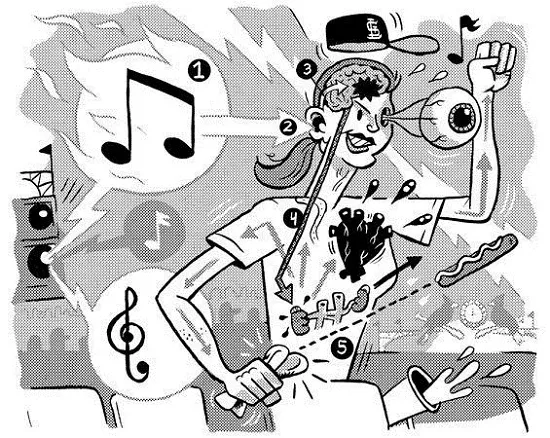 In this week's music feature for the print edition of the Riverfront Times, we address the link between music and adrenaline in the sports world. Chemists and biologists have proven that music and other stimuli can have a major effect on sparking adrenaline, which in turn may boost both athleticism and the pleasure derived from physical activity.
For our feature, we interviewed local athletes, business leaders and chemists about their observations on music in the sports realm. They all painted a nice picture of how listening to tunes can provide some extra oomph to accomplish their athletic goals, but we didn't have room to include what you really want to know: What do these people listen to?
First, a refresher about our panelists:
We asked our interviewees to share which songs they rely on for a boost in certain situations -- some of which are admittedly ridiculous. The results should arm you with enough pep to conquer both the weight room and the boardroom.
If you were about to take a swing in an MLB stadium, what would your walk-up music be?
If your friend were determined to finally break up with their lame boyfriend or girlfriend and they asked you to play something to keep them focused on the task, what song would you choose?
St. Louis is being attacked by a strange monster, and the city has determined that you're the only one who can defeat it. What song would psych you up to do your duty?
We also asked LockerDome CEO Gabe Lozano to walk us through his eclectic Grooveshark and Pandora playlists -- something he doesn't get to do in most interviews. Lozano's musical preferences encompass pop, hip-hop, Christian and '90s alternative, all of which aid his eighteen-hour work days and his running regimen. "Certain songs literally get me in the zone to be productive," Lozano says.
As he considered the previous situational questions, Lozano brought up the following artists and songs while also talking about his college days, karaoke, road trips and LockerDome all-nighters.
Songs
Artists