Ah, spring. Well...sorta, we can only hope those March snowstorms lead to a warmer April -- we're off to a good start so far. There is a wide array of electronic shows coming through St. Louis this moth, with something for everyone. Let's dive in and see what's in the mix.
If you can't wait until May 21 to get your new Daft Punk music fix, the tribute group of One More Time is the best next thing. The duo pays homage to the French duo with masks and gets down to robot rock.
Friday, April 12 (Doors: 8 pm / Show: 9 p.m.) One More Time: A Tribute to Daft Punk w/ Coreyography and the Automatic Man a.k.a. Hulke @ 2720 Cherokee ($10 advance, $12 day of show; $5 minor surcharge) (18+)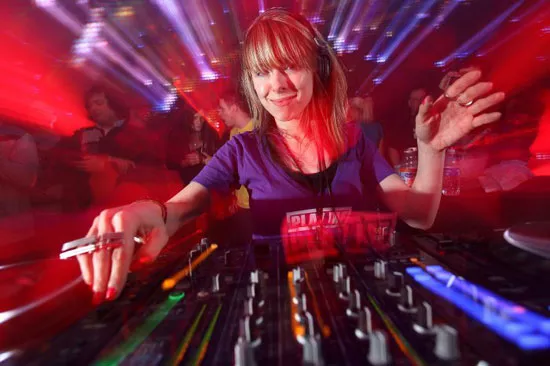 The male-dominated world of electronic DJs and producers has several women in the mix, and Reid Speed is at the forefront. In addition to gracing the stage with bass heavy productions, she also runs Play Me Records and Play Me Too Records out of Santa Monica, California. This show also features New Zealand's bass peddlers Truth.
Saturday, April 13 (Doors: 7:30 p.m. / Show: 8 p.m.) Reid Speed and Truth w/ Jim K, Brandon S and Heezy @ 2720 Cherokee ($12 advance, $15 day of show; $5 minor surcharge) (18+)

The legendary Chicago DJ/producer Jimmie Page (not to be confused with Led Zepplin's Jimmy Page) arrives across the river at Oz Nightclub for a night-long danceathon led by go-go dancer Miss Cricket. Page's career spans twenty years, and his sets feature everything but the kitchen sink. In case you get hungry, a breakfast bar will be available at 2 a.m. Party on.
Saturday, April 13 (10 p.m.) Jimmie Page with go-go Superstar Miss Cricket, DJ Reece and VDJ Boogie B @ Oz Nightclub ($10; 21+)


Steve Aoki is one of the most widely known DJs active right now, recognizable from his long flowing black hair and energetic shows. He also founded Dim Mak Records, a big player in the EDM landscape. Also on the show is fellow Southern Californian Kendrick Lamar, whose major-label debut good kid, m.A.A.d. city has launched him into the conversation as the front runner for best active hip-hop MC.
Wednesday, April 17 (Doors: 6 p.m. / Show: 7 p.m.) Steve Aoki w/ Kendrick Lamar @ Chaifetz Arena (Tickets: $24.50-$37.50)

Portland Press Herald
Kill the Noise
Jacob Stanczak is better known to his fans worldwide as Kill the Noise, who has been releasing his unique style of bass music across the globe. While he's not touring, KTN is running Slow Roast Records, a label he cofounded with five-time DMC World DJ Champion DJ Craze. The rest of the lineup is stacked with 12th Planet, Brillz, Codes and local opener Coreyography.
Friday, April 19 (9 p.m.) Kill the Noise with 12th Planet, Brillz, Codes and Coreyography @ Europe Nightclub (Tickets $15-$20) (18+)

After landing his first residency at the ripe old age of fourteen, French-born Cedric Gervais knew a life of music was in the cards for him and dropped out of school when he was fifteen. Currently juggling residencies in Miami and Las Vegas, Gervais is touring on the strength of his latest single "Molly." BBC Radio 1's Pete Tong liked the song so much when it was first played he played it five times in a row.
Saturday, April 20 (9 p.m.) Cedric Gervais with Luke Hansen and DJ Fish vs. Anthony Arman @ Europe Nightclub (Tickets $10-$20)
See also: -Ten Bands You Never Would Have Thought Used to Be Good -The Ten Biggest Concert Buzzkills: An Illustrated Guide -The 15 Most Ridiculous Band Promo Photos Ever -The Ten Worst Music Tattoos Ever
Follow RFT Music on Twitter or Facebook. But go with Twitter. Facebook blows.