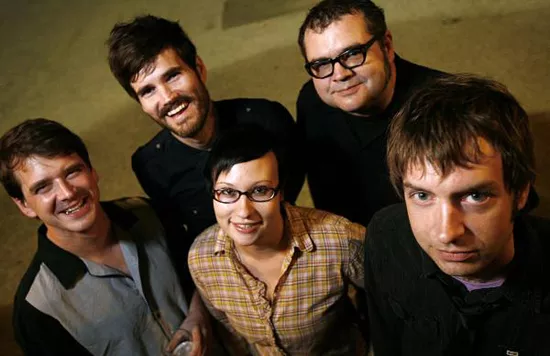 Tight Pants Syndrome EP Release - Saturday, April 6 @ The Heavy Anchor
Spring has sprung (supposedly)! Celebrate by checking out the spry variety of shows going on this week. There's plenty to see, including an assortment of traveling acts such as Useless Eaters, Night Birds, Deerhoof and Hot 8 Brass Band. Get hopped up on all that leftover Easter candy and see what recommendations await after the jump.
Note: Though we wish we could, we can't feature every great show happening in town in just one measly post. Look for plenty more recommendations this Friday in our weekend show post, and peruse the St. Louis concert calendar for more ideas anytime.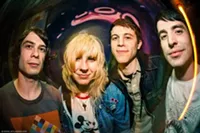 Bleeding Rainbow Monday, Apr. 1, 8 p.m. w/ The Cave Singers @ Old Rock House - $12 By Mike Appelstein The last time Rob Garcia and Sarah Everton played St. Louis, they comprised an earnest indiepop duo called Reading Rainbow. One small but significant name change and a couple of band members later, Bleeding Rainbow has dropped its former rough-and-ready approach. On its latest album, Yeah Right, the expanded group explores a shoegazey, distortion-heavy approach falling somewhere between Dinosaur Jr. and the Swirlies. There are longer songs, thicker production and the occasional guitar solo. Still, tracks like "Shades of Eternal Night" and the psychedelic "Waking Dream" confirm that Everton and Garcia haven't lost their gift for catchy hooks and starry-eyed harmonies.
Lumpy & the Dumpers Tuesday, Apr. 2, 9 p.m. w/ Night Birds, Tenement, Give, Occult Detective Club @ Blank Space - $10 By Jimmy Eberle From Lumpy & the Dumpers: Slime Addicts on the Prowl: "One of these days, you're going to face the meat...one, two, fuck you!" This is fucking punk. It's creepy, in your face, and not smart enough to be a real metaphor. It's just getting screamed at you. Brainchild of former Sweet Tooth drummer Martin "Lumpy" Meyer, Lumpy and the Dumpers is a local super-group of St. Louis scumbags. They're huffing slime and commiting crimes until the Belleville PD finally catch them to take all their puke-y goo away.
Toots and the Maytals Wednesday, Apr. 3, 8 p.m. @ Old Rock House - $26-$29 By Jaime Lees There was a time in the 90's that ska was hip: The boys wore wingtip shoes, the girls wore checkered tights and they all praised something questionable called "Third Wave." Good ska was being bastardized by popular new revivalists like No Doubt and the Mighty Mighty Bosstones. Toots and the Maytals is not that kind of ska; this is the real classic First Wave stuff. It's Jamaican and soulful, kind of half-reggae with a bounce and a dash of gospel.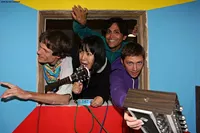 Deerhoof Thursday, Apr. 4, 8 p.m. @ The Firebird - $15 By Joseph Hess From a 2011 show review: Deerhoof tore through a set rife with loud, melodic walls of sound. The group cherry picked from its varied catalogue, pleasing fans of their subdued but intricate pop songs while staying true to its earlier noisy and unhinged works. Deerhoof brings a vibrant energy to the stage with equal parts antics and artistic showmanship. Vocalist and bass player Satomi Matsuzaki gleefully hops around stage sporting a bass guitar half her size. Guitarist Ed Rodriguez sports a shining suit (one his mother made for him, no less) while swaying and bending his body along to each rhythm. Drummer Greg Saunier explodes on the drum kit with his schizophrenic style of bebop meets punk rock.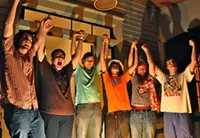 The Futurebirds Friday, Apr. 5, 8:30 p.m. @ The Firebird - $13-$15 By Michael Dauphin For only being around since 2008, Athens, Georgia's the Futurebirds has a unique, refined sound--a sound that takes most bands at least two or three albums to settle into. On its 2010 debut album, Hampton's Lullaby (on Autumn Tone Records), the sextet turned out a Southern-fried, psychedelic symphony of swirling strings and floating three-part harmonies, and did so in a seemingly effortless fashion. The band strikes the perfect balance between Crazyhorse's backwoods stoner swag and the Flying Burrito Brothers' pedal steel-driven elegance.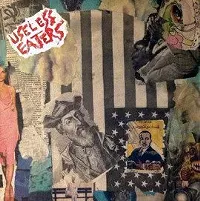 Useless Eaters Friday, Apr. 5, 9 p.m. @ CBGB - $5 By Jaime Lees From a 2012 show review: CBGB is forever changed by Useless Eaters. It's always a dirty, smoky, proudly disgusting bar, but now it's a dirty, smoky proudly disgusting bar that hosts the Useless Eaters. The band takes the stage, and the chaos begins immediately. Though packed in tight, the audience can't help but to jump around to the sweet garage-rock sounds. This isn't some "Nuggets" shit, though. And it isn't full Goner, either. It's better. From Nashville via Memphis, Useless Eaters is fronted by a sweet kid named Seth Sutton who is in his early twenties. He's rumored to be a Jay Reatard protégé, but his skill has far surpassed his teacher. He writes music that is driving and catchy and built for bopping, and he gives us one of the surprise best shows of the year. It's fast and surreal and hazy and sweaty, and it feels like falling in love.
Hey Marseilles Saturday, Apr. 6, 9 p.m. w/ Young Buffalo @ Off Broadway - $10 By Roy Kasten "Go back where we started," begins Matt Bishop of Hey Marseilles on "Tides," the lush, ruminative opening track of the just-released Lines We Trace. The starting point for the Seattle band is plainly the Northeast, with its wide-open, cloud-spilled coastlines and its van after van of chamber-folkies retracing the paths of the Decemberists and Blind Pilots before and beside them. As bookish as any of his better-known peers, Bishop begins with laconic imagism and then gets out of the way as his band sweeps and swoons like a symphony of strings and reeds, eager and accomplished.
Tight Pants Syndrome EP Release Saturday, Apr. 6, 9 p.m. w/ Estevan, Brothers Lazaroff, Media Ghost @ The Heavy Anchor - $5 By Roy Kasten Pure power pop should sparkle and shine, and the band, led by singers Brian McClelland and Jenn Malzone and guitarist and songwriter (and original founder) Tom Stephens, did its best to do just that. When the musicians collectively jangle, they do so like a single chrome-plated tambourine; when they get fuzzy, they sound like a Bakelight AM radio playing the summer hits; when they harmonize, they make the world go away. The band can be clever and coy, but it's always musical, especially when Stephens dashes off a surprising, concise guitar solo or McClelland and Malzone lock in harmonies. Over the years the band has weathered numerous lineup changes; its pop core remains irresistible.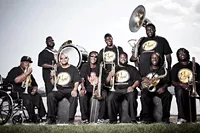 Hot 8 Brass Band Sunday, Apr. 7, 8 p.m. w/ Funky Butt Brass Band @ The Demo - $10-$12 By Christian Schaeffer It's no secret that New Orleans' brass bands have one foot in tradition and one foot in the present - every group making hay these days knows it has to mix in some Jackson 5 or George Clinton or Mystikal alongside "Just a Closer Walk with Thee." But even in a city filled with genre-blurring bands, the Hot 8 Brass Band has a style that extends far beyond second-line marches. For starters, the British label Tru Thoughts, better known for more electronic and beat-oriented sides, releases its records. The Hot 8 are the go-to brass purveyors for acts like Mos Def and Lauryn Hill, and you can thank the band's heavyweight leaders Harry "Swamp Thang" Cook and Bennie "Big Peter" Pete for keeping the dream alive for eighteen years and counting.