Courtesy Spelling Bee
This super real looking profile is allegedly the concoction of a Boston police officer.
We here at RFT Music can barely breathe this is so awesome.
St. Louis's own Spelling Bee has apparently outed an undercover police operation in Boston. The cops' goal: Breaking up DIY punk shows by posing as fans.
"Basically I think the cops should have something better to do," says drummer and vocalist Joseph Hess.
Before we go an inch further we should mention that both members of Spelling Bee have a relationship with Riverfront Times -- Mabel Suen is our intrepid clubs editor and a contributing writer, and Hess writes for the music section. None of that changes the fact that what just happened to them is 100 percent insane.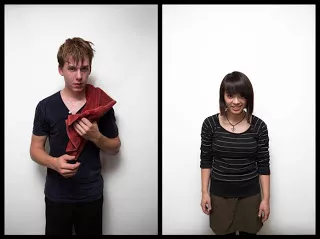 Theo R. Welling
Joseph Hess and Mabel Suen -- undercover cop busters!
Spelling Bee is currently on tour, playing at various bars and venues, but also at DIY shows. For the uninitiated, these are typically at friend's homes, they ask for donations at the door to help pay the bands. That takes a big bite out of the band's overhead and creates, according to Suen, a cozy little community of fans.
"It's funny that the cops have such a harsh idea of what it is. Really it's just a bunch of positive people," says Suen. "The worst thing that could happen is a noise complaint."
Last Saturday, Spelling Bee was set to play in a friend's basement in the Allston neighborhood of Boston along with another band. Because Boston is already notorious for its unfriendly attitude toward DIY shows, the location was kept secret. The only way to find out where to go was to contact someone in the know. Someone like Suen or Hess.
"Multiple people asked us for the address. We got like six emails all at once," says Hess. "We just responded to everybody."
They thought nothing of giving out the address until Boston police knocked on the door of the venue the day before the show. The homeowner answered the door and got some suspiciously pointed questions from the officers.
"They said something to the effect of, 'You can't have this show here now,'" says Suen. "The most threatening and weird thing we heard they said was, 'It would be a shame if your friends from St. Louis came all the way down here to play a show and have their equipment confiscated.'"
Hess says that the police claimed to have gotten the home's address on Facebook, but that there's no way that could have happened. When the band looked back through their email messages they noticed something very suspicious about a supposed fan named "Joe Sly." Check out the emails from "Joe" below, they are hilarious (click to enlarge):
"I looked at the name, I looked at the picture, and thought, 'This is it, this is our fault,'" says Suen. "We read it over and were like, 'Wow, we are stupid.'"
Let's stop and take a moment to dissect this awesome artifact, which Suen screen grabbed and posted to her Facebook wall. What punk is this stoked for St. Patrick's Day or refers to a DIY show as a "concert"?
Not to be discouraged, the show was relocated to a venue about 20 minutes away. When Joe Sly popped up again to lament the show's cancellation, Suen confirmed that it was off.
"They emailed us again, I said, 'Oh no, yeah, it's cancelled, fuck off,'" she says.
Spelling Bee played at the new venue without incident.
"It was really great. They never caught on to us," she says.
Slate wrote a long post on this trend here. Apparently, things have gotten particularly hairy for DIY shows in Boston since the passage of a new nuisance ordinance, but Suen and Hess both say they've heard rumors the crackdown is courtesy of bar owners who think the shows threaten their business.
The bandmates understand the concerns about DIY shows -- there are safety issues and fears of underage drinking. But to their mind those worries are overblown.
"You'd be shocked and amazed at how self-policing these types of things are," says Hess. "These shows are so about the music and nothing else. The idea that the cops view this as this total gathering of debauchery is completely ludicrous to me."
So is Joe Sly really an undercover officer? RFT Music called the Boston police to find out, we'll update when they get back to us. Joe Sly's Google+ account (very punk) has gone dark but the email address bostonbeatgang@gmail.com still works -- we sent him an email and we'll post a response if we get one. Though if anyone is still checking this account they are likely being inundated with crazy spam. From the comments on Suen's Facebook page:
"This shit would never fly in St. Louis. The St. Louis police have a lot more things to worry about than busting up our shows," says Hess. "I would imagine that the Boston police could like, be out there actually protecting and serving rather than being grumpy old men ruining our good time."
Update: Evidence that Joe Sly is fake is mounting. Gawker just pointed out that the avatar Joe uses is one of the first images that comes up when you Google "punk rocker." 'A' for effort, guys.
Follow Jessica Lussenhop on Twitter at @Lussenpop. E-mail the author at Jessica.Lussenhop@RiverfrontTimes.com.
See also: -Ten Bands You Never Would Have Thought Used to Be Good -The Ten Biggest Concert Buzzkills: An Illustrated Guide -The 15 Most Ridiculous Band Promo Photos Ever -The Ten Worst Music Tattoos Ever
Follow RFT Music on Twitter or Facebook. But go with Twitter. Facebook blows.